COVID-19 Eurasia Roundup: country-by-country update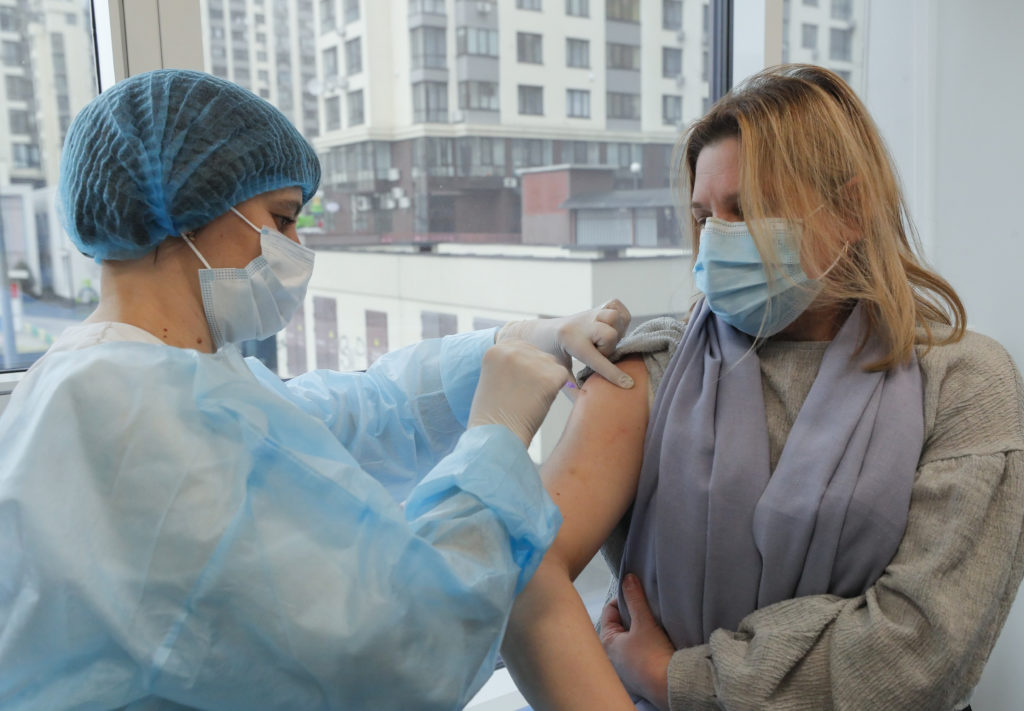 A medical worker receives the AstraZeneca vaccine in Kyiv (EPA)
As the fight against COVID-19 continues across the world and the virus maintains its stranglehold on the global economy, the Tribune keeps you up-to-date with the latest vaccines and infection data across the region. (Numbers reflect World Health Organization data.)
ARMENIA
217,008 coronavirus infections
4,249 total deaths
Armenian authorities are considering allowing entry into the country for travellers who have been inoculated against Covid. As of now, only travellers who have had a negative test result in the preceding 72 hours are permitted to enter the country. Tests have been available at the airport.
The number of COVID cases has surged after falling significantly since November 2020.  Armenia was the only nation in the Caucasus which opted not to impose a second lockdown following the spike in coronavirus cases all three experienced last fall.
Vaccinations:
Armenia has started a vaccination campaign with a limited supply of the Russian-developed Sputnik V vaccine. It has also received 24,000 doses of the AstraZeneca vaccine under the U.N.-backed COVAX scheme for less wealthy countries. The country will also be assisted in its vaccination program by the EU and WHO, which plan to jointly spend 40 million euros over the next three years to help ensure vaccine access in Armenia, Azerbaijan, Belarus, Georgia, Moldova and Ukraine.
Restrictions:
International travellers require a negative PCR test.
AZERBAIJAN
321,380  cases
4,561 deaths
Nearly 1.52 million in Azerbaijan have been vaccinated against Covid, according to official figures. Nearly 542,000 people have received both required doses.
The country of 10.1 million has been hit with a sharp rise in the number of infections since mid-February.
Vaccinations:
Azerbaijan received a further 500,000 doses of the Chinese-produced CoronoVac vaccine as of 1st April. A total of 5 million doses are to be secured from China and contracts have been signed to secure 4 million doses from Turkey. And the World Health Organization says 84,000 doses of the Astra-Zeneca vaccine will be provided under the Covax scheme for less wealthy countries.
Restrictions:
Authorities have ordered schools to move to remote learning from 5th April in Baku and other major cities. Remote learning has already been in place for some time in a number of localities.
Tight restrictions were imposed earlier in the year under a special quarantine regime have been extended to June 1.  Public transport is restricted or closed. All other businesses are required to operate with masks and social distancing in place.
Foreigners require a negative PCR test. This also applies to Azerbaijani citizens who have visited countries affected by an outbreak of coronavirus in the last 14 days. Land borders remain closed.
BELARUS
361,063 cases
2,562 deaths.
According to official statistics, fewer than 300,000 people have been vaccinated in Belarus, about 3 percent of the population. Plans call for 60 percent of the population to be vaccinated, but that figure might be revised upward if it did not ensure "herd immunity".
Officials have acknowledged the country is facing the "third wave" of COVID.
For at least two days, the number of patients declared free of the disease has exceeded the number testing positive for the virus.,
Health Minister Dmitry Pinevich said the number of infections was likely to decline, but there could well be an increase in serious cases.
President Alexander Lukashenko initially dismissed COVID as a "psychosis", refused to impose restrictions and allowed mass gatherings like football matches to proceed without impediment – until he caught the virus himself.
Lukashenko is now an advocate of developing a domestic vaccine, to be ready for use next year.
Developing a vaccine, he said, was a "matter of honour" for Belarusian scientists and health care officials.
"It is necessary to develop the very best vaccine within the shortest possible time. It should be the finest, because we can draw on existing expertise and knowledge," Belarusian media quoted Lukashenko as saying. "It has already been done by Russians, Europeans, Chinese and Indians. Many are already producing these vaccines. We already have some expertise, we are not doing it from scratch."
Belarus in the meantime has launched mass local production of Russia's Sputnik V vaccine.
Lukashenko remains firmly in control of the affairs of the state despite months of street protests denouncing what his opponents say was his rigged re-election last August. An opposition bid to rekindle the protests had limited success in March.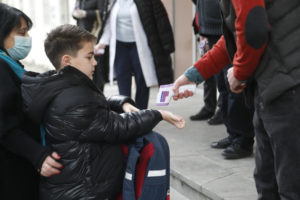 GEORGIA
312,954 cases
4,163 deaths
A week of holidays linked to Orthodox Easter is in effect and inter-city transport has been halted to reduce mobility and transmission of the virus as Georgia's slow-moving vaccination campaign gathers pace.
The vaccination drive was launched on 15th March authorities hope to cover more than 60 percent of the 3.7 population. But six weeks into the endeavour, only 45,338 people have received at least one jab — about 1.2 percent of the public.
The latest batch to arrive was made up of 100,000 Sinovac vaccines from China as humanitarian aid. More than 43,000 doses of AstraZeneca vaccine arrived in mid-March along with more than 29,000 doses of the Pfizer vaccine.
A curfew remains in effect from 9 p.m. to 5 a.m.
Georgians are reluctant to get vaccinated — a poll conducted by the National Democratic Institute showed 53 percent of those questioned would not take the vaccination if it became available.
Amiran Gamkrelidze, director of the National Center for Disease Control, told JAMnews that people who have been fully vaccinated may receive benefits, including exemption from curfew — as an incentive to get the jab.
Some restrictions have been eased, allowing restaurants, cafes, museums gyms and hotels in ski resorts to open. Theatres, cinema, and children's entertainment centres followed in early April subject to regulations to contain the spread of the virus. The government recommended employers move their staff to remote work.
Early action in 2020, including the closure of borders and restrictions on dining, transport, and public gatherings, kept the number of infections n the first half of 2020, but badly dented the vital tourist industry. The measures were subsequently lifted and an influx of tourists followed. The country became vulnerable to the second wave of infections and for a period in December, Georgia claimed the world's highest rates of both infections and deaths per capita. At their peak, daily new cases in the country of 3.7 million topped 5,000.
KAZAKHSTAN
381,078 cases
4,542 deaths
Kazakhstan's vaccination campaign is proceeding, with three vaccines being administered — a made-in Kazakhstan vaccine produced so far in small quantities, Russia's Sputnik V vaccine and Hayat-Vax, produced jointly by China and the United Arab Emirates.
A total of 1.5 million people have been vaccinated — or about 15 percent of the population.
President Kassym-Jomart Tokayev received his Covid vaccination earlier this month — a locally-produced version of  Sputnik V  — after initially pledging to wait for the made in Kazakhstan vaccine.
"The president is supporting vaccinations as a whole. He got his vaccination and once again showed his position on the matter," Health Minister Alexei Tsoi said.
A mass vaccination campaign is underway after the president threatened to dismiss his government unless matters were turned around within a month – initial pledges to vaccinate 250,000 in February and March went unfulfilled.
Quarantine rules have been eased. More and more businesses have been allowed to open and employees having received vaccinations may now report to their workplaces.
Many schools operate on remote learning, but some, including in the largest city, Almaty, have students in the classroom. Theatres remain closed, but many restaurants are open.
Under regulations introduced in April, all air passengers to have test certificates.
Additional measures were imposed on travellers arriving from India who must undergo 14 days of self-isolation.
     MOLDOVA
251,335 cases
5,838 deaths
The Constitutional Court struck down parliament's imposition of a 60-day state of emergency intended to fight the pandemic. The court ruling enabled President Maia Sandu to call an early parliamentary election in July — her allies said the state of emergency was introduced solely to prevent the president from calling the election she has sought since her own election as president last November.
Restrictions to halt transmission remained in place throughout the country. Masks are obligatory, gatherings limited and people have been advised to stay out of parks and other public places. Officials say districts exceeding certain levels of infection will be advised to move school instruction online.
The World Bank said it would approve additional funding for the purchase of vaccines, which was negotiated with Moldova in March and will amount to about $30 million. Moldova started vaccinations on March 2.
The first batch of 14,400 doses of Pfizer vaccines from the global COVAX scheme arrived in Moldova last month. Romania has provided some vaccines.
The second batch of 71,000 doses of the Russian Sputnik V vaccine arrived in the country last week. More may be coming from China.
But the president said almost 700 doses of COVID-19 vaccines intended for healthcare workers and the critically vulnerable had instead been diverted to public officials and family members, including employees of the Defence Ministry and regional authorities. Officials were investigating.
TURKMENISTAN
The isolated country claims no COVID cases, though this statement is widely questioned. The U.K.'s envoy to Turkmenistan notably claimed he contacted COVID in the country.
Vaccinations:
None so far. President Gurbanguly Berdymukhamedov has suggested eating licorice could ward off infection.
Restrictions:
Even before the pandemic, no country had a visa-free regime with Turkmenistan. Visas are rarely granted except for tourists on tightly controlled and expensive "official" tours.
Last July, a day after the death of a Turkish diplomat from COVID in Turkmenistan, the country has required the wearing of masks, though it advises this is as a guard against frequent dust storms.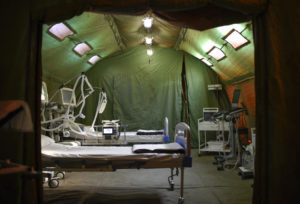 UKRAINE
2.09 million cases
44,750  deaths
Kyiv emerged from tough month-long lockdown regulations, with public transport now open to all and cafes and restaurants reopened, subject to restrictions on numbers. Masks are still required on transport and in public places.
Shopping malls and sports clubs also reopened, with schools and kindergartens to follow this week.
Last month, Kyiv recorded some of the highest numbers of new infections among Ukrainian regions, but new cases dropped significantly last week.
Officials said the country has passed the peak of COVID infections and figures for infections were slowly declining in several areas.
But some quarantine measures are to remain in place through the end of June, preparing for the possibility of a new spike in cases after Orthodox Easter.
Health Minister Maksym Stepanov said Ukraine was "gradually" emerging from the third wave of infections. Bit he said the government could well keep an "adapted quarantine" in place until 30th June.
Officials said four of the 10 regions declared "red zones" could soon have their restrictions eased.
The first Pfizer vaccinations were administered in the country on 18th April. Previously, authorities were relying on an Indian-produced variation of the AstraZeneca vaccination.
UZBEKISTAN
Cases: 92,006
Deaths: 653
President Shavkat Mirziyoyev said there were no plans to introduce a new full-fledged lockdown, despite increases in the number of infections.
"In terms of the economy, we have set important tasks for ourselves. If we close down everything, we will not be able to achieve these results," the president told a government meeting. "We will not close anything. but rather strengthen discipline and order."
Vaccinations:
Uzbekistan launched its mass vaccination campaign on 1st April, with 5,000 people inoculated on the first day. Both AstraZeneca and Chinese vaccines are being used.
The government has said it wants to vaccinate 60 percent of the population by July 2021. It announced it contracted for 2 million doses of the Pfizer/BioNTech vaccine. It also says it is in talks with two Chinese manufacturers, as well as with Russia to obtain doses of its Sputnik-V jab.
The number of vaccine doses ordered will only cover a very small percentage of Uzbekistan's population of 34 million.
Uzbekistan's Health Ministry also announced that a home-produced vaccine has been created and will be submitted to tests on animals.
Restrictions:
New restrictions will be introduced on mass cultural events and weddings. Theatres, cinemas and other cultural venues must limit attendance to 50 percent of capacity, check temperatures of those attending and ensure masks are worn.
The number of guests at weddings, funerals and other family events is limited to 100.
Travellers arriving to the country require a negative PCR test. Exceptions apply to nationals of China, South Korea, Japan – no entry requirements as to COVID assuming visas are in order. Health checks will be carried out at airports of entry.