Akmal Paiziev: becoming an e-commerce market leader in Uzbekistan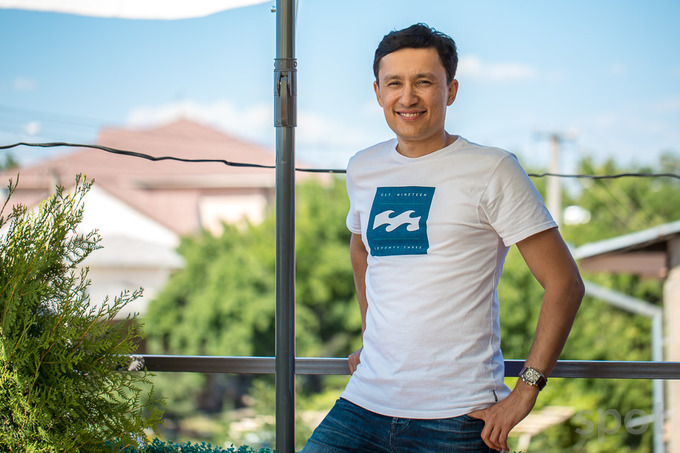 spot.uz
Age: 40
Based in: Tashkent, Uzbekistan
Education: National University of Uzbekistan & Wageningen University, Netherlands.
Occupation: CEO & co-founder Express24, IMPACT.T Technology Hub, Mytaxi, Workly.io
At the age of 20, Akmal Paiziev opened his first business, an internet café, in 2003. Very few people in Uzbekistan had computers in their homes at this time so people went to the internet café not to play games, but to use the Internet – to look at mail, and chat with friends and family overseas. However, Paiziev faced many issues with local criminals coming in to steal computer parts. He launched two Internet cafes but soon realised that he did not want to be geographically tied to the business, so he sold it. It turned out to be the right time to sell as the cafes only worked for another two or three years before closing because they became unprofitable.
Paiziev learnt a lot from his first business venture; that you cannot scale a business that is 100 percent location-dependent, and that some businesses simply become obsolete over time. In the case of Internet cafes, they became redundant after the introduction of smartphones. To learn from his mistakes Paiziev read more about marketing.
Inspired by Microsoft founder Bill Gates, Paiziev, who studied mapping software at university, dreamt of creating a car navigation system. That opportunity came in 2005, when he noticed that imported cars came with the latest GPS technology, but without maps of Uzbekistan. NaviMax became the first GPS navigation system for Uzbekistan. In order to digitise Uzbekistan as a location, Paiziev went to the authorities to obtain maps of the country but he was told that maps were classified information, so Paiziev had to start drawing the maps from scratch. He hired a cartographer and simply drove around the streets in their car collecting data – first Tashkent, then the regions. Finally, they came up with a technology that could turn offline data into a digital product.
Paiziev spent four years developing digital maps of Uzbekistan, during this time the secret services interrogated, threatened, and demanded he close the project because maps were considered strategic and classified information. In 2009, with the support of an angel investor, Zafar Hoshimov, founder of one of Uzbekistan's biggest supermarket chains, Paiziev's company became the first in Uzbekistan to receive a mapping licence.
While developing NaviMax, Paiziev founded yamarka.uz, an online shop selling electronics and home appliances. The money he made from this 'side project' covered the cost of developing the GPS product. With the GPS technology, Paiziev also founded Maxtrack, a GPS vehicle tracking system. Today it is one of the most successful companies in Uzbekistan, with 700 companies using the technology to track their vehicles.
In 2012, Paiziev founded his most successful company, Workly, a cloud-based time tracking system. Workly was originally supposed to be a full-fledged HR platform, however, Paiziev decided to perfect and focus only on time tracking and payroll. In 2015, Workly entered the international market and is now used all over the world in 550 cities. During the strict Covid lockdown in 2020, Workly experienced a crisis as many clients from HoReCa (Hotels, Restaurants, Cafes) cut staff and, as the subscription fee depends on the number of staff, they suffered large losses.
In 2015, Paiziev entered the market with the innovative project Mytaxi –Uzbekistan's very own taxi app. They had developed Mytaxi for two years and changed the business model three times during this period. At first, it was an offline taxi fleet, but once they had developed the software, they changed their business model and began to work like Uber. Mytaxi has branched out from the capital Tashkent to Andijan and Ferghana, and by the end of 2019, the app was launched in seven more cities. During the pandemic, the demand for Mytaxi, in the corporate segment grew, but demand from individuals fell by 40%.
In 2017, Express24, a food delivery service, was launched. It became so successful that Paiziev launched Express24 Market, which delivers products from retail stores,. Seventy outlets are already connected to the app. During the first days of lockdown, the growth in the number of food orders in Tashkent amounted to 500 percent, this allowed Express24 to open in Samarkand and Bukhara in order to meet the demand for takeaways caused by the closure of restaurants. Although the couriers working for Express24 were legally allowed to work and travel around the city, they were still constantly stopped by traffic police. Paiziev had to communicate with law enforcement officers and call their superiors in order that his employees would not be arrested for breaking lockdown rules. Today Express24 is a market leader in Uzbekistan.
Paiziev is not only concerned about making money from his own businesses, he is also concerned with promoting entrepreneurship in Uzbekistan. He hosts a business programme on the M FAKTOR YouTube channel about start-ups and technologies. In this programme, he speaks in Uzbek with the founders and technical directors of the most successful IT companies in Uzbekistan.
In August 2021, Paiziev was invited to attend the first open dialogue between the president and the nation's entrepreneurs. He highlights that Uzbekistan needs more specialists, especially in the field of IT and in order for this to happen the private sector needs to create universities and training centres to educate programmers.
Paiziev is hopeful for the entrepreneurial future of Uzbekistan. At the end of February 2022, he opened the IMPACT.T tech hub accelerator, five floors of event spaces, coworking areas and meeting rooms. The tech hub is aimed at developing and helping IT start-ups, as well as supporting creative and business communities. For Paiziev, IMPACT.T is more about developing and making a positive impact on the industry rather than about business. Through acceleration and investment, Paiziev wants to be involved in the emergence of one IT unicorn with Uzbek roots and 10 companies valued at more than $100 million.
Quote: "We want to create and help start-ups with global ambitions that think not only on a regional or country scale, but on the whole world."
Sources: ft.com, spot.uz (2020), spot.uz (2019), forbes.uz, zenprospect.com, weproject.media