Armenia: Talks Underway to Quell Crisis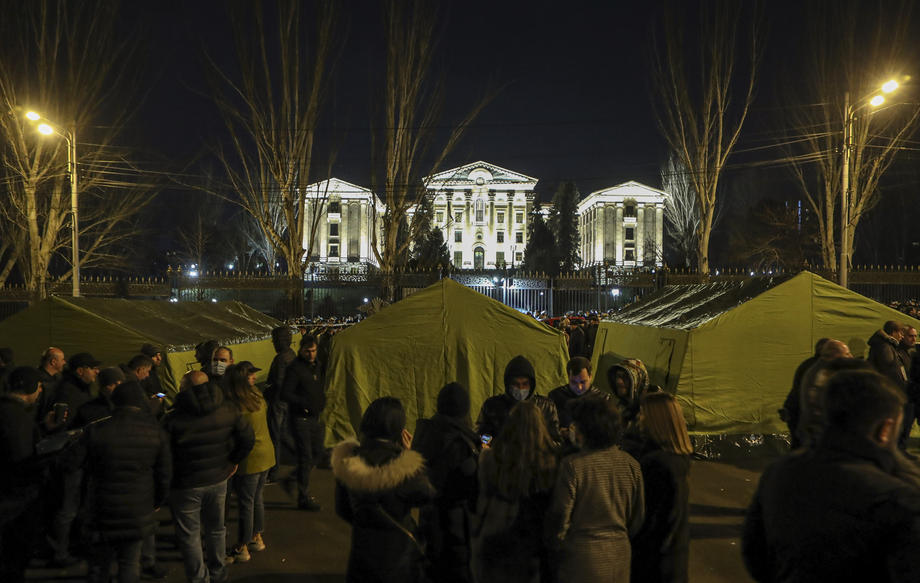 EPA
Negotiations are under way between the government of Prime Minister Nikol Pashinyan and opposition figures. The subject is snap elections demanded by the opposition.
"The sticking point is whether Pashinyan stays on until new elections, or resigns beforehand," one well-informed source told the Tribune. The source did not want to be named because of political sensitivities.
"Things are still quite tense, as there are still people on the streets, but there seems to be some movement", said the source.
Pashinyan, a 45-year-old former journalist, on Thursday said there was an imminent threat of a military coup. This followed explicit threats by the armed forces demanding he and his government resign immediately.
Pashinyan has faced calls to resign after the country suffered humiliating losses to Azerbaijan and was forced to return Azerbaijani lands it had occupied for three decades.
On Thursday, at least 20,000 supporters of the prime minister came out on a central Yerevan square in opposition to a military takeover.
Several thousand of his detractors held a counter rally calling him to quit.
Pashinyan on Thursday fired the head of the general staff of the armed forces in response to the army's ultimatum for him to step down.
Observers said the fact that Pashinyan's government had survived the night made it more unlikely the military would attempt an outright takeover. In the past the Armenian armed forces have acted with lighting speed to quell dissent.
Armenian fighter planes screeched over the skies as Pashinyan addressed his supporters. There were no others signs of military activity, though some ranking police officials signed a letter saying they would not serve the current government any longer.
It is not the first time Armenia's military has been used by politicians keen to seize or hold on to power.
Ex-Premier Robert Kocharyan dispatched tanks in 2008 to quell anti-government elections after a botched election. At least eight people were killed in the melee.
In 1996, President Levon Ter-Petrosyan used the army to crush dissent in the wake of elections regarded by international observers as falsified.
Kocharyan, who hails from the mostly ethnic Armenian district of Azerbaijan of Nagorno Karabakh, days ago announced his desire to return to big politics.
He is known as an uncompromising hard-liner and a representative of the "Karabakh clan". Kocharyan has made no secret of his disdain for Pashinyan.