Armenia to hold snap parliamentary election in June to avert political crisis-Prime Minister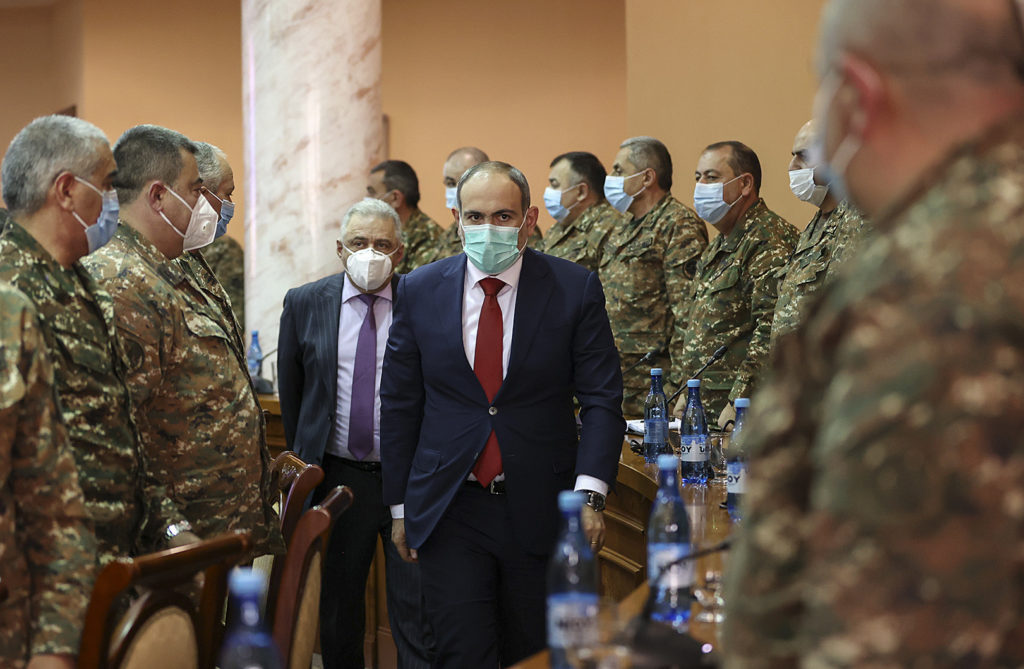 EPA
Armenia will hold a snap parliamentary election on June 20, Prime Minister Nikol Pashinyan said on Thursday, in a decisive step aimed at diffusing political tensions and a power vacuum.
The PM announced the decision after meetings with the leaders of two opposition factions in the National Assembly – Gagik Tsarukyan from "Prosperous Armenia" and Edmond Marukyan from "Bright Armenia" as well as with the country's titular, largely ceremonial President, Armen Sargsyan.
"The best way out of the current domestic political situation is an early parliamentary election," Pashinyan wrote on his Facebook page.
The months-long political crisis unfolded in Armenia soon after the country suffered a lightning, humiliating defeat in a dramatic conclusion to the 30-year war with Azerbaijan. Azerbaijan engineered a 44-day blitzkrieg, retaking seven districts occupied by Armenian forces since 1994, and parts of the formerly autonomous Nagorno-Karabakh region.
The districts were once home to 600,000 Azerbaijanis, but they were forced to flee by the Armenians in 1993-1994. Major towns were then systematically looted and dismantled, down to bricks, electrical wiring, and all infrastructure.
Azerbaijan has already begun rebuilding critical infrastructure and has invited foreign companies to bid on one of the biggest reconstruction efforts in modern  history.
Armenia and its separatist clients in the Nagorno-Karabakh region, estimated at the war's effective end to have a population of roughly 80,000, refused to heed four unanimous UN Security Council resolutions for them to withdraw.
Left under separatist control is only a smaller portion of the mountainous area. Russian peacekeepers moved in as part of the November peace deal brokered by Moscow. A joint Russian-Turkish monitoring centre is now functioning in the de-occupied, destroyed city of Agdam, so systematically looted and pillaged that the city is often referred to as "Azerbaijan's Hiroshima". NATO member Turkey is a major ally of Azerbaijan, though Baku pursues what it calls a "multi-vector" foreign policy of neutrality.
The fragmented opposition, united only in anger with Pashinyan over the war loss, blame him for the stunning reversal of fortunes.
Pashinyan has defended the peace agreement as the only option from preventing Azerbaijan military forces from overrunning the remaining parts of the Nagorno-Karabakh region under separatist control. Protesters had been blocking entrances to Parliament and staging street protests.
Pashinyan seems to be dealing from a position of strength. A poll by the US based International Republican Institute – published on March 10 – gave Pashinyan and his "My Step" bloc 33 percent support, and a majority of voters said they approved of his government's performance.
By contrast the next closest opposition grouping was supported by only 2 percent of polled voters.
Pashinyan's rise to power was the culmination of a "velvet revolution" three years ago, after he walked over 100 kilometers from the north of the country to the capital. He amassed supporters along the way, many fed up with years of massive corruption, a huge exodus of the country's population abroad, and a history of fraudulent or questionable elections followed by the violent police or army crackdowns.
The cross-country march pulled a critical mass of upwards of 100,000 people in Yerevan, and the unpopular leadership resigned and agreed to new elections, which Pashinyan's political grouping won. International observers qualified the vote as free and fair, a rare event in the country.