Armenia votes amid potential chaos, more conflict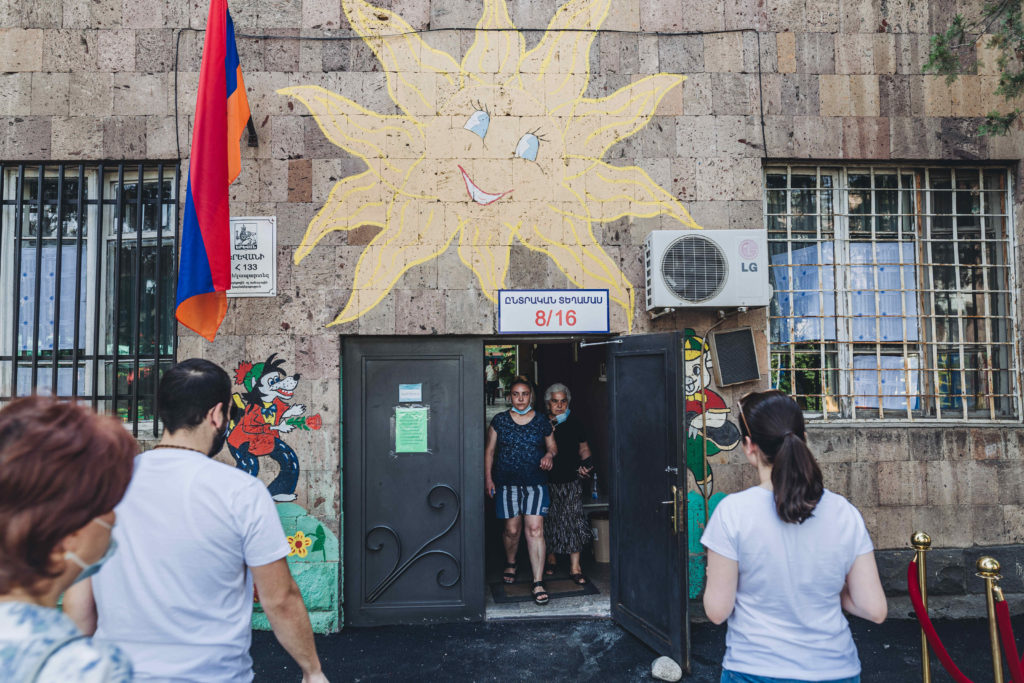 globallookpress
YEREVAN
Armenians voted in a snap parliamentary poll on Sunday, triggered by its  devastating military defeat by Azerbaijan in 2020. The seismic setback means that a government emerging from the poll, however unsteady, will have deal with a resurgent neighbour and resolve long-festering issues, like demarcating a border after giving up territory Armenia had occupied for almost three decades.
Turnout was given at about 50 percent by the country's elections committee. Figures may take days to emerge, and even then, they are likely to be the subject of acrimony and runoffs in districts where no party or bloc got more than a majority. The run-up to the vote was tense, with both sides alleging attempts at vote-rigging or plans for violence.
There are enormous ramifications.
There is a real chance no effective or, at best, a weak government could emerge. Though Azerbaijan got back most of its occupied territories, the formal delimitation of the border with Armenia would take a solid government in Yerevan with a mandate to do so. It might be impossible to put a finality to the 30-year war or open trade routes in the absence of one. In addition, part of the original Azerbaijan Soviet Autonomous district of Nagorno-Karabakh is still under Armenian-backed separatist control.
Russia negotiated an armistice in November in which Armenia, already forced out of several districts of Azerbaijan it had occupied, had no choice but to give up several more it had held against four U.N. Security Council Resolutions.
Acting Prime Minister Nikol Pashinyan has had to fend off attacks that some places were ceded "on purpose" or that he is a "Turk". He has never advocated NATO membership for Armenia and on the surface, held congenial ties with the Kremlin. But as the leader of a so-called "colour revolution" in 2018 – events in others countries Moscow has labelled Western plots – he is not the type Moscow typically likes.
Pashinyan amassed great crowds, which forced the sitting government to resign and then translated into a big election win in 2018. He tapped into resentment over unabashed corruption, low living standards, and mass emigration.
His detractors have labelled him a "traitor", even though he said there was no possible way for Armenia to hold onto the occupied districts. Ethnic Armenian forces ethnically cleansed the areas of more than 600,000 Azerbaijanis in the early 1990s and  never developed or invested in them. Instead, they were stripped of anything of value – bricks to wiring – and largely devoid of inhabitants.
PASHINYAN TRYING TO HANG ON  
Just weeks ago, Pashinyan's "Civil Contract" bloc held what seemed to be an insurmountable lead  with support levels 10 times more than his nearest rival. That lead evaporated fast. Former President Robert Kocharyan, 67, who was at just two percent as late as April, emerged from retirement and gained momentum rapidly.
Yerevan-based political analyst Richard Giragosian, head of the Regional Studies Centre, has called the "old guard" around Kocharyan a sort of "Jurassic Park".
He forged a coalition with ultra-nationalists, who also enjoyed microscopic support after the war, to catch up with Pashinyan, 46, a writer and journalist.
There are formally 101 seats at stake in the National Assembly (parliament), with some others specially allocated to national minorities. But due to a very complex system of seat allocations, the actual number of deputies can range up to 200. Though partial results will likely trickle in on Monday, it may be days or weeks before a full picture emerges. This is because of potential runoff elections.
KOCHARYAN'S COMEBACK AND RUSSIAN FACTOR
Kocharyan's "Armenia" bloc seems to be well-financed suddenly. The ex-president has pledged fealty to Moscow and has suggested Armenia could even retake districts of Azerbaijan it occupied, though how is unclear.
It would be facing NATO member Turkey, not just its ally Azerbaijan.
Turkish President Recep Tayyip Erdoğan visited Azerbaijan last week and signed an enhanced "military union" with Baku. He also visited Shusha, a sacred city of Azerbaijani intellectuals occupied for three decades by ethnic Armenians. Turkey helped build Azerbaijan's military over 25 years, and its role was decisive. Yet, Erdoğan has called for an end to a century of hostilities with Armenians.
Though having 2,000 peacekeepers on the ground, Moscow clearly does not want a full-blown conflict with Ankara. It has sent mixed signals over Turkey's more open role in Azerbaijan.
But Azerbaijan says without formal delimitation of the frontier, renewed hostilities may be inevitable. Already there have been detentions, clashes and tensions along the margins of the frontier.