Armenian President Sargsyan quits, departure unlikely to affect peace talks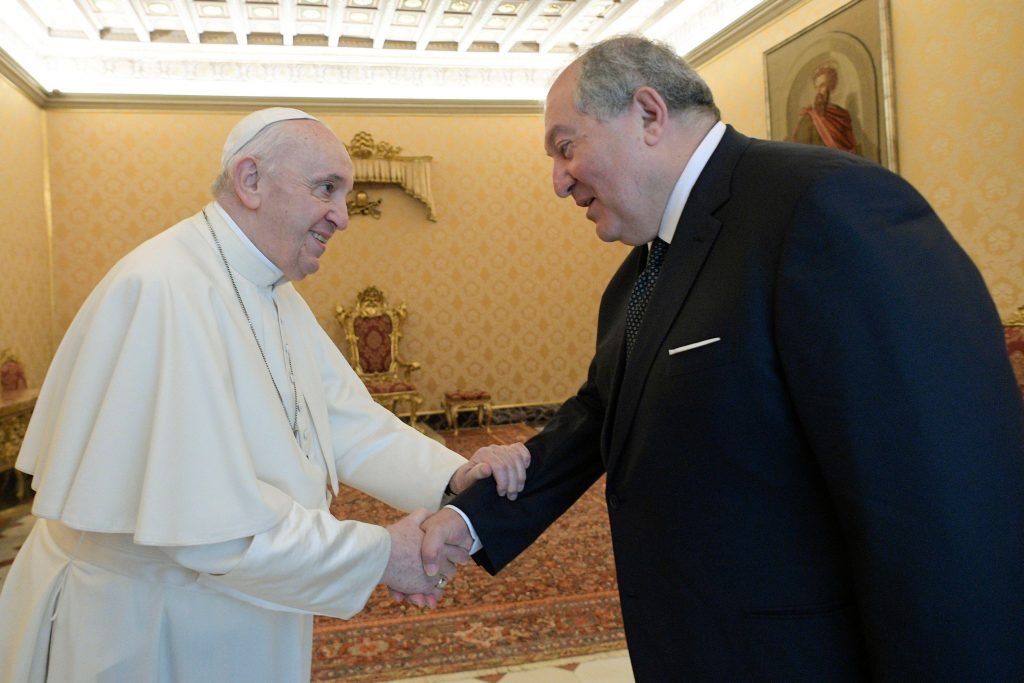 Outgoing Armenian President Armen Sargsyan, pictured with Pope Francis (Alamy)
Armenian President Armen Sargsyan unexpectedly resigned, saying the constitution gave him insufficient power to influence policy at a time of difficulty for the ex-Soviet state, but his departure is unlikely to affect efforts to establish an enduring peace with neighbouring Azerbaijan.
Sargsyan, one of the last of "old guard" Armenian leaders, was elected by parliament in 2018 for a seven-year term to what had become a largely ceremonial post since the 2015 constitutional revision.
He had been at odds with Prime Minister Nikol Pashinyan, particularly on some of the issues in moving towards peace since last year's 44-day "Second Karabakh War" in which Azerbaijan made big advances, "deoccupying" large stretches of territory controlled by Armenia for three decades
In a statement on his website, the president made no direct reference to specific events.
"The question may arise as to why the president failed to influence the political events that led us to the current national crisis," Sargsyan wrote.
"The reason is obvious again – the lack of appropriate tools … – the Constitution. The roots of some of our potential problems are hidden in the current Basic Law."
His resignation, Sargsyan said, "was absolutely not emotional. It is based on a specific logic. The president does not have the necessary instruments to take action on the fundamental processes of domestic and foreign policy in this difficult time for the country and its people."
It is not immediately clear who might succeed Sargsyan, a former prime minister and ambassador to Britain.
In the year following Armenia's major setbacks in the conflict with Azerbaijan, Prime Minister Pashinyan has embarked on several major policy shifts, which have not always sat well with nationalists or long-serving Armenian politicians.
These have included the establishment of international trade corridors passing through both countries, the demarcation of the border separating the neighbours and steps to normalise relations with Turkey more than a century after Turkey's mass killings of ethnic Armenians in World War One. Armenia's border with Turkey has remained closed since 1993. The two countries agreed last week to establish regular air links.
Analysts said Sargsyan's resignation would leave these processes unaffected.
Analyst Rauf Mirkadyrov in Baku said Sargsyan was elected at a different time with the aim of having officials in key posts standing by unified positions. But the 2018 colour revolution, which threw out the prime minister of the time and brought journalist Pashinyan to power changed the political landscape.
"After the revolution and Pashinyan's appearance on the scene, a split emerged between Sargsyan and Pashinyan and it was unclear whether Sargsyan had real political clout," Mirkadyrov told the Tribune. "His departure shows that he does not want to assume political responsibility for Pashinyan's actions. Pashinyan has a majority of backers in parliament and that means the new president will have to be close to him. Pashinyan is most unlikely to have political problems as a result."
Pashinyan has had two surprisingly productive face-to-face meetings in the last two months with Azerbaijani President Ilham Aliyev – Pashinyan has already agreed to move forward with Aliyev's demand for a road and rail "corridor" through Armenian territory to link Azerbaijan with its exclave of Nakhchivan and officials have agreed to proceed with border demarcation.
Baku-based analyst Fikret Sadykhov said the resignation was connected to some extent to opposition within Armenia to the prime minister's moves to mend relations with both Azerbaijan and Turkey.
"Radial political forces in Armenia are unhappy with these steps and Sargsyan wanted to step aside and have nothing to do with the processes taking place in the region. He regrets not having instruments able to influence political collisions," Sadykhov said. "This resignation will not affect the Armenia-Azerbaijan talks in any way because it is the Armenian government leading those talks. I believe the talks will proceed and this resignation will not influence the bid to achieve a peace agreement.
Pashinyan has proved to be something of a political survivor – he was widely blamed for the Armenian army's setbacks in last year's six-week campaign – ended with a Russian-brokered truce and the dispatch of 2,000 Russian "peacekeepers" to sensitive areas on the border.
Participants at large demonstrations called for his resignation and expressed dismay at his attempts to forge new relations with Turkey. But he still won a landslide victory in a snap election last June to remain in office.
Sargsyan was largely left out of the negotiations to end last year's hostilities. And he objected to Pashinyan's dismissal of military leaders as the mass demonstrations proceeded.
The head of the "South Caucasus" think-tank in Baku, Ilgar Velizade, said Sargsyan's departure would also have a minimal effect on politics in Armenia itself.
"Stepping down will produce little change in political activity in Armenia. A replacement will quickly be found. And the replacement will be better suited to the powers of the position," Velizade told The Tribune. "And any effect on the talks with Azerbaijan will come rather from the overall political situation in Armenia and whatever measures Pashinyan takes."