Armenian reformist PM in crushing victory over nationalist opponents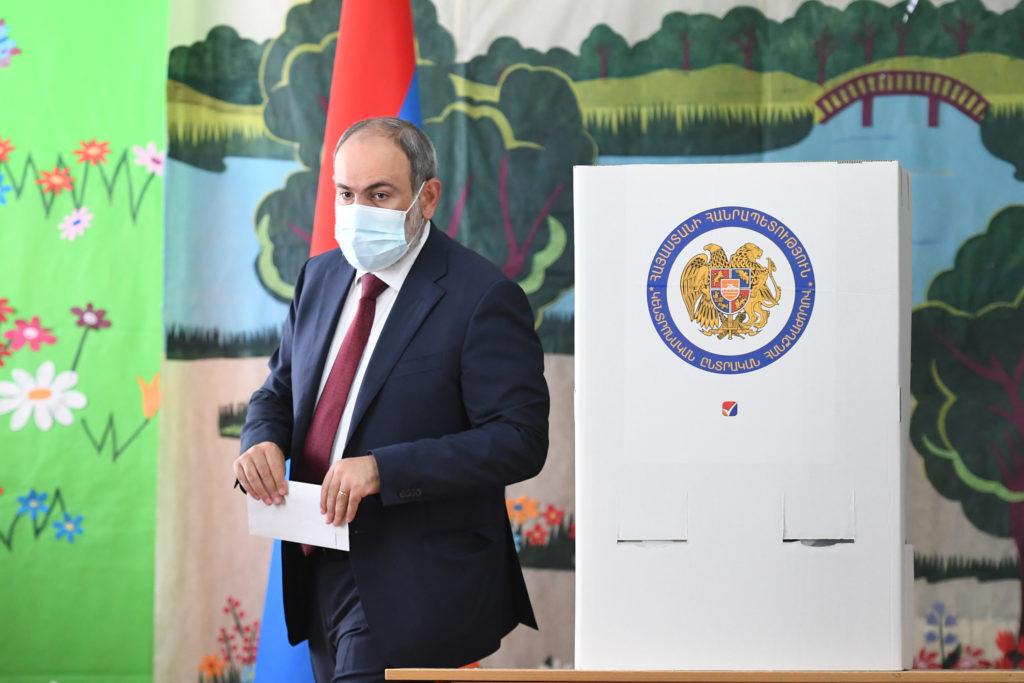 globallookpress
YEREVAN
Armenian Prime Minister Nikol Pashinyan is headed for a crushing victory over a cobbled-together collection of ultranationalists and old-guard types in results from the country's snap parliamentary elections on Sunday.
With over 90 percent of the vote counted, the 46-year-old journalist and writer's Civil Contract party had an insurmountable lead of 54-21 percent over the "Armenia" bloc headed by 67-year-old ex-President Robert Kocharyan – far more than expected.
Kocharyan, a hardliner who hails from the Nagorno-Karabakh region of Azerbaijan, now reduced to a few areas populated by ethnic Armenians. Kocharyan suggested Yerevan might try and retake parts of Azerbaijan it occupied for 30 years. It was driven out of seven Azerbaijani districts it occupied since the early 1990s in a six-week blitz by Azerbaijan, zapping Armenian old-style trench positions with high-tech weapons like "suicide drones". A massive infantry effort by Baku accompanied that.
Ethnic Armenian forces ethnically cleansed the areas of more than 600,000 Azerbaijanis in the early 1990s and never developed or invested in them. Instead, they were stripped of anything of value – bricks to wiring – and are largely devoid of inhabitants.
Some polls had suggested Kocharyan, who emerged from obscurity only a few weeks ago, and his collection of smaller parties had caught up to Pashinyan.
However, several analysts said they had doubts about the accuracy of the polls and that even if statistically correct, many may have been reluctant to state their true support for Pashinyan, as his detractors had called him a traitor, a secret "Turk", said he deliberately gave away the occupied territories "on purpose", and threatened him with a trial for treason if they came to power – as well as many of his supporters.
Turnout was reported at 50 percent.
KOCHARYAN CAMP CRIES FOUL
Kocharyan's camp immediately cried foul, alleging irregularities.
But given the enormous magnitude of the victory by Pashinyan, it is hard to see how a serious effort could be made to contest the results.
No other parties or blocs were on the verge of entering parliament. Parties need five percent to enter, and blocs seven percent.
If Pashinyan's victory holds, he will immediately be confronted with demarcating the border with Azerbaijan and reopening a long-closed corridor between Azerbaijan and its exclave of Nakhchivan.
BIG CHALLENGES AHEAD
The run-up to the vote was tense, with both sides alleging attempts at vote-rigging or plans for violence.
Russia negotiated an armistice in November in which Armenia, already forced out of several districts of Azerbaijan it had occupied, had no choice but to give up several more it had held against four U.N. Security Council Resolutions.
Pashinyan amassed great crowds, which forced the sitting government to resign in 2018 over systematic corruption, low living standards, and mass emigration. He translated that into a big election win later that year.
Turkish President Recep Tayyip Erdoğan visited Azerbaijan last week and signed an enhanced "military union" with Baku. He also visited Shusha, a sacred city of Azerbaijani intellectuals occupied for three decades by ethnic Armenians. Turkey helped build Azerbaijan's military over 25 years, and its role was decisive. Yet, Erdoğan has called for an end to a century of hostilities with Armenians.
Though having 2,000 peacekeepers on the ground, Moscow clearly does not want a full-blown conflict with Ankara. It has sent mixed signals over Turkey's more open role in Azerbaijan.
But Azerbaijan says without formal delimitation of the frontier, renewed hostilities may be inevitable. Already there have been detentions, clashes and tensions along the margins of the frontier.