Armenian protests continue, talks to resolve political vacuum have yet to bear fruit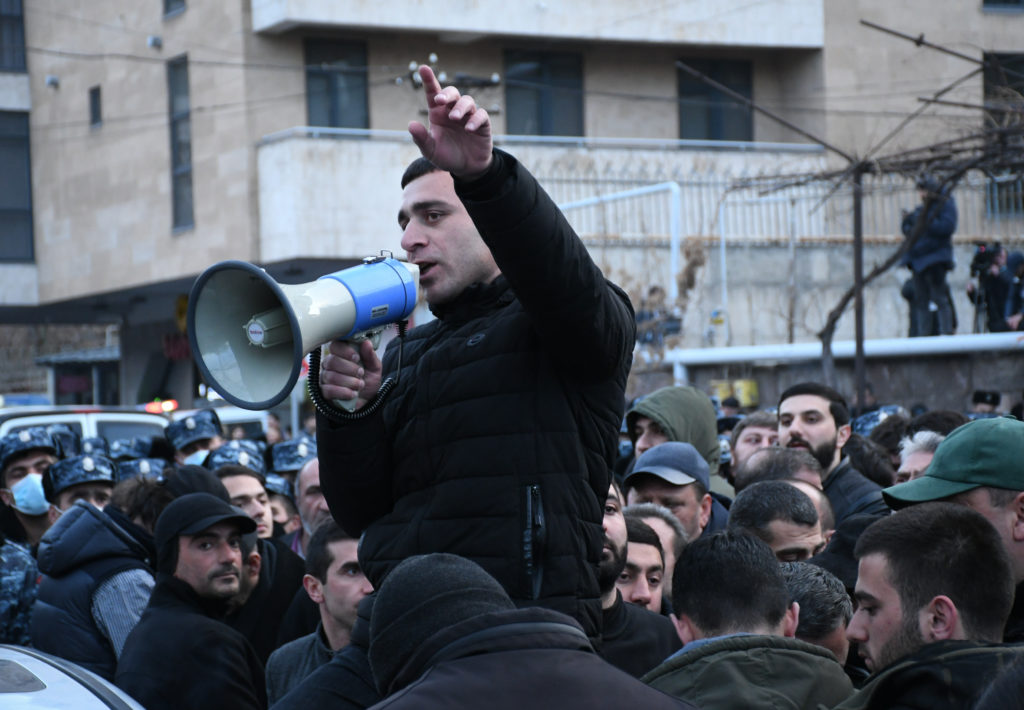 EPA
Groups of opposition supporters flash-mobbed various government buildings in Armenia's capital over the weekend, continuing to demand the resignation of the country's Prime Minister, Nikol Pashinyan. They scuffled with riot police, though no serious injuries were reported.
Throngs surrounded the Foreign Ministry in the centre of the capital. Others surrounded the residence of the country's ceremonial president, where PM Pashinyan was engaged in talks to diffuse a weeks-long political crisis. They shouted "Nikol, go away!" and "Nikol is a traitor!".
The protesters are from disparate political colors. Some are supporters of the country's ousted old guard, which Pashinyan, a 45-year-old  journalist and writer, forced from power in 2018 following massive street protests. There are also ultranationalists, as well as those from smaller groups and parties led by perennial opposition types. They have not produced any political platform and lack any common ideology.
They seem united only by seething anger with Pashinyan. They blame him for the stunning reversal of fortunes in which the country's army was driven from Azerbaijani lands it occupied for nearly three decades. Armenia signed a Russian-brokered peace agreement in November after 44 days of all-out fighting.
Pashinyan has defended the peace agreement as the only option from preventing Azerbaijan military forces from overrunning the remaining parts of the Nagorno-Karabakh region under separatist control. He also blasted the country's business community for not investing in areas during the nearly three decade occupation, as well as able-bodied men who criticised him but never bothered to volunteer for emergency military service.
The country remains mired in a state of political vacuum. The deadlock between the Prime Minister and the country's nominal President over effective control of the armed forces continues. Protesters continue to completely block access to the Parliament building, paralyzing its work. Large numbers of police in riot gear guard other key buildings, including the Prime Minister's residence. Several rings of them surround it.
The latest flashpoint came when the Prime Minister and the titular President, Armen Sargsyan, came to odds over Pashinyan's attempted dismissal of the Armed Forces Chief of Staff. The military leadership last month signed a written demand PM Pashinyan to quit, which he labeled an "attempted coup".Titular President Sargsyan was appointed from the old guard in 2018, just before massive street protests drove the real authorities from power. He refuses to rubber-stamp the decision or endorse the nomination of a new army chief of staff.
It now appears up to Constitutional Court to render a verdict as to who has the power over nominations to the armed forces top post, the nominal President or the Prime Minister. The body is widely seen as politicised and still made up largely of old-guard appointees, and what it will do is totally unclear.
The issue has deep regional implications, as without an effectively functioning government, it will be impossible for Turkey and Armenia to re-establish diplomatic relations, suspended for almost three decades. Such a step would automatically resolve any spurious outstanding territorial claims by radical forces and re-open vital trade links between Europe and Asia.
The dispute is exacerbated by the fact that under Armenia's Constitution, the President is supposed to hold a largely ceremonial role. The document, last rewritten in 2017 in a move from a presidential to a parliamentary system, has many vague or unclear clauses, including the specific powers of the president in firing or approving army chiefs.
Armenia is an unusual case of a former Soviet republic where the military plays an outsized role in politics. It has been deployed several times to crush protests following disputed elections or ones regarded as riddled with irregularities by international observers.
In 2008 the army was sent into the streets by former President Robert Kocharyan after a month of increasingly heated protests in Yerevan. Eight people were killed and dozens injured as army troops fired indiscriminately into groups of demonstrators.
In 1996, former President Levon Ter-Petrossian's government declared martial law and deployed tanks to quell massive gatherings, after elections deemed "deeply flawed" by international observers.
Despite the sudden uptick in tensions, there is no solid evidence that disparate opposition groups have the power to force PM Pashinyan to resign. He has recently held large evening rallies attended by upwards of 20,000 backers in Yerevan's central square.
A poll published last week by the country's lone independent polling organisation showed that if new elections were held immediately, Pashinyan's "My Step" bloc would win 33 percent of the vote. No other party, especially those associated with the old guard, cleared 2 percent, and several were below 1 percent.
Pashinyan's rise to power was the culmination of a "velvet revolution"  three years ago, after he walked over 100 kilometers from the north of the country to the capital. He amassed supporters along the way, many fed up with years of massive corruption, a huge exodus of the country's population abroad, and a history of fraudulent or questionable elections followed by the violent police or army crackdowns.
The cross-country march pulled a critical mass of upwards of 100,000 people in Yerevan, and the unpopular leadership resigned and agreed to new elections, which Pashinyan's political grouping won.
The PM says he is willing to call new elections and has held periodic talks with opposition groups. In addition to the fracas over who effectively controls the army, another sticking point is whether he would retain his post until the new vote. If he were to leave the Prime Minister's office before new elections, he would presumably lose a sizeable security detail amid a volatile atmosphere.