Armenia's Central Bank raises key rate to curb rising inflation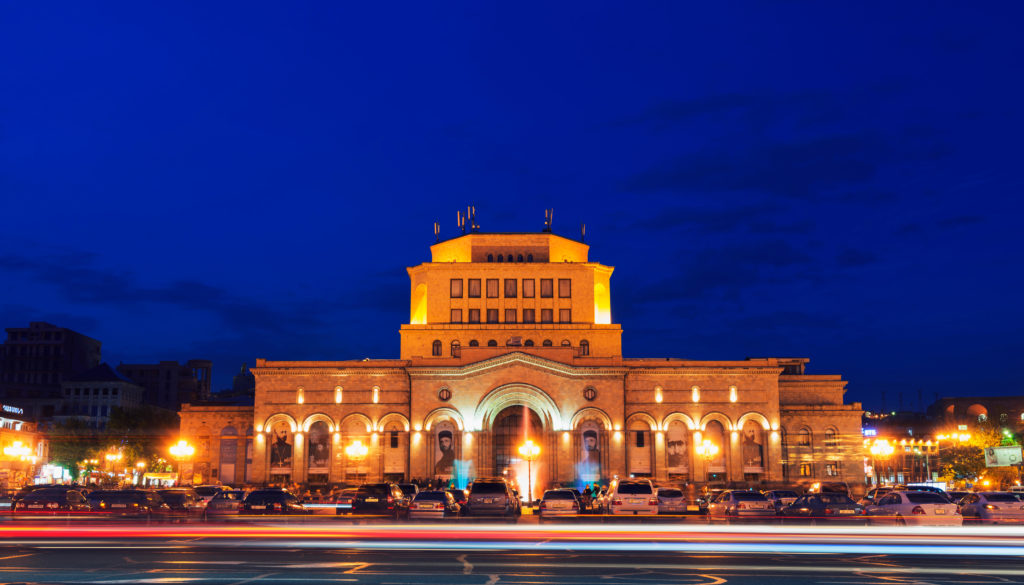 Yerevan, capital of Armenia (Alamy)
YEREVAN
Armenia's central bank raised its key refinancing rate to 7.25 percent to curb rising inflation, which went beyond the target range in June.
The central bank raised the key refinancing rate by 0.25 percent, the fifth increase since February, when it raised it by 0.25 percent. The lombard repo rate was raised to 8.75 percent from 8.50 percent, and the deposit rate to 5.75 percent from 5.5 percent.
Consumer prices in Armenia were up 8.8 percent year-on-year in August after 8.2 percent inflation in July. Inflation in August was 0.4 percent compared to a month earlier, when the consumer price index declined by 0.5 percent. In January-August, inflation was 6.4 percent year-on-year. Armenia's government projects annual inflation in a range of 2.5-5.5 percent in 2021.
Though Armenia reported rapid growth in recent years, a year of restrictions to curb the spread of the COVID-19 and a six-week conflict between Azerbaijan and ethnic Armenian forces over the Nagorno-Karabakh region and surrounding territories have taken their toll on its economy. In November, Armenia accepted a Russian-brokered ceasefire to end the conflict which secured territorial gains for Azerbaijan. The country's economy contracted by 7.6 percent in 2020, mainly reflecting a decline in services and trade.
The economy started to show its first signs of recovery in May. That led to the revision of the economic growth forecast by the government to almost twice the rate it previously predicted – to 6 percent from 3.2 percent.
Gross domestic product (GDP) shrank 3.3 percent year-on-year in the first quarter of 2021, but grew by 13.1 percent year-on-year in April-June and by 17.4 percent compared to January-March of this year.
The central bank revised its own economic growth projection for 2021 upwards to 4.6 percent from 3 percent. The bank said that the economic expansion, among other reasons, would be supported by the growth in the service sector by 6.2 percent, up from its earlier forecast of 1.2 percent.
In addition, industrial output is expected to grow by 4 percent, up from an earlier forecast of 0.4 percent. Higher commodities are also helping fuel growth, as copper is one of Armenia's main exports.
The World Bank predicts 3.4 percent growth in 2021 and 4.3 percent in 2022, while the International Monetary Fund projects growth this year at 1 percent.
In May, Fitch Ratings affirmed Armenia's long-term foreign currency issuer default rating (IDR) at 'B+' with a stable outlook.
Fitch Ratings said in July that Armenia's economy would experience a moderate recovery this year and next as the country returned to growth after the COVID-19 pandemic and a flash war with Azerbaijan.
GDP will expand 3.2 percent in 2021 and 4.0 percent in 2022, the rating agency said, adding that while economic activity was returning, some industries, such as banking, still continued to be affected by the recent downturn.
Fitch said that Armenia also had a robust macroeconomic and fiscal policy framework, and credible commitment to reform, both of which were underpinned by the IMF stand-by arrangement.