Belarus, Azerbaijan agree to boost economic ties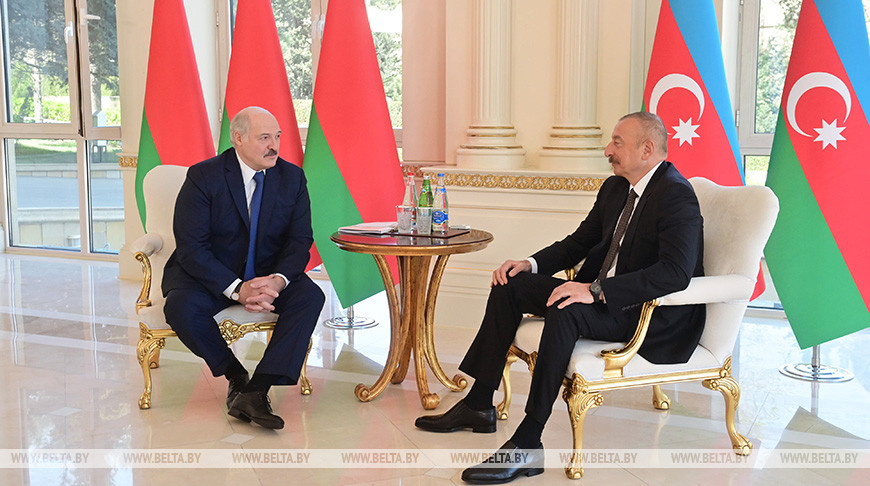 Belarus President Alexander Lukashenko and Azerbaijan's President Ilham Aliyev (BELTA.BY)
Azerbaijan and Belarus agreed to boost economic cooperation between the two former Soviet countries after President Alexander Lukashenko's official visit to Baku.
The two countries decided to create favourable conditions for businesses and to increase a trade turnover that totalled $447 million in 2020.
Lukashenko publicly told his ministers that Aliyev had opened the floodgates for Belarus business, and Belarus should immediately take an advantage of it.
"Everyone has to leave with a certain amount of work. The Belarusian minister must find a job here, especially since the president has opened the door wide for Belarusians, for their work in this country," Lukashenko said.
Minsk is also ready to open its own gateways for investments from Azerbaijan. In particular, there is talk about building up Azerbaijan's State energy firm SOCAR's presence in the Belarusian market.
In 2021, the volume of oil supplied by Azerbaijan to Belarus may be at the level of 2020, or one tanker for 80-90 thousand tonnes per month, ASTNA.biz reported.
SOCAR and Belneftekhim signed a memorandum which reflected obligations on oil supplies, sales of oil products produced in Belarus through the creation of gas stations under the "SOCAR" brand, access to joint export of fuel and energy complex products, interaction on the implementation of joint investment projects.
The memorandum provides for expanding the capabilities of the parties in the production and sale of oil and oil products.
According to Azerbaijan's State Customs Committee, Azerbaijan increased its trade turnover with Belarus by 37.7 percent, brining the volume up to $313.1 million in 2020.
In terms of total turnover, the country's export to Belarus amounted to $164.9 million, while imports from Belarus to Azerbaijan reached $148.2 million. By comparison, the mutual trade turnover was $227.2 million in 2019.
Belarus was Azerbaijan's third largest trade partner among CIS countries last year followed by Russia and Ukraine.