Azerbaijan government busts suggest bold new approach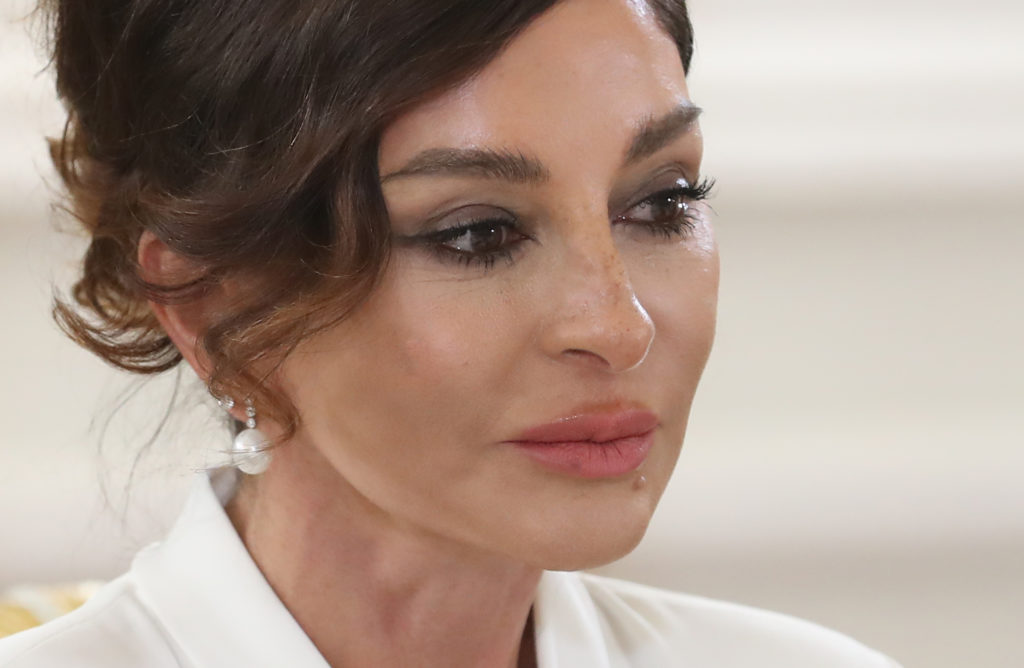 EPA
by Tribune staff  
AZERBAIJAN GOVERNMENT BUSTS INDICATE BOLD NEW APPROACH
BAKU, March 22
Since the effective end of 30 years of war with Armenia, which culminated in a 44-day blitzkrieg, several high-level government officials have been arrested on charges of major corruption or other grave malfeasances.
The arrests of the Baku Steel Company (BSC) billionaire Rasim Mammadov, the ex-Minister of Internal Affairs in the country's Nakhchivan Autonomous Republic (NAR) exclave, and Minister of Education Mamed Garibov – all on charges of massive bribery – indicate the government's war victory has empowered it to finally tackle large scale corruption and capricious figures it once considered too prickly to deal with.
The latest arrest came on March 15. Retired army Lieutenant General Rovshan Akperov was detained on murder charges.
All the more surprising, Lieutenant General Akperov holds the title of "Hero of the Nation" of Azerbaijan.
He was arrested on charges of premeditated murder, in connection with a 2001 killing in a cafe in Kyiv, Ukraine. The Azerbaijan General Prosecutors office says he allegedly killed another Azerbaijan citizen by a stab to the heart.
He is charged under articles 12.1, 120.2.2 (premeditated murder) and 12.1, 221.3 (hooliganism) of the Criminal Code.
Others have been reprimanded by President Ilham Aliyev and put on notice to stick to their portfolios. Still, other former high-rollers, some well past official retirement age, have been put to pasture in innocuous posts, in a purge which began even before the war entered its decisive phase. The crackdown seems almost certain to continue.
The leadership is sending senior officials an unambiguous message: Stay clean, or else.
BIG FALL OF THE LITTLE GIANTS
The private Baku Steel Company, established during the reign of Heydar Aliyev on June 21, 2001, is the largest metallurgical holding in the South Caucasus. It is also one of the largest taxpayers in the non-energy sector of Azerbaijan, and a major exporter of non-oil products.
Baku Steel includes a plant in Azerbaijan with a capacity of a million tonnes per year, a pipe plant in the city of Sumgait churning out 180 thousand tonnes of seamless pipes per annum, and several other enterprises. It has 1,500 employees.
Rasim Mammadov, who led his steel pet for more than 12 years, was detained in December 2020 after an official audit of the firm.
After four-month pre-detention, he was officially charged in March 2021 by the State Security Service (SGB) under Articles 308.2 (exceeding official powers, resulting in significant damage), 178.3.2 (fraud, causing significant damage) and 179.4 (misappropriation and embezzlement, causing damage on an especially large scale) of the Criminal Code of Azerbaijan.
"Mammadov embezzled 13.2 million (₼) manats (AZN)- $ US 7.8 million from sales proceeds, and also caused damage to the company to the amount of 42 million ($ 24.7 million) " the State Security Service said in a statement.
Kamal Ibrahimov, who previously headed the leading insurance companies of Azerbaijan Standard Insurance and Gala Hayat Insurance, became the new head of BSC.
Experts close to the BSC and government structures say that jailed steel boss Mammadov was a key patron of purged éminence grise Ramiz Mehdiyev.
Mehdiyev had headed the presidential administration since 1995. He enjoyed indisputable authority and influence and threw his weight around in many if not most decisions.
But in October 2019, the so-called Conseliergo's 24-year spree ground to a halt. Mehdiyev was removed and relegated to the harmless post of President of the National Academy of Sciences, a job with academic cache, though far from his former position influencing the affairs of state. It was a post that seemed almost designed to save the octogenarian from a worse fate caused by further self-inflicted wounds.
Mehdiyev was known to hand out appointments to key positions according to a "clan" or kinship principle, a delicate balance of power.
However, tolerance with this approach seems to have come to come to an end.
The beginning of the end for shadowy figures like Mehdiyev actually started in 2019.
RISE OF THE FIRST LADY AND FIRST VICE PRESIDENT
That is when First Vice President and First Lady Mehriban Aliyeva, long known for an active role in political decision making, and something of an inside reformer, began a more openly assertive drive to promote younger, fresher faces to important posts. First Vice President Aliyeva is an ophthalmologist by education.
Independent analyst Natig Jafarli told the Tribune: "the old team is being cleaned up, and this was shown not only by the arrests, but also by the last congress of the country's ruling party."
Aliyev's new team has begun the fight against monopolies, and has a desire to change the way of life. "But for such a fight to succeed, new rules of the game, and separation of powers and responsibilities are needed." Jafarli said.
On March 5, Azerbaijani President Ilham Aliyev, addressing the 7th Congress of the governing Yeni Azərbaycan (New Azerbaijan) party, declared that "a new era of transparency and honesty has entered the country's economy. The era of monopolies has come to an end."
A few weeks earlier, he dressed down several government ministers for rushing to set up their own field offices in territories recaptured from the Armenians, including the crown jewel mountain town of Shusha, the citadel of Azeri arts and letters.
He bluntly told them to abandon their vanity projects – which he hinted were probably little more than cover for plans to build lavish private residences- and stick to their real jobs instead.
"I declared Shusha the cultural capital, I did not declare it the capital of officials. Therefore, let everyone sit and do their own thing, and not get on my nerves," President Aliyev said on February 1.
This is an important message, as is the arrest of steel magnate businessman Rasim Mammadov and other detentions, analysts say.
As for corruption arrests in the Nakhichevan exclave, long a bastion of power in Azerbaijan, they signal it is time to move away from the clan principles of personnel placement, according to political scientist Mekhman Aliyev, who is not related to the President. The "Nakhichevan clan" has long had a favoured position among the 4-5 main "power clans".
The 82-year-old ex-grey eminence Mehdiyev still occasionally sends out bitter taunts, like a ditched ex left by the side of the road. In one such recent missive, he hailed the "inviolability" of the old rules of government.
Apparently bored with his academic gig, Mehdiyev dispatched a public letter in autumn, 2020. The document was directly addressed to Aliyev's new team. In it, Mehdiyev declared brazenly: "You cannot change anything."
It appears the Mehdiyev would like to think the administrative machinery he created – with all its gears and cogs – are still in operation, spinning in overdrive as he scribbles away with a professor's pen in a gilded cage.
WILL THE STEPS BE EFFECTIVE?
Political analyst Nasimi Mammadli believes that Mehdiyev is little more than something of a nuisance to be ignored. He poses no serious risk to the authorities, the analyst said. He said the authorities need to deal with reforms in the political, legal and managerial spheres – and not focus too much on washed-up "scapegoats". Otherwise, he continued, those who created the system and lived in it might fall into its "millstones".
But according to analyst Natig Jafarli, the clean-up does entail other potential pitfalls.
"There are certain risks for the authorities. If the mopping-up affects the serious interests of many businessmen and officials at once, they could unite among themselves and organize a confrontation," he told The Tribune.
"We need a legislative basis, perhaps even a financial amnesty. To really eradicate monopolies, you need to deal with, for example, the State Customs Committee (SCC), which should become one of the structures of the Ministry of Economy of Azerbaijan, and not act independently." Jafarli said.
The European Bank for Reconstruction and Development (EBRD) and tax and advisory giant KPMG published a report on the business environment in Azerbaijan the end of 2020. It applauded the fight against corruption.
It also went on to say high customs tariffs and taxes compared to similar sized markets, administrative interference in businesses, problems with anti-trust legislation, slow digitalization in government bodies, and complaints about quality issues among private transport and logistics services were still impediments to more dynamic development.
The EBRD/KPMG document identified several opportunities for relatively fast reform, including increasing transparency in currency risks and regulation. The Azerbaijan Manat (₼, AZN) has been held at exactly 1.70 to the US dollar through Central Bank interventions for several years.
It went on to encourage an increase in the number of international financial institutions in Azerbaijan, promoting personnel and educational programs in the business sector, and the continuation of the privatizations, which have already accelerated among state-managed enterprises in the non-oil and gas sector. It said this would diversify the economy and develop the non-energy sector further.