Azerbaijan hedges bets with regional powers, signs "allied cooperation" accord with Russia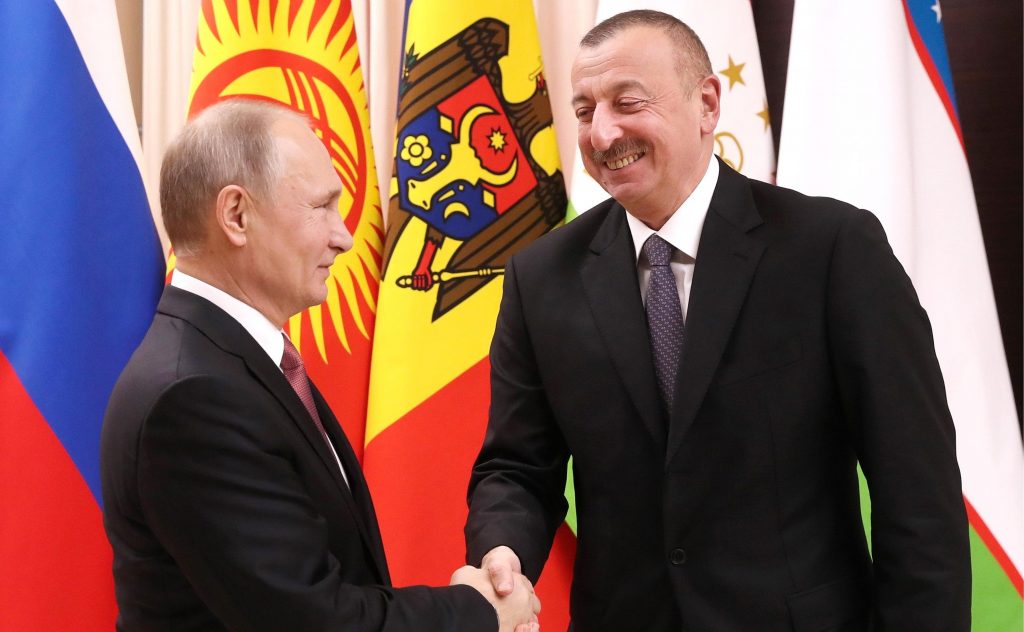 Russian President Vladimir Putin and Azerbaijani President Ilham Aliyev in 2017 (Alamy)
By Lada Yevgrashina
BAKU
Azerbaijan signed an agreement on "allied cooperation" with Russia calling for both sides to offer military and other assistance to tackle regional problems in what analysts say is a bid to "hedge its bets" in balancing its ties with both Moscow and Ankara.
The sweeping 43-point agreement was signed after a five-hour Kremlin meeting between presidents Ilham Aliyev and Vladimir Putin – and against the background of Russia's decision to recognise two breakaway states in Ukraine and formally introduce its troops to those regions.
Azerbaijan clearly hopes to use the agreement to ensure all differences with Armenia are resolved more than a year after Azerbaijani troops made major gains in the "Second Karabakh War" and deoccupied large swathes of territory held by Armenian forces for three decades. But it also appears a way to keep Moscow onside on all major issues while Baku maintains Turkey as its main strategic partner.
The agreement calls for the two sides to "act jointly…to uphold stability and security in the Caucasus and Caspian regions" and develops "bilateral military-political cooperation in meeting national interests and not directed against third countries" Azerbaijan, the pact says, "fully appreciates Russia's role in a full ceasefire and end to military activities" associated with the 44-day conflict in 2020.
Addressing journalists after the accord was signed, Putin said his actions in Ukraine "do not mean that Russia intends to restore an imperial in imperial borders".
"Even in tense, very tense situation, like in a Nagorno-Karabakh settlement, we always acted very carefully, keeping in mind the interests of all states involved in the process," he said. "We always sought to achieve mutually acceptable solutions."
Russia facilitates peace talks
Russia, traditionally an ally of Armenia, has played a major role in trying to establish durable, long-term peace in the aftermath of the two conflicts over Nagorno-Karabakh extending over 30 years. Moscow brokered a cease-fire between the two sides in 2020 and dispatched 2,000 peacekeepers who remain in sensitive areas while the two sides work out a long-term peace plan.
Putin has played a major role in facilitating a peace accord, hosting a meeting last November between Aliyev and Armenian Prime Minister Nikol Pashinyan.
The two sides are now tackling the principal issues holding back a settlement – demarcating their border and securing transport links through each other's territory. The agreement has been reached on building the main link – the "Zangezur corridor" providing Azerbaijan with a direct route to its Nakhchivan enclave through Armenian territory.
But Azerbaijan has also built on traditional linguistic and cultural ties with Turkey to develop a close relationship – Ankara provided Azerbaijan with much of the military hardware that enabled it to make the major gains and subdue the Armenian army in the 2020 conflict.
"The declaration of allied joint action is to some extent a way of offsetting offence or suspicion from the Russians and compensates for the fact that Azerbaijan has very close ties with Turkey which, according to all surveys, is Azerbaijan's first partner," analyst Rasim Musabekov, a member of Azerbaijan's parliament, told the Tribune.
"In the context of the current situation with Ukraine, Azerbaijan is 'hedging its bets' in its relations with its powerful northern neighbour."
He said Putin's remarks after the talks "demonstrated that Azerbaijan and Russia are conducting themselves in a correct manner, while Ukraine is not".
Demarcation and trade links
Analyst Ilgar Verlizade said the agreement also had the effect of undermining Armenia's longstanding status as Moscow's privileged partner in the region.
"This means that by embarking on a qualitatively new level of relations with Russia, Azerbaijan is taking care to protect itself from any revanchist attempt by Armenia to restore control over Karabakh," he said.
Nagorno-Karabakh, recognised as part of Azerbaijan for a century but home to a large Armenian community, was the focus of the neighbours' two conflicts.
Thirty years after Armenian forces first took control over the area, Azerbaijan has restored control over it and is developing it while tens of thousands of displaced residents return to their homes. Clashes periodically erupt along the border and Azerbaijan points to recurring attempts by Armenia to bypass the new realities by visiting the region without formal permission.
Aliyev said the agreement with Russia represented "a great privilege and a great responsibility".
He expressed hope that work could proceed more quickly on the transit routes now that the two sides had agreed to provide the necessary infrastructure.
Putin said he had received assurances from Armenian Prime Minister Nikol Pashinyan that work was proceeding on the trade links and hoped that progress would soon be made in demarcating the border.