Azerbaijan's anti-corruption drive continues unabated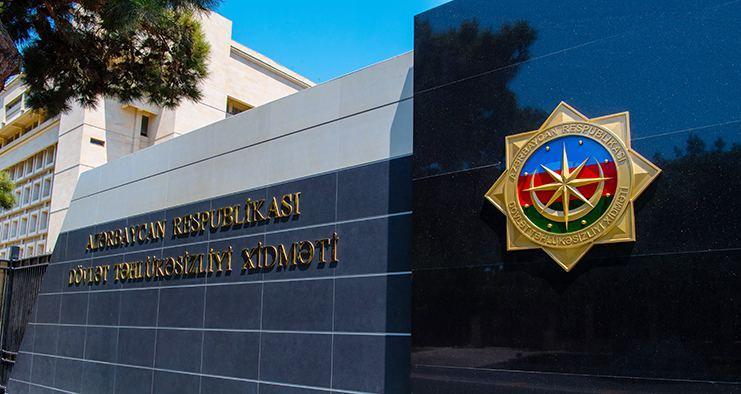 Courtesy of Azerbaijan State Security Service
by THE TRIBUNE staff 
BAKU
Continuing arrests in Azerbaijan of high level or former officials on corruption related offences are more evidence of a systematic wide-scale crackdown on graft, analysts say.
The crackdown started late last year, not long after Azerbaijan routed Armenian forces in an ultimate 44-day conclusion to their three-decade war. Armenian forces were driven from or Azerbaijan districts they had occupied since the early 1990s. The now de-occupied territories were turned into wasteland – looted of anything of value down to bricks – after 600,000 ethnic Azeris were ethnically cleansed in 1993-1994.
The assertiveness with which the government of President Ilham Aliyev is purging certain figures suggests a degree of post-war confidence that certain previous "untouchables" – once too thorny to confront on the backdrop of a war situation – are now fair game.
No particular so-called "clan" – previously there had been 4-5 identifiable ones in Azerbaijan according to geographic or familial characteristics – seems to be targeted – instead those being arrested are apparently simply are particularly egregious examples.
CATEGORISING THE TARGETS
Political analyst Azer Gasymly told the Tribune that those being rounded up seem to fall into  select main categories.
"There are those who were either oligarchs or were connected with oligarchs, who have fallen out of favour. By gutting their financial influence, it is also a way of ensuring they cannot try and influence the political system through money in the future," he said.
Such arrested figures classified as "oligarchs" would include the former head of the country's biggest steel enterprise, who was arrested last year and charged with a laundry list of massive financial crimes and economic damages in the tens of millions, according to the Azerbaijan State Security Service.
President Aliyev singled out the steel magnate, Rasim Mammadov, for especially harsh criticism, saying he had created a "personal corrupt monopoly" – though the company – Baku Steel – is technically a private enterprise.
Another category are state officials – or former ones – accused of allegedly shameless levels of crookedness while maintaining highly sensitive posts.
That would include two retired generals arrested this week. Both held high posts in the former Ministry of State Security, which was disbanded in 2015, in part because of its reputation as being a hothouse of graft – so much so that 21 officials from the ministry were arrested in that year alone on various charges of malfeasance – all while Azerbaijan was still in the throes of the now ended war with Armenia.
The pair –  retired generals Movlan Shikhaliyev and Nizami Shirinov, were charged under articles covering extortion, falsification of evidence, bribe-taking, and abuse of power under Azerbaijan criminal codes.
The prosecutor's office said that in his role as head of the Main Investigation Department of the Ministry of National Security, Shikhaliyev and a subordinate "falsified evidence in nine criminal cases, and abused his official powers, committed various corruption crimes, extorted bribes on a large scale, embezzled property and funds on a large scale by means of threats".
Shirinov, the former head of the Office of Military Counterintelligence,  "received large bribes for admitting persons to the Academy of the Ministry of National Security, changing the place of service, and appropriating property and money through threats."
Political analyst Azer Gasymly said another factor was that these two figures were also seen as close confidants of Eldar Maxmudov – the former head of the now disbanded ministry. Maxmudov has been under a de facto state of house arrest for several years for transgressions including allegations of widespread anti-state practices. House arrest had been a way of dealing with potentially prickly miscreants who the government – under recently – considered wily enough to stir up trouble if given too much public attention in the form of trials.
Analyst Gasamly also said there has been widespread speculation that the two arrested ex-generals had also been closely related to Russian intelligence circles, though no such charge has been made. Baku has good ties with Moscow, but its longstanding strategic partnership with Turkey became all the more visible starting in 2020, and culminated with vital military assistance in defeating Armenia using high-tech weapons while Armenia was stuck with largely obsolete methods of warfare.
The retired generals were formally charged on April 6, according to the country's general prosecutor's office.
Another figure rounded up in recent days was the former head of the powerful Baku City Executive Office, Rasim Guliyev.
Guliev was arrested and charged under articles including the illegal issuance of a building permit and abuse of office, resulting in grave consequences.
Analyst Gasamly said that insider talk is rife with information that many more arrests, including those from the capital's key executive and administrative apparatus are imminent.
Other arrests coming after the war include that of a high ranking military officer, charged with premeditated murder in a case where he allegedly stabbed a man to death with a knife to the heart some two decades ago.
A government minister was arrested on graft and abuse of office charges.
Two more former interior ministry officials were also arrested on corruption-related charges.
President Ilham Aliyev has been very vocal in recent weeks and months about the need to end large scale corruption and root out de facto state monopolies.
Azerbaijan has for years scored low marks on indexes involving corruption, and some government officials say the need for a house cleaning has been evident for some time, partially in order to improve its image among would be foreign investors, especially in the non-oil and gas export sector.
First Vice President and First Lady Mehriban Aliyeva, long known for an active role in political decision making, and something of an inside reformer, is also seen as being behind some of the efforts to root out entrenched interests and refresh the state apparatus and promote younger faces to important posts. First Vice President Aliyeva is an ophthalmologist by education. She and President Ilham Aliyev have been married for more than three decades.
Last month, President Aliyev, addressing the 7th Congress of the governing Yeni Azərbaycan (New Azerbaijan) party, declared that "a new era of transparency and honesty has entered the country's economy. The era of monopolies has come to an end."
A few weeks earlier, he dressed down several government ministers for rushing to set up their own field offices in territories recaptured from the Armenians, including the crown jewel mountain town of Shusha, the citadel of Azeri arts and letters.
He bluntly told them to abandon their vanity projects – which he hinted were probably little more than cover for plans to build lavish private residences- and stick to their portfolios.