Azerbaijan's central bank projects annual inflation to decline to a range of 2-6% in 2022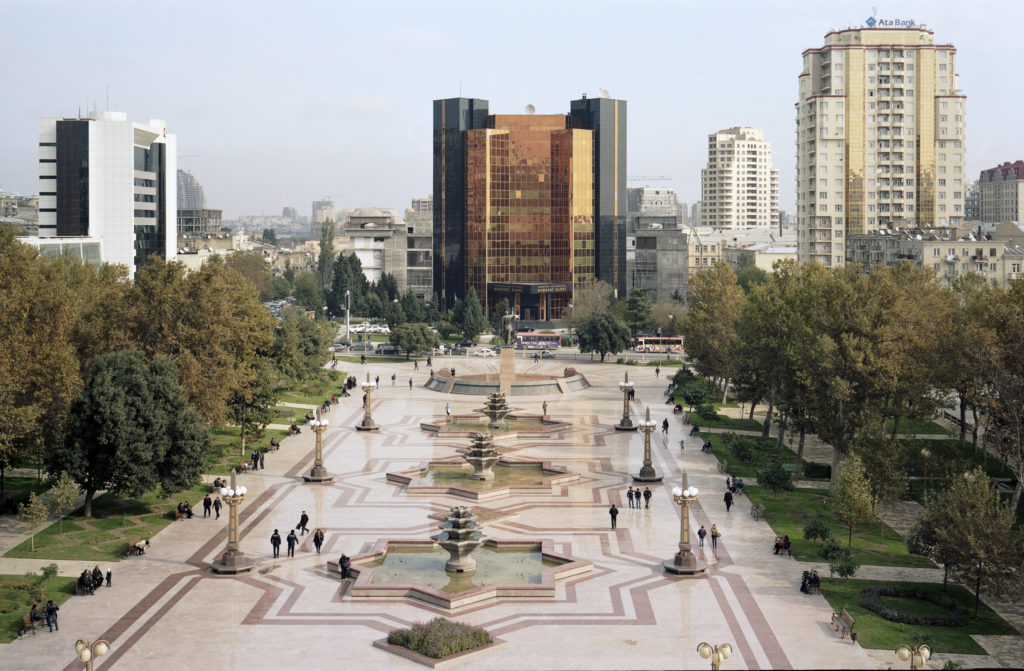 Azerbaijan's National Bank (Alamy)
BAKU
Azerbaijan's central bank has tasked reduction of annual inflation to a range of 2-6 percent next year and has not ruled out monetary policy tightening.
Consumer prices in Azerbaijan rose by 1.5 percent in November month-on-month after rising 1.6 percent in October. Annual inflation in November was 6.2 percent, up from 5.7 percent in October this year.
The central bank projects annual inflation this year in a range of 6.3-6.6 percent.
"The main goal of monetary policy for the next year is to ensure inflation dynamics in the range of 4 percent plus/minus 2 percent. This will largely depend on non-monetary factors – on world prices for energy and food products, tariff policy and the macroeconomic environment," the central bank said in a statement.
The bank linked the rise in inflation to the rise in prices for goods on world commodity exchanges and problems in the global supply chain.
The bank projected that inflation would slow down in 2022 and, starting in the second half of the year, will approach the top of the target corridor. It did not rule out that there might be a need to tighten monetary policy if the real inflation situation deviates from the baseline scenario.
Earlier in December, the central bank raised its key refinancing rate to 7.25 percent from 7.0 percent, amid accelerating inflation globally and a decrease in demand domestically.
The bank raised the upper level of the rate corridor to 8.25 percent from 8.0 percent, while the lower level remained unchanged – at 6.0 percent.
The central bank had kept the rate unchanged since December 2020, when it cut 25 basis points from 6.50 percent. In September the bank raised the rate to 6.50 percent from 6.25 percent, the first rise in five years and raised it again in November to 7.0 percent.
The bank said that it planned to gradually switch to a strategy of hybrid inflation targeting regime in the long term.
"It is planned to carry out preparatory work and define basic conditions to ensure the smooth transition to this regime," it said.
Decisions on the parameters of the refinancing rate will be made based on the macroeconomic situation, forecasts, inflation expectations as well as other internal and external factors in 2022.
Experts say that the central bank's monetary policy is expected to focus on inflation control whilst still supporting economic recovery. Broad money is forecast to rise due to continued fiscal stimulus and resumed growth in credit to the private sector, while Azerbaijan's exchange rate should remain stable as a renewed trade surplus takes the pressure off the manat.
Azerbaijan's gross domestic product (GDP) grew 5.3 percent in January-November this year from a year earlier mainly backed by the growth in the non-oil sector.
In September, Azerbaijan has raised its economic growth forecast for this year – GDP is now projected to grow 4.6 percent and amount to 82.3 billion manats ($48.4 billion), up from a previous projection of 3.4 percent.
The World Bank predicts that Azerbaijan's economy will grow 5.0 percent this year and 3.1 percent in 2022, the International Monetary Fund's updated projection is less upbeat, forecasting 3.0 percent growth in 2021 and slowing to 2.3 percent in 2022.
Meanwhile, the Asian Development Bank said in June that growth was forecast to return in 2021 at 1.9 percent and accelerate to 2.5 percent in 2022 as demand improves at home and abroad. As consumer confidence is restored and petroleum receipts become available for public investment, growth in the petroleum industry is expected to be outpaced by expansion in the rest of the economy, it said.