Azerbaijan's SOFAZ cuts bond, currency investments, increases gold and shares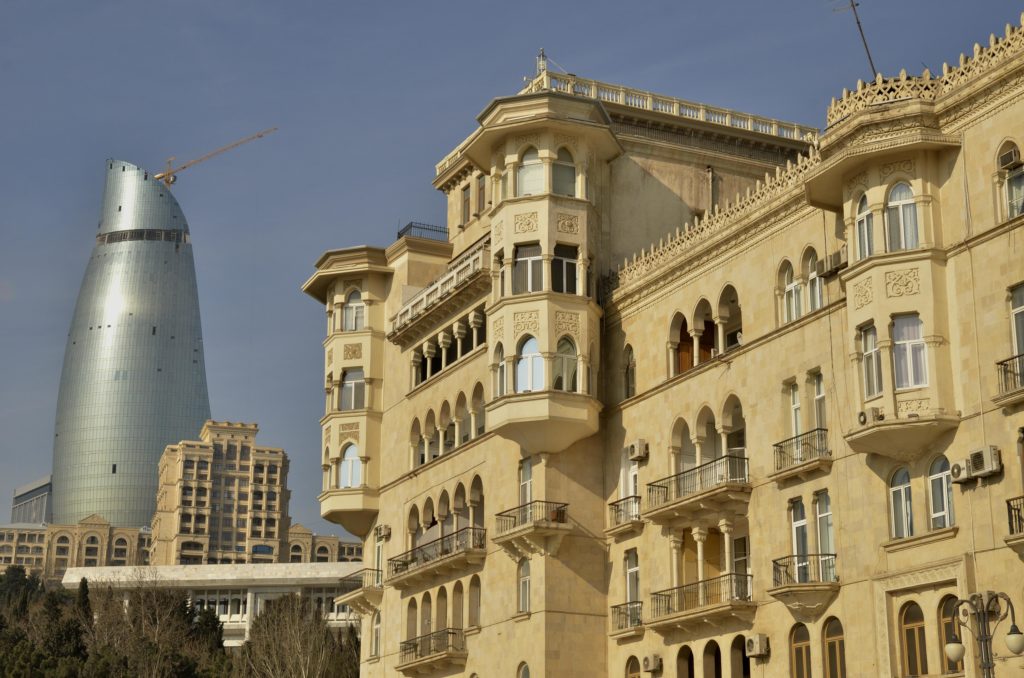 Global Look Press
BAKU
Azerbaijan's State Oil Fund's (SOFAZ) said it reduced its investment in bonds and currencies by 4.7 percent year-on-year to 64 percent in its investment portfolio in the first quarter of this year.
SOFAZ said the proportion of shares in its investment portfolio rose to 17 percent from 12.4 percent, the share of gold increased to 12.9 percent from 12.8 percent, while its share of investment in real estate remained unchanged at 6.1 percent in the first three months of this year.
The Fund said that 57.1 percent of bonds and other money market instruments, in which SOFAZ invested, received an AAA rating, which is 0.7 percent more than a year ago.
SOFAZ changed the share of the AA-rated instruments to 11.9 percent 12 percent, the A-rated instruments – to 20.9 percent from 19.2 percent, and the BBB-rated instruments – to 8.8 percent from 9.4 percent.
The proportion of the non-investment grade instruments dropped to 1.3 percent from 1.4 percent.
The Fund's total investment portfolio amounted to $42.761 billion as of April 1.
As for currency composition, 68.6 percent is in U.S. dollars,  2.6 percent up from the year earlier, 22.9 percent – in euros and 5.2 percent in British pounds.
REVENUES FROM OIL AND GAS
The $40 billion fund manages the ex-Soviet country's proceeds from oil and gas sales, energy contracts and transit fees.
SOFAZ said that revenues from oil sales amounted to$1.437 billion as of May 1, compared to $953.5 million a month earlier. Azerbaijan mainly sells oil from its major Azer-Chirag-Guneshshli (ACG) oil offshore bloc in the Caspian Sea.
Revenues from gas and condensate sales amounted to $42.352 million compared to $29.2 million a month earlier. Azerbaijan sells gas from Shah Deniz gas field.
A BP-led consortium produces oil at Azerbaijan's giant off-shore Azeri-Chirag-Guneshli (ACG) oilfields, which account for most of the country's oil production. Another international consortium that is also led by BP produces natural gas at the major Shah Deniz field. Azerbaijan's state energy firm SOCAR is a shareholder in both consortiums.
ACG offshore fields are the largest in the Azerbaijan sector of the Caspian basin. Its reserves are estimated at 7 billion barrels. In 2017 BP and SOCAR extended the production-sharing agreement for ACG until 2050. Following the extension, ACG's $6-billion development project – Azeri Central East (ACE) was sanctioned in April 2019 and is currently at the executive stage with the first oil expected in 2023.
Oil from the ACG is shipped via the Baku-Tbilisi-Ceyhan pipeline through Georgia and Turkey, Azerbaijan's main oil export route.
The consortium, which develops the Shah Deniz project, has been pumping gas from the offshore field's first phase since 2006, delivering more than 10 billion cubic metres (bcm) a year of gas to Azerbaijan, Georgia and Turkey.
The second phase started output in 2018, adding 16 bcm of gas production capacity at its peak to bring total capacity to 26 bcm.
Azerbaijan started commercial natural gas supplies to Europe from Shah Deniz II via its $40-billion Southern Gas Corridor in December 2020, when the corridor's last part, the Trans-Adriatic Pipeline, was launched. The project is aimed at reducing Europe's dependence on natural gas supplies from Russia, which currently controls 34 percent of the continent's gas market.
Azerbaijan aims to supply European gas markets with 10 bcm of gas a year, including 8 bcm to Italy and a combined 2 bcm to Greece and Bulgaria.