Belarus' opposition, exiled leader unable to breathe new life into effort to unseat Lukashenko, calls for mediation largely ignored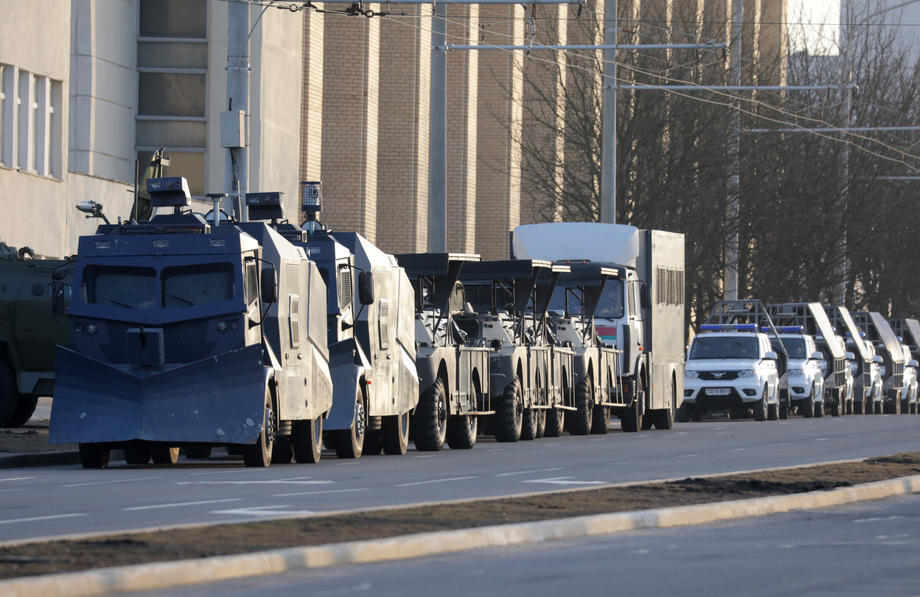 EPA
March 26, 2021
Belarus's opposition, and its de facto leader, have been trying to inject new life into an effort to end the quarter-century reign of President Alexander Lukashenko and rekindle the weeks of mass protests of last summer by hundreds of thousands. This week was supposed to be a decisive one.
Svetlana Tikhanovskaya, the now-exiled, defeated election challenger, had urged Belarusian protesters to mark Thursday, the 103rd anniversary of a short-lived independent Belarusian republic in 1918. She and others had dubbed it "Freedom Day". Earlier this week she also called for an online poll calling for talks with the president, to be moderated by international mediators.
Demonstrators demanding the resignation of the strongman Lukashenko did manage small, mobile protests In Minsk and other cities, but the president's resolve to shut down protests largely snuffed then out, dealing a setback to the opposition's bid to rejuvenate a mass movement months after his disputed re-election.
The interior ministry – and opposition groups — reported more than 200 arrests. Opponents of the veteran president, led by the exiled woman they say won last August's presidential election, say more than 30,000 people have been sent to jail for taking part in protests.
Video footage on opposition websites and telegram channels showed groups of protesters moving through city streets on foot and, in some cases, a cavalcade of cars. They also showed displays of fireworks to mark the focal point of Thursday's protests.
The videos also showed an array of police cars and vans and army vehicles placed to prevent protesters from massing.
"The large-scale protests promoted by destructive announcements on telegram channels did not take place," the semi-official BelTA news agency quoted an interior ministry spokeswoman as saying.
"There were Isolated incidents, breaking laws against mass gatherings. These were mostly groups of people picketing with symbols that are not officially registered."
Many protesters displayed the banned red-and-white nationalist flag used by the 1918 republic and by post-Soviet Belarus in its initial years before Lukashenko was first elected in 1994.
New opposition tactics
The opposition had changed its tactics, telling protesters to mass outside the city centre and in small groups in courtyards to make policing more difficult.
But neither the numbers nor the effect were there.
"Freedom Day without freedom," the independent online news service tut.by said in a headline reporting the arrests.
Tikhanovskaya, who describes herself as the legally elected president, had lamented the loss of momentum by the protest movement. Last summer's demonstrations swelled to 200,000 and more, initially boosted by the police crackdown and reports of mistreatment and torture.
But the jailing of protesters – and cold winter weather – thinned its ranks, disappointing activists who had hoped that a mass movement, bolstered by the West's refusal to recognise Lukashenko, could force change as occurred twice in a decade following mass "Maidan" movements in neighbouring Ukraine.
Nexta, the telegram channel most widely used by the opposition, called for a larger turnout at a protest scheduled for Saturday, describing it as "the day we start the second wave of street protests."
Franak Vyachorka, an adviser to Tikhanovskaya, predicted a return of the large crowds.
"People need to be shoulder to shoulder with one another, to see again that they are the majority, to feel that energy they got from those large marches," Viacorka told U.S.-funded Radio Liberty.
Security forces remain loyal
Last year's protests showed that Lukashenko's support after more than 25 years in power had dwindled. But he commands the loyalty of the security forces and enjoys the backing of Russian President Vladimir Putin.
That, plus his unstinting use of the judicial system, will dissuade many from attending a protest or allowing loved ones to attend.  Prominent journalists have also been jailed in recent weeks.
Tikhanovskaya, credited officially with 10 % of the vote last August, ran against the president after her activist husband was jailed. She fled to neighbouring Lithuania immediately after the vote, fearing for her safety, and has led a high-profile campaign to secure tougher sanctions against Lukashenko.
On her telegram account, Tikhanovskaya congratulated Belarusians "on having unity, solidarity and freedom" and noted that 750,000 had already endorsed negotiations in the online poll.
That is an unlikely scenario.
Lukashenko says only an election can bring in a new administration. He dismisses Tikhanovskaya as having no ideas of her own and being beholden to Western intelligence agencies.
A commission created at Lukashenko's behest is working on a draft of a new constitution, but he has so far presented no proposals.
He made no mention of them at a Soviet-style Belarussian National Assembly in January and no  decisions were announced after Lukashenko subsequently held one of his periodic meetings with Putin.
Engaged since the mid-1990s in a stalled project to form a "union state" with Russia, he has long relied on Moscow for political support and subsidies to prop up the economy but has balked at any version of the scheme that would reduce Belarus to little more than a Russian province. As protests grew in stature last year, Putin said he was prepared to offer Lukashenko military help if needed.
Tikhanovskaya, speaking to the U.S. House of Representatives' Foreign Affairs Committee this month, called for additional sanctions against those underpinning Lukashenko's administration — judges, state-owned enterprises, security officers, oligarchs, and educational and sports officials.
The U.S. embassy in Minsk on Thursday called for a halt to action against demonstrators and said Washington "looks forward to the day when the people of Belarus will define their own future."