Belarus: Digging in for a dynastic succession?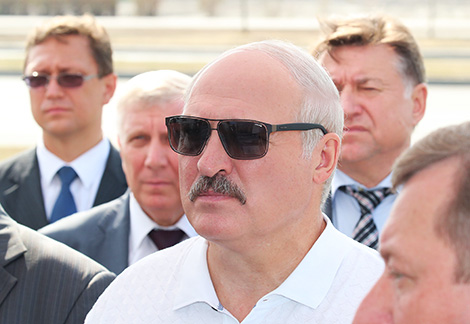 belarus.by
By Vitaly Portnikov
Belarusian President Alexander Lukashenko may be many things, but no one can disagree – he is a survivor.
Many thought they saw the writing on the wall last summer.
But Lukashenko has weathered that crisis, sparked by mass protests against what his opponents say was vote rigging in his re-election to a sixth term.
Rather than backing down, "Luka" as many refer to him in the country, dug in.
He proposed changes to the constitution to strengthen control over Belarus' security forces, who proved to be more than up to the task of rather easily dealing with the largely peaceful protests.
Then, he suddenly announced "revelations" of an alleged U.S.- backed coup attempt to not just oust, but to assassinate him. The alleged plot, describing few details, seemed almost to come out of the blue and was so ridiculed in Europe and North America as to barely warrant a comment or a mention.
This was music to the ears of the Kremlin and paraded about as more alleged Western skulduggery, though the relationship between Moscow and Minsk is much more complicated than it might appear.
The two countries have been talking about a vague "Union State" for years – though that project has not gone past a customs union, which basically means an open border.
Belarus has struggled with its "independence" since the Soviet Union collapsed. It has retained many hallmarks of a command-style economy, with most large industry in state hands. This has avoided some of the more painful effects of a sudden move to a market economy. But the formula only works with effective subsides from Moscow in the form of low gas and electricity prices.
DILEMMA FOR AN EMBATTLED LEADER
Lukashenko's tightening crackdown on dissent has only deepened his estrangement from the West and even neighbours like Ukraine, though he has periodically flirted with both – in an act one former envoy to Minsk called "Walk the Line."
Russia, with its own deepening domestic problems, including protest and stagnant living standards, has again seized the moment and made noises about deepening the "integration" process with Belarus.
In words, Lukashenko often embraces this, but in deeds, the same song and dance has been going on for more than 20 years.
Western ambassadors who have served in Minsk say that despite his professed brotherly love for Moscow, Lukashenko retains a core trait: that of a "Belarusian patriot", whose red line stops at any step towards full integration or incorporation into Russia.
Lukashenko even famously stormed out of Moscow and flew home to Minsk in 2003 after President Vladimir Putin dismissively said that Belarus's 10 regions could simply join the Russian Federation, thus saving the trouble of the messy "Union State" malarkey.
Lukashenko cut short a press appearance with Putin and said the offer was insulting.
DIGGING IN FOR REGIME ENTRENCHMENT
Belarus's Central Election Commission has announced that a referendum on preparing amendments to the constitution will take place in January-February 2022.
No one for the moment knows just what these changes might entail.
It was Lukashenko who first proposed the notion of constitutional change when last year's demonstrations were smothered by police – and more than 30,000 protesters were detained or jailed for various periods – from a few hours to weeks or longer.
At the time, the constitutional changes looked tantamount to an acknowledgement that Lukashenko's regime had weakened. But he justified the move by saying too much power was concentrated in the hands of the president – and proposed a new equilibrium between the head of state, the government and parliament.
Moscow supported the proposal as a way of shifting influence towards Belarusian politicians who persistently expressed ideas independent from Lukashenko in advocating closer integration with Russia.
But as the protest movement ran out of steam, Lukashenko's seemingly conciliatory pronouncements changed.
He claimed he was not rejecting the idea – just putting off any decision on it. The goal then changed to from diluting presidential authority to actually strengthening it.
DYNASTIC SUCCESSION PLANS?
As if more evidence was needed that Lukashenko or his power structure had any intention of yielding ground, his statement on preparing a decree on a "transfer of power" provided it.
Under the current Belarusian constitution, if the president is unable to exercise power, it passes to the prime minister.
Lukashenko's idea was that the country's Security Council could take charge and be given decision-making authority in the event of an attempt to seize power or if the president were assassinated.
Analysts immediately saw this as an attempt by Lukashenko to create a legal basis for appointing one of his children as president.
Which is predictable, as his eldest son Viktor is seen as the informal head of the Belarusian Security Council.
Detractors, aghast at the idea of a European country pulling a stunt associated with sultanates, say such a notion makes Belarus look like a country in Central Asia or Africa, where transferring power from father to son or a close associate, rather than a seasoned political figure, routinely occurs when a president dies suddenly.
But what would amount to a posthumous usurpation of power – with Belarus consigned to authoritarian rule for perhaps decades – would be a problem not just at home.
Moscow would find it uncomfortable – as it could no longer assume Lukashenko would appoint a prime minister malleable to the Kremlin's interests.
If the proposed decree becomes law, the question of the transfer of power will be decided by a "collective Lukashenko" (his family) that might be less easy to influence.
The idea of transferring power was essentially a response to the "revelations" that the Belarusian and Russian security services had uncovered the alleged planned coup d'état and assassination.
The allegation, according to the government, stems from a Zoom discussion by Belarusian activists.
This is even more laughable than accusations in the 1930s by Josef Stalin, who saw coup plotters behind every lamppost.
But those put on trial by Stalin were at the very least former leaders of the Soviet state, Red Army top brass, or those with well-developed networks of personal contacts in the Communist Party, the army, or the security services.
Even given a flirt with fantasy-land, one could at least have imagined such people preparing a coup to remove Stalin.
But it is truly incomprehensible to imagine a coup carried out by people like local commentator Alexander Feduta and lawyer Yuri Zenkovich.
These latter "plotters", based on the Zoom call, were detained in Moscow and handed over to the Belarusian intelligence services.
To add intrigue, Zenkovich holds U.S. citizenship. This has provided Belarusian propaganda outlets with the opportunity to accuse the U.S. intelligence services – or even the "American Jewish lobby" — of trying to foment a coup.
Moscow had clearly hoped that exposing this bizarre coup would have made an impression on Lukashenko and prompted him to be more amenable on the question of integrating Belarus with Russia.
Russian President Vladimir Putin devoted quite a bit of time to the coup in his recent state-of-the-nation address.
But an April meeting between Putin and Lukashenko again produced more platitudes, and the ritual pledge to keep playing the "integration card", and nothing concrete.
It therefore appears that the "coup" made Lukashenko arrive at completely different conclusions from those expected of him – he decided that the most effective reply was not further integration with Moscow but, rather, a toughening of his authoritarian regime.
PROVING MOSCOW CREDS BY TRASHING UKRAINE
In fact, something else happened during the meeting of the two leaders liable to weigh far more heavily on the future of Belarus.
Lukashenko took part in a public pillorying of Ukrainian President Volodymyr Zelensky by agreeing with Putin that any solution to the conflict in Ukraine's Donbass region could only take place if the Ukrainian leader met the heads of two separatist statelets run by Moscow's proxies.
This amounted to lecturing Zelensky to fall in with "correct behaviour" in considering the conflict pitting the Ukrainian army against the well-armed separatists as a "civil war" as is the Moscow line.
In any event, the proposal is a non-starter. Zelensky, tougher in his approach to Moscow after initially believing he could do a deal with Putin, rejects any such meeting and has been clamouring for direct talks with the Kremlin leader.
WALKING THE LINE
As part of his now quarter-century balancing act, Lukashenko until recently tried to adopt a relatively independent line with respect to his Ukrainian and other ex-Soviet neighbours.
He even maintained contacts with former Georgian President Mikheil Saakashvili a, a hate figure in Moscow, after Georgia's 2008 war with Russia. To top it off, Lukashenko's state-run TV gave the controversial ex-Georgian leader, who now lives in Ukraine and works for its government, ample air time.
And in 2014, after Russia annexed Crimea and helped set up the separatists in eastern Ukraine, Lukashenko met the man put in place as Ukrainian president when mass demonstrations forced Russia-friendly President Viktor Yanukovich to flee the country.
It was this cautious approach by Lukashenko that led to Minsk being chosen as the site for talks on the conflict in the separatist-controlled Donbass region.
The format produced two agreements on a "road map" to resolve differences between Ukraine and Russia, though little has been accomplished.
It will now be much more difficult for Lukashenko to maintain an independent foreign policy – however limited that policy might have been in the first place.
After the brutal dispersal of last year's mass demonstrations, the Belarusian leader has lost virtually all prospect of restoring reasonable relations with Western countries – the West simply refuses to recognise him as president.
Relations with Ukraine have also worsened after Kyiv joined in the refusal to recognise him and promised to abide by European Union sanctions against Minsk.
Ukrainian negotiators to the talks in Minsk about the Donbass region now see Lukashenko as Putin's vassal, and have ruminated about finding another country to host peace negotiations.
That leaves Russia as the only country able to extend political and economic support to Lukashenko. And Belarus cannot pretend to ignore Moscow's call for closer integration or even a real merger of the two countries.
But if Lukashenko adopts more repressive measures and digs himself deeper into isolation, Lukashenko will find it harder and harder to resist those Russian calls.