Central Asia, Azerbaijan: Novruz holiday week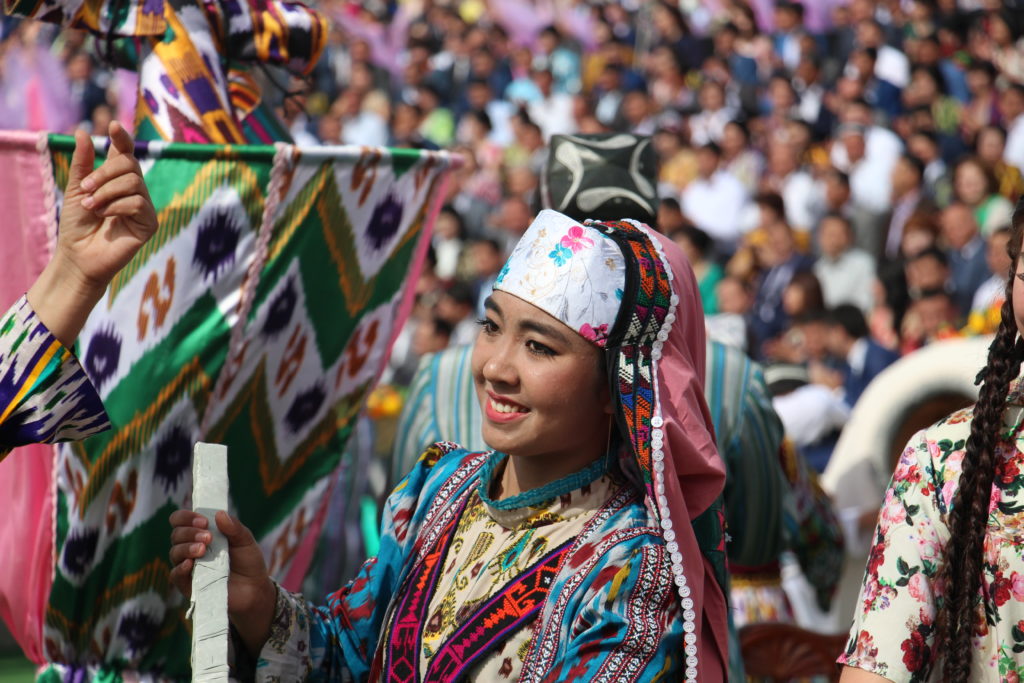 Muhammadsharif Mamatkulov
TASHKENT
MARCH 22, 2021
by MUHAMMADSHARIF MAMATKULOV
Sunday marked the start of the Novruz holiday, which coincides with the vernal equinox, or start of spring. For those of us in Uzbekistan, Turkmenistan, Tadjikistan, Azerbaijan, Kazakhstan, and Kyrgyzstan, it is officially marked. A week of official state and business holidays has begun for many of us across the region. The holiday is also an official one in Afghanistan, Albania, Iran, Iraq, and India. Diaspora groups in Russia, the United States, Georgia, and other countries also observe it.
Feasts, gift giving, and celebrations around bonfires, or jumping across piles of burning leaves, are part of the tradition.
I usually leave the capital and visit relatives in my hometown of Namangan to mark the holiday. Due to personal reasons, I could not make it this year. But my my wife returned on Sunday, with "Sumalak" cooked by my sisters there. Sumalak is a signature Uzbek dish, and is a mix of flour, wheat, oil and water. It is considered to bring good luck, happiness, and good health for the coming year.
This year, Uzbekistan celebrated Novruz cautiously, as the daily count of coronavirus infections has doubled over the last week, the highest spike being recorded in the capital Tashkent – almost a hundred cases a day.
But the government decided to go ahead with the festivities. Health authorities recommended celebrating the spring holiday with close family, and to avoid ceremonies with large numbers of people. On Sunday morning, an amusement park in Tashkent opened its gates late, only after President Shavkat Mirziyoyev gave a speech broadcast live on all TV channels. He told the nation that last year Uzbekistan "could not celebrate Novruz due to the pandemic… Today a festive mood reigns again, joyful days are beginning." He followed that with an official ceremony, followed by an indoor concert and outdoor festivities for government officials and dignitaries in a sports arena.
In regions outside the capital, the celebrations are often more ostentatious. In my childhood home of Namangan, for instance, locals whipped up a 6 tonne batch of Sumalak, cooked in a giant cauldron. The event was broadcast on Uzbek state TV. A massive outdoor festivity was held in another eastern city, Andijan.
It may be hard to believe, but what is a festive occasion for most of us in my country and our neighbors is, as too often in this world, a matter of some controversy.
Some associate Novruz with Islam. But it actually has roots in Zoroastrianism, a 5000 year old religion that embraces polytheism, and whose rituals include the ceremonial worship of fire. Zoroastrianism is native to ancient Persia and Afghanistan.
Azerbaijan, a secular Moslem country, is something of a last bastion of occasional Zoroastrian rituals and symbolism. The word "Azerbaijan"  is sometimes colloquially referred to as  "land of fire" or "land of eternal flame". That imagery is enshrined in its state seal, with flames emerging on the background of the national red, green, and blue tricolour flag. Recent modernist architecture in the capital, Baku, even incorporate wave-like forms, representing soaring flames. There are many places in that country where flames literally burn from the ground – fed by natural gas – methane – leaking through the earth's crust. Some of these sites have been burning for decades. Locals and visitors frequent them, and cafes nearby the unique spectacles work around the clock. Accordingly, that country has a full 9 days of official state holidays – March 20-29 are days off.
For some observant Muslims, the holiday is actually considered "Haram" – or forbidden, as it is associated with "infidels".
For instance, Novruz (the word literally derives from Persian and means "new day") is not officially observed in Turkey, though the Zoroastrian poet icon, Rumi, who lived in the 13th century, is entombed in the Turkish city of Konya. Many ordinary Turks, however, still celebrate the holiday, and it is special importance to local Kurds in both Turkey and other countries. Rumi's tomb is visited by hundreds of thousands yearly. Though an Islamic jurist, Rumi incorporated elements of mysticism, syncretism, and rituals not considered consistent with contemporary Islamic teachings. He also, in his position as a scholar of Islamic law, emphasized that Islam did not look down or disown zoroastrians or some of their rituals.
In one of his most famous works, Rumi wrote this about Novruz:
In my heart you are the mirthful ray
You are the caring, though my companions they
Happy is the world with the Nowruz and with the Eid
You are both my Eid and my Nowruz today
Good health to all of you.