Controversial Russian, former Soviet Communist apologist Pozner leaves Georgia after protests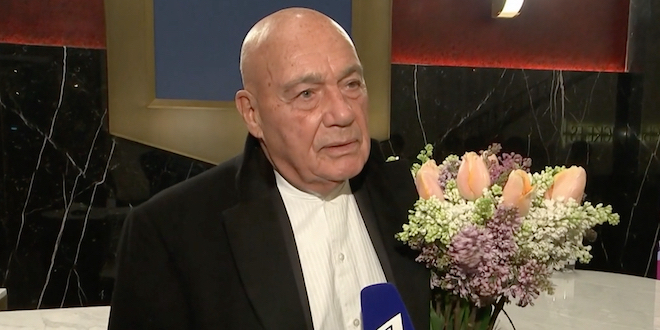 Website of "Pozner" TV show
TBILISI
April 2, 2021
The controversial, former USSR Communist mouthpiece in the United States, Vladimir Pozner, was forced to leave Georgia on Thursday, just hours after he set foot in the country. Pozner left after protests by opposition activists over his presence and his views supporting separatist movements in the country backed and bankrolled by Moscow.
Pozner, who rose to fame in the United States as an unabashed apologist for the Kremlin due to his unusual status as a Soviet-American-French citizen, had arrived in the capital Tbilisi, ostensibly for a lavish feast for his 87th birthday. Arriving on a chartered plane, he was accompanied by a large coterie of pro-Kremlin government reporters and swishy Russian pop culture figures.
A boutique hotel Vinotel where he initially had a dinner was swiftly slapped with a 10,000 Georgian Lari ($2,940) fine for hosting the event. It is illegal for such activities to take place after the 9 p.m. nationwide COVID lockdown. In addition, 31 of his 41-strong entourage were given fines of GEL 2,000 ($588) for violating curfew.
In an odd twist, Pozner had been travelling on his United States passport, though he has little to do with the country for 30 years. His visit, curiously, also coincided with the 30th anniversary of a referendum in Georgia in which voters approved independence from the Soviet Union.
Pozner is a lightning rod in Georgia for his staunch view that Abkhazia will never be part of Georgia again. Russia and Georgia fought a short war in South Ossetia in 2008. Russia, backed by only Syria, Venezuela, and a handful of island micro-states in the middle of the South Pacific, recognise the regions.
However, Pozner is still a frequent visitor to Georgia, where he has old friends from the Soviet-Georgian cultural elite.
Pozner was practically a household name in the United States for his slavish defence of the Soviet Union, and an iconic defender for the Kremlin during the reign of Leonid Brezhnev. He was a regular figure on major U.S. television outlets. His cachet largely derived from his unaccented American English dialect and a gift of the gab.
Always a survivor, Pozner, who was born in France to Russian-Jewish parents, crept out of the USA after the Soviet collapse and remade himself as a commentator on various Russian outlets, though he was largely unknown in the country until the USSR fell apart in 1991. Upon his arrival in Moscow, he still spoke Russian with a curious, slight American accent.
Pozner, ever the chameleon, ditched his Kremlin frontman status and even sometimes passed himself off as something of a critic of the government, but seemed to hook up with whatever the reasonably acceptable party line of the times was.  "What I was doing was propaganda," Pozner once said.
A small group of outraged protesters gathered outside the up-market Rooms hotel, where Pozner and his companions moved after a dinner at the Vinotel hotel, demanding to know why Pozner was being allowed to host a feast against government regulations.
Elena Khoshtaria, a prominent opposition activist, demanded Pozner's soiree to be snuffed out.
"It's outrageous that a propagandist from the occupant country [Russia] is allowed to have a party while the entirety of Georgia is locked in homes," Khoshtaria declared outside the hotel. Some in the group threw eggs and shouted "Out of Georgia!"
In an unusual statement regarding a private citizen, Kremlin spokesman Dmitry Peskov told Russian reporters that "it is dangerous for Russian citizens in Georgia, it is simply dangerous to go there, and Russians must understand this clearly." Peskov went on to say that Moscow "strongly condemns the aggressive actions of extremist nationalists," referring to the protests against Pozner's presence.