COVID-19 dents gold production in Azerbaijan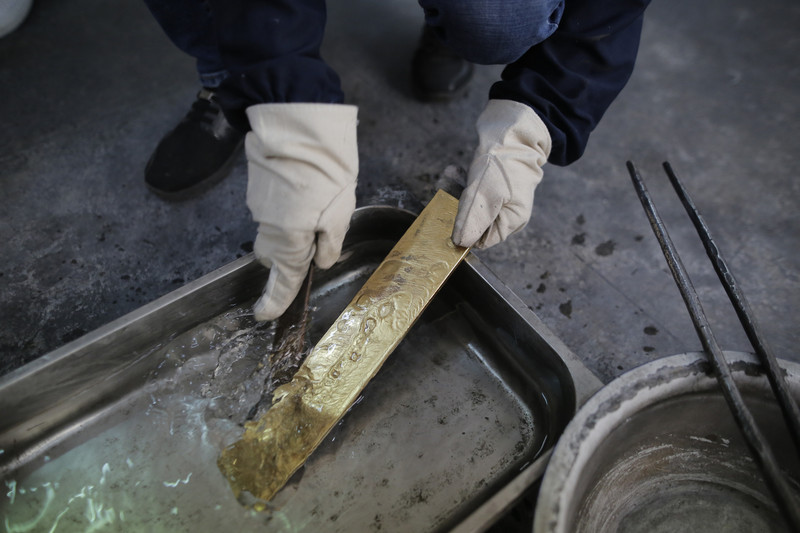 EPA-EFE
The government in Azerbaijan is taking heed of the COVID pandemic and its economic consequences in issuing a cautious forecast for gold production over 2021-24.
    According to data compared to obtained by The Tribune, total gold production in the country for 2021 may exceed 119,000 ounces (3.7 tonnes) compared to 117,000 ounces (3.62 tonnes) in 2020.
The 2022 production indicator may stay steady at 2021 levels, but for 2023, it is expected to dip to 113,000 ounces (3.5 tonnes) and in 2024 may slide further to 95,484 ounces (2.96 tonnes).
In 2019, gold production stood at 120,000 ounces (3.71 tonnes), an increase of 6.8 % over the 2018 figure.
Silver production hit peak production levels in 2020 at 240,000 ounces, a rise from 126,000 ounces in 2019.
Production levels in 2021-2022 are expected to stand at 130,000 ounces but a decline to 119,000 ounces is expected in 2023 and to 113,000 ounces in 2024.
Copper production in 2020 totalled 2.7 million tonnes and this figure could fall by half in 2022-23, with a gradual climb then expected to 4 million tonnes by 2025.
A government source told The Tribune that the forecasts take account plans by mining companies to concentrate more on exploration through 2021-2024 to be able to work on new deposits of precious metals from 2025.
Among the leading companies working on these deposits since 1997 is Anglo Asian Mining (AAM), with 2020 gold production levels of  56.864 ounces of gold (an 18.9 % decline from 2019), 122,962 ounces of silver (a decline of 22.8 %) and 2.591 million tonnes of copper (an increase of 17.2 %).
Anglo Asian Mining's main site in Azerbaijan is at Gedabek – the Gedabek, Ugur and Gadir mines —   and at Gosha and Ordubad.
Extraction of precious metals began at Gedabek in 2009 and production from 2009-2020 stood at about 670,000 ounces of gold and silver.
AAM also operates at the Soutely deposit in Kalbajar district, at Vejnaly in Zangilan district and at Kyzylbulag – previously under the control of Armenian forces. After Azerbaijan recaptured large swathes of territory in a 44-day conflict with Armenian forces over the territory of Nagorno-Karabakh, the government and AAM began discussing ways of proceeding with operations at these deposits.
Also engaged in precious metals operations since 2017 is the stat- run company AzerGold, which produced 60,000 ounces of gold in 2020 (a 9 % rise from 2019) and 121,000 ounces of silver (an increase of 18 %).
Production at Chovdare over 2017-2020 stood at 194,000 ounces of gold and 353,000 ounces of silver.
Azergold plans production in 2021 of 55,200 ounces of gold and 86,600 ounces of silver.