Covid hits Georgia's tourist-reliant economy especially hard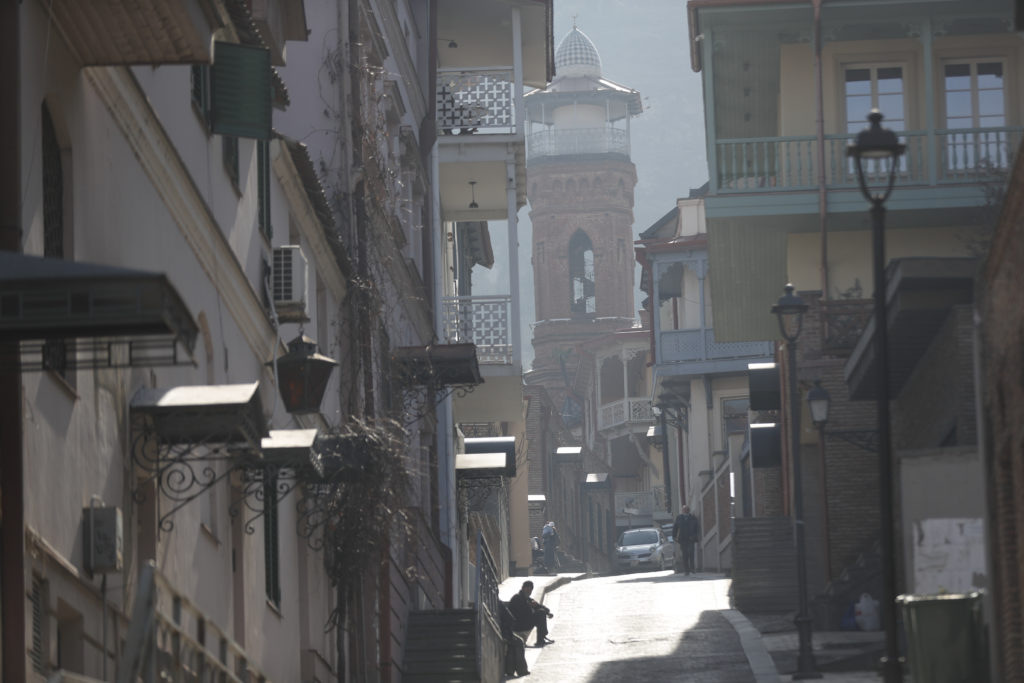 EPA
by GAUTAMA MEHTA 
Running a bookshop and café just steps from the Parliament building on Rustaveli Avenue, Tbilisi's central boulevard, has given Tamar Megrelishvili-Johnson front-row seats to the last two decades of Georgian history, from 2003's Rose Revolution to the 2008 war with Russian to the frequent demonstrations, riots and social revolts characteristic of the republic's tumultuous political culture.
That Prospero's Books—the Caucasus' only English-language bookstore—has managed to survive the knocks and turns of the years since its establishment in 1999 is a testament to the emergence, in that period, of international tourism as the engine of Georgian economic growth.
So, when Covid-19 shut down international travel, the bookstore-cafe, a longtime hangout for expats and travelers, was dealt a devastating blow, which was then compounded by stringent lockdown measures. Its doors were closed for five months, and Megrelishvili-Johnson says the beginning of each month brought a new set of difficult financial choices. "We don't have the money for taxes and operational expenses as well," she told me.
She is not alone in this dilemma. The border closures and lockdowns have hit the increasingly tourism-dependent nation hard. In the last two months, small businesses like Prospero's began to revolt against the Covid-19 restrictions in force since November, staging demonstrations outside Parliament and even opening establishments in violation of the lockdown rules.
The protests came at a time of escalating political strife in the Georgian parliament which culminated last month in the resignation of the prime minister, and the subsequent arrest of the formal leader of the country's largest opposition party.
Last year's election was marred by alleged irregularities, prompting the opposition to boycott the parliament on the grounds they were rigged to favor the ruling party, Georgian Dream, the creation of the country's richest man, billionaire Bidzina Ivanishvili. But Ivanishvili, apparently sensing growing public discontent over profound economic problems, abruptly announced last month that he was quitting politics "for good", though some believe he still pulls the strings from behind the curtain.
Soon after, Georgian Dream lawmakers stripped the leader of the largest opposition party, Nika Melia, of his parliamentary immunity against charges connected to a 2019 protest at which he is accused of having incited anti-government violence. A city court issued a warrant for his arrest.
Apparently, the Prime Minister, Giorgi Gakharia, agreed. He immediately quit, essentially saying that the warrant was dubious and that he was resigning in hope that this might spark a de-escalation.
Two days later, opposition leader Melia was indeed arrested during a noisy storming by special forces of the opposition's sleek headquarters in the centre of the capital.
A victim of its own success as a tourism magnet
Over the last decade, Georgia has become the post-Soviet region's premier international tourist destination, and a huge part of the country's economy has come to rely on this fact. 9.3 million international travelers visited the country in 2019—up from 2 million in 2010—bringing in – officially – $3 billion in revenue. But even this amount is likely vastly underestimated, as much of Georgia's tourism revenues are off-the-books, with literally thousands of locals renting out their homes or flats to foreign tourists for cash. The country's population is officially 3.7 million.
Georgia was a holiday destination in the Soviet era, and many of its old attractions continue to draw crowds, from its Black Sea beach resorts and alpine ski slopes to the flavorful, herb-filled cuisine and national love of wine, which have earned write-ups in glossy travel and food magazines. For another set, who in earlier years might have been found in post-Soviet Berlin or Prague, the draw is Tbilisi's grungy nightlife scene.
Most of Georgia's visitors are from nearby countries like Armenia, Turkey, and Russia, but Georgia has also acquired a certain cachet among Americans and European travelers.
By February 2020, tourism was so vital to the Georgian economy that, when Natia Turnava, minister of Economy and Sustainable Development, was asked about the idea of creating a tourism ministry, she half-jokingly responded that such a ministry would simply replace her own: "Our tourism industry is developing so much that it would be much better to be a tourism ministry than the Ministry of Economy—I personally welcome that."
Just a month later, on 18 March 2020, Georgia closed its borders to international travelers. On 31 March the country implemented a series of stringent nationwide lockdown measures, including a 9 p.m. curfew and a ban on gatherings of three or more people. Violations were punished with heavy fines.
Also included in the restrictions was the shutdown of all public transportation, including Tbilisi's metro system, which ordinarily has a daily ridership in the hundreds of thousands and is essential to the city's functioning.
For a memorable week in April, the government even went so far as to ban all private vehicle traffic, transforming downtown Tbilisi into a kind of shortlived car-free urban utopia. Cyclists and roller skaters spent the gorgeous spring days outside, sharing the normally polluted streets with strolling families. Most seemed to be wearing masks.
The loss of affordable transportation added an extra financial burden for Prospero's Books. Megrelishvili-Johnson paid for her employees to commute via taxi, but every night, rideshare prices reliably spiked as the curfew approached. "If I have to pay five lari [$1.50] for my employee to come to the bookstore, for the same distance in the evening it cost 23 lari," she said. The subway fare in Tbilisi is 50 tetri, or 15 cents.
From Covid-19 success story to the world's worst infection rates
On its face, the idea of social distancing in the land of the supra (the ritualized, wine-soaked dinner that is a touchstone of Georgian identity) sounds like an absurdity. Georgians famously pride themselves on their nation's culture of hospitality and communion.
But at least in the early months, the Covid-19 restrictions keeping normally hyper-social Georgians apart from each other were largely obeyed. The combination of border closures and lockdown policies helped keep coronavirus infections and deaths remarkably low for the first half of 2020, winning Georgian Dream plaudits for its scientifically informed approach to managing the virus—and ultimately ensuring its popularity through the disputed October parliamentary elections.
A trio of epidemiologists advising the government, nicknamed the "Three Musketeers" in the Georgian press, achieved near-celebrity status for their perceived successes against the pandemic.
Case numbers stayed low for a few months after the first lockdown was lifted in May. A small number of tourists was permitted entry beginning in July. Eventually the sweltering late summer heat drove cooped-up Tbilisi residents to the Black Sea coast, where they let their guard down and adherence to restrictions was lax. The first major spike occurred at the end of August in Batumi, Georgia's second largest city, a casino town and seaport.
From there the course of the pandemic felt inexorable. There were some who suspected the reason the government did not immediately impose a second lockdown was fear of jeopardizing its results in the 31 October election; they may have felt vindicated when, amid skyrocketing infections, the 9 p.m. curfew and restrictions on transportation and businesses were reinstated at the end of November.
But by then, the country was experiencing the tragedies of a deadly pandemic in full swing—an experience it had been lucky enough to miss during the global first wave. Everyone in Tbilisi now knew someone who had the virus. In December, Georgia briefly held the unenviable title of worst country in the world for both infections and deaths per capita per day. At its peak, there were more than 5,000 new infections daily.
By this point, Tbilisi residents seemed to be openly flouting social distancing guidelines and mask requirements. On New Year's Eve (for which the curfew was temporarily lifted), shoulder-to-shoulder crowds congregated on Rustaveli Avenue.
A "social explosion" in reaction to the second lockdown
The government was only able to supply a small amount of cash relief to workers and businesses impacted by the lockdowns. The major programs included granting six monthly payments of GEL 200 ($60) to those who had been formally employed but lost their jobs during the pandemic; those who were "self-employed," or members of the country's vast informal economy, were entitled to a one-time payment of GEL 300. Enterprises in the tourism sector received tax breaks, and individuals and some businesses were allowed to defer four months' interest payments on bank loans. And utilities were widely subsidized.
The limited assistance is due to a combination of factors including Georgia's limited cash reserves, the heavily libertarian economic policies favored by both the governing Georgian Dream and former prime minister Mikheil Saakashvili's opposition United National Movement and its offshoots, and a Saakashvili-era constitutional provision limiting debt and spending to 60% and 30%, respectively, of total GDP.
In the absence of significant government support, the cost of the lockdowns has become increasingly difficult for businesses and workers to bear. A group of restaurant owners organized protests against the restrictions in front of Parliament and some halted their delivery operations for a full day in January; another group of restaurant owners announced its intention to defy the restrictions by opening their doors to customers in February.
"There was a social explosion," said Megrelishvili-Johnson, who participated in the demonstrations. "We already knew that small and medium society and enterprises were just crushed down, and we would not open again, or we would not be able to pay" if the restrictions were not lifted.
Likely in part due to the social pressure, earlier this month, the government began easing restrictions ahead of schedule. The Tbilisi metro resumed weekday service on 11 Feb; shortly after, outdoor restaurants and schools were permitted to reopen on weekdays.
Now all eyes are on the vaccination program, which critics say is off to a slow start. Georgia is expected to deliver 14,000 doses to health workers in February, and an additional 180,000 to health workers and the elderly in March.
But the vaccine rollout, and the final phase of the pandemic in Georgia, may be clouded by the acrimonious political climate, as well as the profound economic uncertainty of the moment.