Aid to Georgia may stop unless political crisis is resolved, EU warns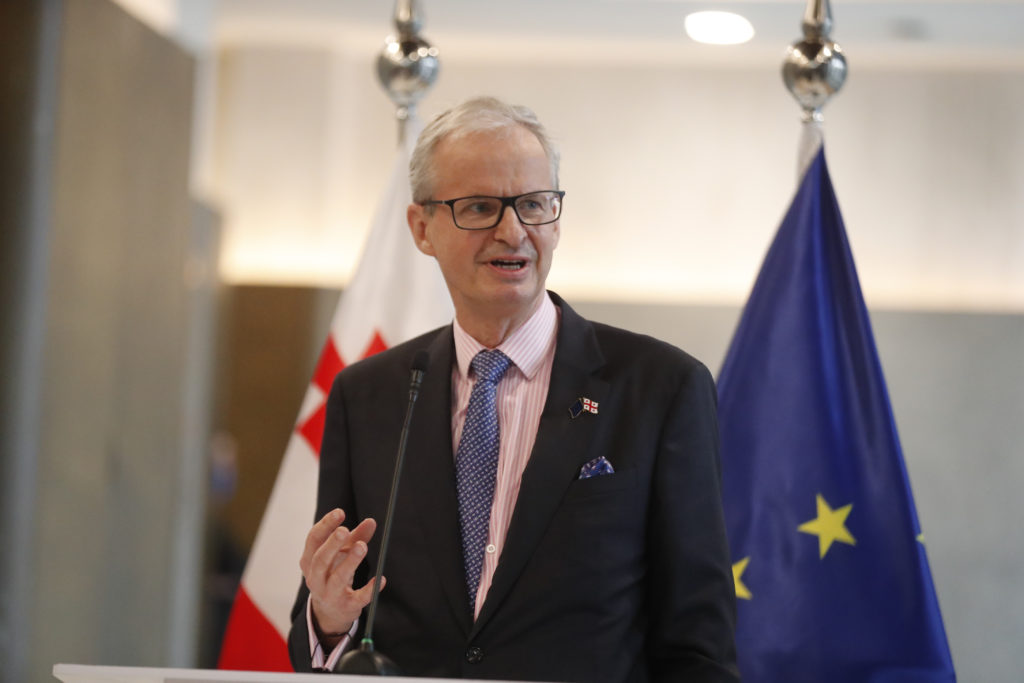 EU special envoy Christian Danielsson (Credit: EPA)
TBILISI
The European Union has warned Georgia it may suspend its financial aid after the government and opposition leaders failed to reach an agreement on ending a deadlock despite several rounds of the EU-mediated talks.
Opposition groups want new elections, insisting last year's contest was rigged, and have boycotted parliament. The situation has paralysed a system already overwhelmed by the COVID-19 crisis, which has hit Georgia's tourism-reliant economy especially hard.
"Following the refusal from the political parties to compromise, Georgia's leaders should not expect a return to business as usual from the European Union," a statement signed by seven influential European parliamentarians said. "The European Parliament in particular will call for consequences in terms of EU financial assistance, including both a suspension of further disbursements of and an increase in conditionality linked to EU Macro-Financial Assistance and budget support programmes."
Members of the European Parliament said they were "deeply disappointed" that a solution to the crisis couldn't be found, despite mediation efforts by the EU special envoy Christian Danielsson.
"We call on Georgia's leaders to take action immediately … The future of EU-Georgia relations is at stake," they said. Parliamentarians said that both the government and the opposition share responsibility for the crisis.
Georgia, whose economy already faces serious problems because of the COVID-19 pandemic, may not receive the 60 million euros ($70.5 million) it expected in October 2021, a part of a 1.5 billion lari (370 million euros) package allocated by the EU to Georgia to fight the consequences of the coronavirus.
International observers said after the October 2020 parliamentary election that the vote was "competitive and, overall, fundamental freedoms were respected", but they also cited pervasive allegations of pressure on voters, and there were widespread reports of vote-buying.
The situation worsened earlier this year when Prime Minister Giorgi Gakharia quit in February after a court issued an order to arrest the nominal leader of the main opposition bloc, the United National Movement (UNM), Nika Melia. The charges involve allegedly masterminding 2019 anti-government protests that turned violent. Gakharia indicated that the court order was dubious, and cited the possibility of disorder in the country.
The document that has been offered to all sides at the talks didn't include the opposition's main demand on snap elections, but instead included issues concerning the electoral and judicial reforms, and parliamentary power-sharing points. It also referred to the prospect for dropping charges and a release of opposition leader Melia, although it did not envisage the release of Giorgi Rurua, an opposition activist and a shareholder of pro-opposition Mtavari Arkhi TV, whom the opposition also considers a political prisoner.
Georgia, in its first decade of independence since the break-up of the Soviet Union, suffered a largely chaotic and at times anarchic government. But since then, over the last 20 years,  it has prided itself on its political and economic progress, and has said it intends to formally apply for EU membership in 2024. It also wants to join NATO, a move that irritates the country's former Soviet master, Russia.
Georgia has had no diplomatic relations with Russia since the 2008 war between the two countries. Russia bankrolls two separatist territories, Abkhazia and South Ossetia, and has sizeable military contingencies in both.
But growing concerns about a court system regarded as increasingly lacking independence, and election irregularities, have stripped Georgia of some of its democratic lustre.
This latest political crisis has raised further concerns about the prospects for Georgia's economic recovery.
Georgia's highly tourism-reliant economy has been hit especially hard by the COVID crisis, and lacks the resource-extraction or manufacturing base that has helped cushion the blow in some other ex-Soviet countries.
The country's gross domestic product declined by 8.3 percent year-on-year in January-February this year, compared to 3.7 percent growth in the same period in 2020.
The World Bank said last week that Georgia's economy was projected to recover in 2021, growing by 4 percent, with the key baseline assumption that there are no further severe waves of COVID-19 infections that necessitate additional lockdowns and ongoing political impasse is resolved.