EU's Michel takes on crisis management role as talks resume in Georgia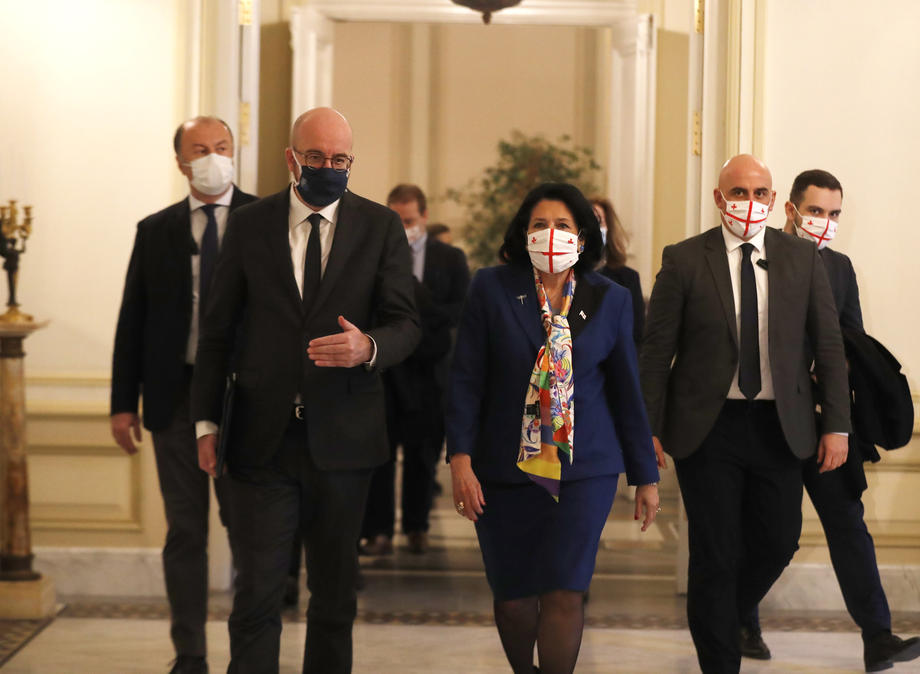 EPA-EFE
European Council President Charles Michel's visit to Tbilisi took an unusual turn as he was given the role of mediator to try and diffuse Georgia's most serious political crisis in years.
Michel, on a trip through the European Union's "eastern neighbourhood" which started in Moldova and continues to Ukraine, found himself on March 1 in a Georgia beset by protests, sparked by the arrest last month of opposition leader Nika Melia and the resignation of prime minister Giorgi Gakharia.
After a press conference in which he relayed the EU's deep concern about the situation, Michel found himself sitting at a negotiating table in the presidential palace, mediating between Gakharia's replacement, Irakli Garibashvili, of the ruling Georgian Dream party,  Melia's United National Movement (UNM), and other opposition factions.
And while Melia remains in prison, Michel's intervention has, at least for now, been hailed as a success.
"The political dialogue in Georgia is relaunched tonight," Michel told a press conference in Tbilisi after the talks. "What counts for the EU is the protection of the interest of the Georgian citizens… Tonight an important step in the right direction has been taken."
Gakharia quit on February 18 after a court issued an order to arrest Melia. The charges involve allegedly masterminding 2019 anti-government protests that turned violent. Police later stormed Parliament to arrest Melia, sparking protests in the capital. This political crisis has raised further concerns about the prospects for Georgia's economic recovery.
As much as half of Georgia's GDP is directly or indirectly related to tourist-related activities, and it has been hit disproportionately hard by the COVID crisis. Georgia, whose population numbers 3.7 million, registered 8 million international arrivals in 2019, before the pandemic reduced traffic to a trickle.
Radio Free Europe/Radio Liberty unveiled a list of six points discussed during the renewed talks between the Georgian Dream and opposition parties, including ambitious electoral reform, rule of law and court reform, political persecution. power-sharing in parliament, potential new elections and a follow-up on any progress made in the dialogue, which will be observed during the EU-Georgia Association Council Meeting in Brussels in mid-March.