Ex-president Saakashvili ends hunger strike, undergoing treatment in military hospital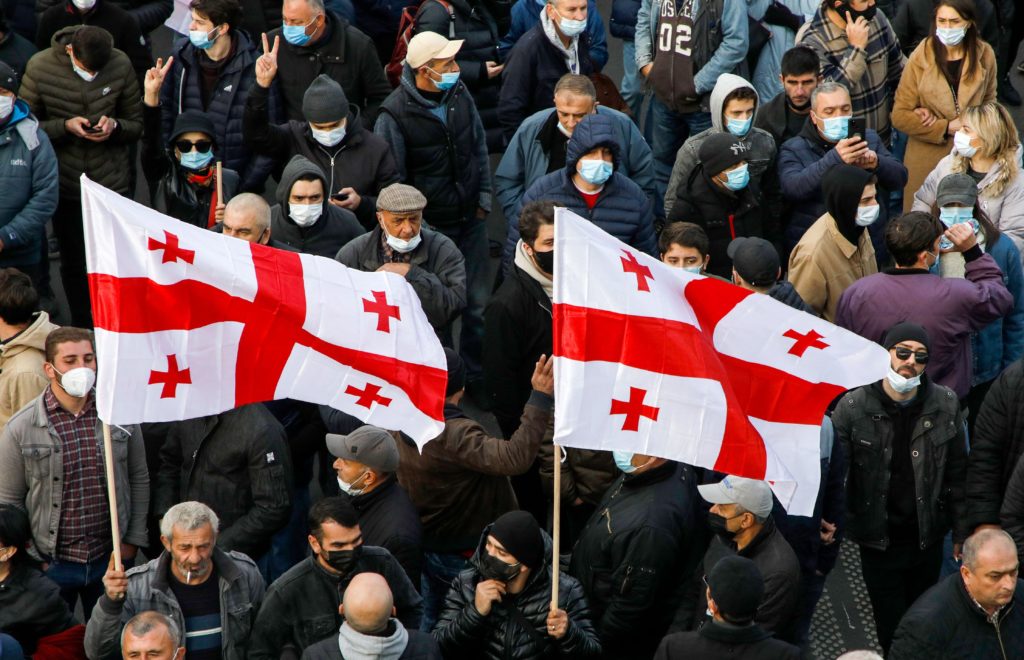 Mikheil Saakashvili's supporters demonstrate in Tbilisi (Alamy)
TBILISI
Former Georgian President Mikheil Saakashvili, in detention since his surprise return home last month, is now receiving treatment at a military hospital north of the capital and has agreed to end a 50-day-old hunger strike that imperilled his health.
Saakashvili, 53, was taken to the military facility in Gori, 70 km outside Tbilisi, last week after lengthy negotiations over his request to be transferred from a prison hospital to a civilian medical facility.
Georgian officials rejected his request on grounds that Saakashvili's supporters, who have staged nearly daily moderately-sized demonstrations in recent weeks to demand his release, could storm a civilian building, despite the opposition's promises not to approach the building.
Saakashvili's lawyer, Nika Gvaramia, said the former president had agreed to halt his hunger strike if he were transferred to a military hospital.
"Saakashvili has agreed to be transferred to Gori Military Hospital and will end his hunger strike as soon as he is hospitalised," Gvaramia said after meeting the former president.
His doctor, Nikoloz Kipshidze, said Saakashvili had undergone a number of tests and was in serious condition at the military hospital's intensive care unit.
Ex-president lost consciousness
He briefly lost consciousness last week during a prison visit by his lawyer as negotiations proceeded on how to prevent his health from deteriorating as he continued to refuse food.
Saakashvili was first elected after his supporters seized parliament in the 2003 "Rose Revolution" which ousted Soviet-era statesman Eduard Shevardnadze and served as president from 2004 to 2013. He founded the United National Movement (UNM) and was seen as a reformer and anti-corruption fighter, aligning his country with the West and, more particularly, the United States.
But he was later accused of authoritarian methods and using force to sideline his opponents. In addition to his conviction on abuse of power charges, Saakashvili is facing charges related to a violent dispersal of opposition rallies in 2007, alleged embezzlement of state funds and illegally entering the country. He denies the charges as politically motivated.
He left Georgia one year after the UNM lost the 2012 election and held a variety of senior administrative posts in Ukraine.
A medical panel set up by the Public Defender's Office described his state of health as "critical" last week and recommended his transfer from the prison hospital to a better-equipped civilian intensive care unit. Georgian officials initially refused to consider the recommendations.
The European Court of Human Rights in Strasbourg had also urged him to halt his hunger strike, provided he received appropriate treatment.
Earlier this month, opposition politicians and his supporters were outraged by video footage showing him being dragged from his detention cell to a prison hospital as his health worsened.
Appeal to Biden
Before his subsequent transfer to the military hospital, Saakashvili wrote a letter calling for help from U.S. President Joe Biden, saying he had put the ex-Soviet state firmly on the path to democracy and integration with NATO and other Western institutions.
"Today, I call on his administration to do its part to support our young democracy, which is in grave danger," Saakashvili wrote. "Given Biden's goal of advancing the cause of democracy over autocracy, I hope to see him hold Georgia's government accountable for undermining the freedoms we've worked so hard to achieve."
The former president returned to Georgia in secret just ahead of local elections, vowing to "save the country" from a year of turmoil and political deadlock, but was quickly detained.
His UNM lost most of the local contests to the Georgian Dream Party, which holds power nationally. The party's poor showing reflected Saakashvili's mixed political fortunes nine years after leaving power.
The local polls took place five months after an agreement brokered by the European Union to end a standoff in the aftermath of disputed national elections, restore normal parliamentary activity and launch judicial and electoral reform.
Nika Melia, the UNM leader, jailed for three months this year on charges of fomenting violence, lost to incumbent Tbilisi mayor Kakha Kaladze in the local poll.
The opposition said the election was rigged and demanded Saakashvili's release. The United States and the Organisation for Security and Cooperation in Europe, the European Union expressed serious misgivings about the conduct of the vote, citing intimidation, offensive rhetoric, misuse of administrative resources, and reports of blatant vote-buying.