Force and the Kremlin – the pillars of Lukashenko's regime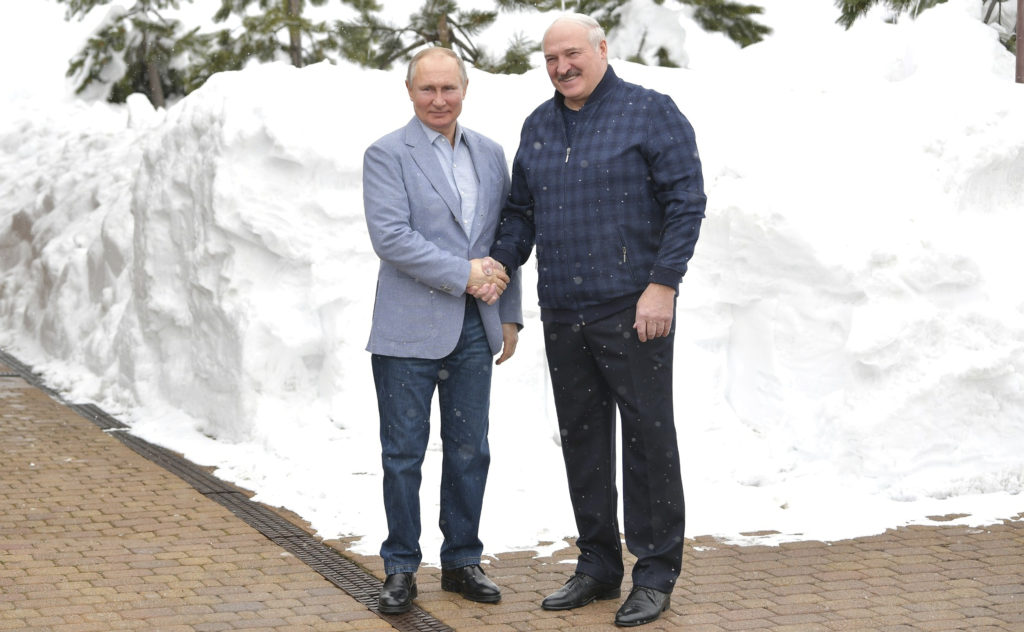 PIC-Zuma
by VITALY PORTNIKOV
The last mass event attended by Belarusian President Alexander Lukashenko – where he gave a prodigious address – was the Belarusian People's Assembly last month in Minsk.
This is a standard practice in Belarus. The event, as in Soviet practice, is held every five years lock clockwork. These are archetypal Soviet-era Communist Party congresses, where copious applause was reserved for the "vozhd", or great leader, for loyal functionaries and representatives of the party nomenklatura.
But it was also an event where, essentially, nothing was resolved.
This sixth Belarussian People's Assembly nonetheless attracted special attention because Lukashenko was speaking in the midst of protests which erupted across the country after last year's presidential election – an election considered rigged by his opponents and the masses who took to the streets of Minsk and other cities. Lukashenko had linked the gathering to large-scale reforms of the system of authority — he said it would involve the passage of constitutional reforms and even a reduction in presidential powers.
But in the course of the forum, nothing happened.
Lukashenko appeared fully in charge, denounced the opposition and pledged to uphold Belarus's sovereignty.
Constitutional reform was put off. Now no one really has any idea what it will look like – or whether it will even take place at all.
And at a subsequent meeting between Alexander Lukashenko and Russian President Vladimir Putin – a summit where concrete results were also expected, particularly concessions by Lukashenko on integrating Belarus and Russia – nothing sensational occurred either.
This was the latest in another of endless meetings over the years between Putin and Lukashenko  – some of which ended in outright acrimony or foggy results.
What happened? Why is Lukashenko, who clearly a few months earlier had lost just about all contact with his own people, once again ready to show his readiness to remain Belarus's "eternal" president?
Eliminating alternative candidates and the Russia factor
Finding an answer to that question is not especially difficult. It is possible that Lukashenko was truly not ready either for the outcome of the 2020 presidential election or the mass protests that followed. He made it impossible for nearly all realistic candidates to take part in the poll and appeared certain that having Svetlana Tikhanovskaya, wife of blogger and activist Sergei Tikhanovsky as a candidate would amount to proof that Belarussian "democracy" was therefore all to see and that Belarussians would get used to a rigged outcome.
The main threat to Lukashenko remaining in power was not in the protests but in the Russian factor – it was partly in connection with that factor that arrested banker Viktor Babariko was running – he had had a textbook-like brilliant career linked to the structures of Russian gas giant Gazprom.
Lukashenko could assume that there was discontent in Moscow with his reluctance to speed up the process of "deepened integration" or, more to the point, Belarus being swallowed up by Russia.
That was the whole point, with the help of power structures and ridiculous accusations, of pushing Babariko and other candidates out of the race — anyone capable of starting a dialogue with Moscow.
The pro-European opposition in Belarus had been marginalised and kept well out of political activity long before the 2020 election. The mass protests became for Lukashenko a testing ground of how effective the security apparatus was, the most effective instrument for remaining in power and strengthening that power.
Consolidating power in the 1990s
The main error of the protest movement was a failure to understand the reason why Lukashenko could stay in power. The Belarussian leader had in fact usurped all the authority he needed not in 2020, but practically from the very first day he won office in the 1994 election. In 1996, Lukashenko dismissed the Belarusian parliament – the Supreme Soviet of the Republic of Belarus – and destroyed any possible form of competitive alternative within the country.
And it was in 1996 that the very first Belarusian People's Congress took place – a demonstration that Belarus was returning to the Soviet era. This was a veritable coup d'état – subsequent elections and referendums were a dreary mimicking of democracy in line with the "people's votes" of the Belarus of Soviet times.
Add in to the mix the disappearance of political opponents, the dismantling of independent media, the crushing of all dissent and the humiliation of leading figures of Belarusian culture.
But even against this background, the authoritarian Belarusian leader still enjoyed the clear support of the majority of his people. And within society as a whole, there was an illusion that if that majority denied him that support – as occurred in 2020 – the Lukashenko regime would simply fade away.
But Lukashenko's regime is still in place – like any classical authoritarian regime based not on support from the people but on the structures of power. The only question was – how effective were those structures?
The mass protests of 2020-2021 showed that the security structures of Belarus were ready to stand against their own people and that those taking part in the action were in no way ready for any confrontation using force against the defenders of the regime.
This was the very reason Lukashenko was able in a short period of time to crush opposition structures, force their leaders, including presidential candidate Svetlana Tikhanovskaya, to leave the country and do away with any hope by dissenters of an alternance of power any time soon.
Another error committed by the opposition and by rank-and file protesters was  underestimating the role played by Russia in events.
Belarus can easily be characterised as a state with limited sovereignty. Lukashenko owes his long stay in power not so much to his abilities as a leader as to the long support Russia has provided for the Belarusian economy – mostly in the form of different subsidies.
Kremlin support for Lukashenko
Lukashenko was therefore not afraid of strikes. His only real fear revolved around any possible decision by the Kremlin to stop supporting him. And Vladimir Putin found himself in a paradoxical situation.
Perhaps in the run-up to the presidential election in Belarus, the Kremlin wanted to make it clear to Lukashenko that he might not be the candidate without any alternative for the job if he continued to show a lack of flexibility on issues of "deepened integration" – Moscow could well think of other Belarusian politicians.
But the minute the first protesters appeared on the streets of Minsk, Putin immediately transformed himself into Lukashenko's unfailing ally. And for very clear reasons
Any change in government in former Soviet republics by virtue of popular protest, particularly in a country so close to Russia as Belarus, is for Putin by far the worst possible scenario – an unwanted precedent for Russia. Hence Putin's hyper-sensitive reaction to the Ukrainian "Maidan" mass protests of 2004 and 2013-2014 – and the reason Russian media devoted so much attention to events in Ukraine.
And in 2020, the protests in Belarus did not replace attacks on Ukraine on Russian media for long – because anger of Belrausian voters against rigged results was seen by the Kremlin as a threat to its own interests.
Calls by Belarussian opposition leaders for a peaceful resolution, for a dialogue with the Kremlin and for the current state of Russian-Belarusian cooperation to be maintained were of absolutely no importance to Putin.
For Putin, as soon as a single Belarussian citizen went into the street with a placard denouncing fixed elections and calling for Lukashenko's resignation, there could be no more talk of having anything to do with the Belarusian opposition.
Of the three pillars upholding Lukashenko's regime – popular support, the structures of force and authority and backing from Russia – two remain in place for the Belarusian leader.
The security forces are still willing to carry out his orders. And Putin is prepared to take action to keep him in power. In the most trying days for the Belarussian regime, when there was a danger that the security structures might deny Lukashenko their support, Russia declared its readiness to bring into play its own security structures.
The question of how long an authoritarian regime can last without popular support is for the moment strictly a theoretical one. In the absence of mass and powerful resistance – it could stay in place indefinitely.
And even if there were such mass resistance and even if alternative structures of power were brought into play, the collapse of the regime is by no means guaranteed if the security structures are more effective than the people – as we have seen with the regime of Lukashenko's friend, Venezuelan President Nicolas Maduro.
But if a miracle somehow did occur and Belarusians secured Lukashenko's resignation, they would soon see that their authoritarian regime was a mere extension of a Russian authoritarian regime. And they would come up against not their own leaders, but Russian President Vladimir Putin – as Ukrainians came up against Putin in 2014 after their president at the time, Kremlin ally Viktor Yanukovych, fled the country.