Foreign ministers make little cease-fire progress, Russia intensifies attacks on Ukrainian cities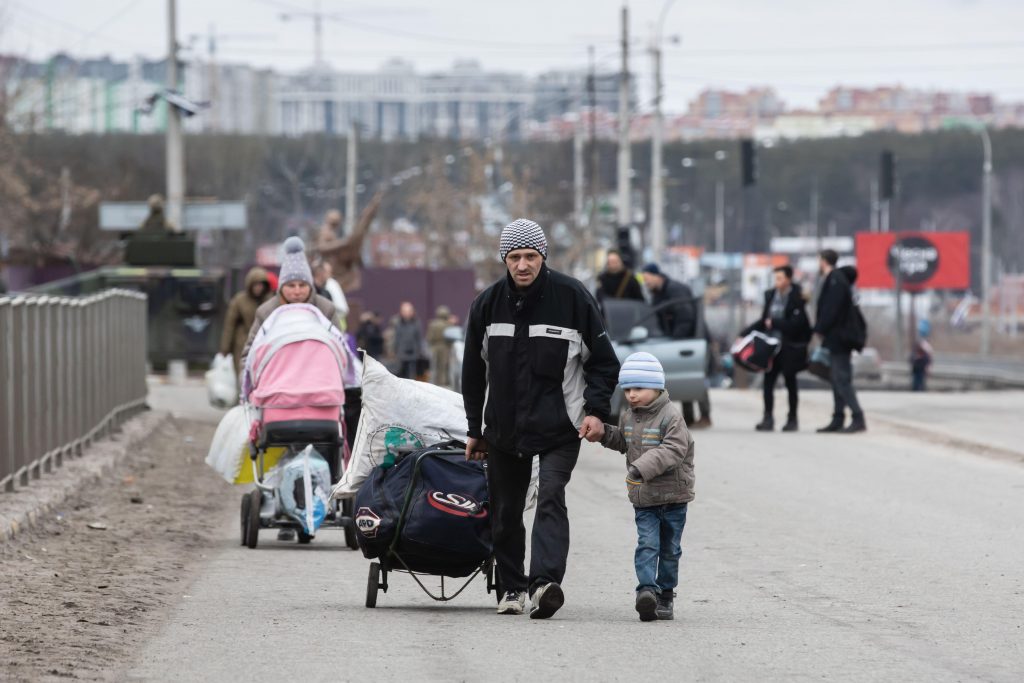 Evacuation of town of Irpin, outside Kyiv (Alamy)
Diplomacy made little progress in efforts to clinch a cease-fire in Russia's invasion of Ukraine as Moscow's forces offered no let-up in their intense attacks on Ukrainian cities, shelling their buildings and leaving residents with little food, water or heat.
Ukrainian Foreign Minister Dmytro Kuleba met his Russian opposite number Sergei Lavrov in Turkey but an hour of talks produced no results. Lavrov stuck to Moscow's demands underpinning the invasion, including a formal pledge that Ukraine would never join NATO or the European Union, while Kuleba said his negotiating partner had no authority to take any decisions.
The U.N. Security Council was due to hold a session on Friday devoted to Russia's allegation that "the United States was involved in military biological activities" in Ukraine. The United States and Britain have in recent days suggested the opposite – that Russia could well resort to the use of chemical weapons to make up for setbacks against a determined Ukrainian military.
Tens of thousands of residents were permitted to leave from the northern city of Sumy – where corridors for refugees operated for the third day running – and from towns outside Kyiv.
Video on social media showed what Ukrainian defence officials said were running attacks on a convoy of military vehicles which has been slowly advancing on the capital for more than a week.
No corridor was able to operate in the southern port of Mariupol beset by constant Russian shelling. In a series of statements, Russia either denied it had bombed a maternity hospital on Wednesday or said the facility was not a hospital at all, but rather a base for armed nationalists. Ukrainian officials said three people, including a child, died in the attack.
In the Turkish resort of Antalya, the two foreign ministers emerged from a little less than 90 minutes of talks with little to show in terms of a cease-fire – Lavrov said a cease-fire was not even up for discussion and that the real forum for making progress was the discussions between the two sides on the Belarus border. Three rounds of those talks have taken place, producing agreements on short-term humanitarian evacuation corridors.
Kuleba said he did not believe Lavrov had the authority to negotiate even a 24-hour cease-fire at the talks, described by the Turkish hosts as "civil".
"The broad narrative he conveyed to me is that they will continue their aggression until Ukraine meets their demands, and the least of these demands is surrender," Kuleba told reporters.
He later told Turkish television: "I have the impression that Minister Lavrov came to talk but not to decide."
Lavrov maintains Russian demands
Lavrov stuck to Russia's demands as set out at the launch of the invasion – recognition by Ukraine that Crimea, annexed by Moscow in the same year were "independent" states/ 2014, is Russian territory and that two regions seized by Moscow proxies as well as an acknowledgement that Ukraine will never join the EU or NATO.
Putin said the main purpose of the invasion was to "demilitarise" and "denazify" Ukraine – references to the pro-Western leaders who have run the country's affairs for eight years.
Lavrov said he felt a "certain optimism" after recent statements by Ukrainian President Volodymyr Zelensky that his country could consider adopting a status of neutrality – at the moment, Ukraine's drive to join NATO and the EU is entrenched in its constitution,
Zelensky, interviewed by Germany's Bild newspaper, said he was "ready to take certain steps" to end the war — but that he needed to speak directly to Putin in order to carry them out. Putin has disdainfully refused to meet Zelensky for nearly a year, but Lavrov said the Kremlin leader was prepared to discuss "specific" issues with the Ukrainian president.
Lavrov also told journalists that the Russian military had targeted the Mariupol maternity hospital, reduced to a shell, as it had been turned into an operating base for the nationalist Azov militia and other nationalists.
"All the women in labor, all the nurses, and all the attendants were expelled," he said.
Pictures after the attack showed pregnant women scurrying out of the building or being carried out on top of tables. Zelensky denounced the attack as an "atrocity" and "war crime".
Looting, disputes, deprivation
With Mariupol besieged and under attack for more than a week, the all-Swiss International Committee of the Red Cross decried severe deprivation in the city and cases of looting and fighting between residents hunting down scarce food and medication.
"All the shops and pharmacies were looted four to five days ago," Volkov said in a voice message sent to colleagues by satellite telephone..
"Some people still have food but I'm not sure for how long it will last. Many people report having no food for children. People started to attack each other for food. People started to ruin someone's car to take the gasoline out."
The industrial port of Mariupol is seen as a key prize for Russian invaders – it would enable them to establish a corridor linking Crimea with the two "independent" separatist areas in eastern Ukraine's Donbas region.
Fighting has also been intense in recent days in Chernihiv, near the Russian border. Russian forces also appeared to make some gains in the small towns on Kyiv's western fringes.
The U.N. reported that 2.3 million Ukrainians had fled the country.
Russia reported that power had been restored to the Chernobyl nuclear power plant – the site of the world's most serious nuclear accident in 1986 and occupied by Russian troops early in the invasion. Power is needed to keep the large stocks of spent fuel supplied with coolant.
But the International Atomic Energy Agency said it had no confirmation that the plant's power had been restored – though it saw no immediate serious threat from the outage. A second nuclear power station, near Zaporizhia, has also been occupied by Russian forces.
More diplomatic action was expected to be directed against Russia on Friday, adding to sanctions which have disconnected Russian banks from the SWIFT international payment system and barred the central bank from accessing much of its reserves.
U.S. President Joe Biden was expected to join G7 industrialised countries and the European Union in revoking the "most favoured nation" status for Russia. Congress will then act to introduce the enabling legislation.
EU leaders entered a second day of discussion about how to help Ukraine, but the bloc offered no fast-track plan for membership. Zelensky had asked the EU to provide membership immediately – but procedures for joining are notoriously long and complex.
"It was an opportunity to show unwavering, firm support for Ukraine, that is, to be committed financially, materially," EU Council President Charles Michel said of the discussions. "It is clear that Ukraine is a member of the European family and we want to support all efforts to strengthen and consolidate the ties with Ukraine."
For now, Ukraine only has an "Association Agreement" with the EU, which is aimed at opening Ukraine's markets and bringing it closer to Europe.
In Moscow, more international institutions halted their business activity.
JPMorgan Chase, the biggest U.S. bank by assets, said it was winding down existing business and not pursuing any new opportunities.
Disney, citing the "unrelenting assault on Ukraine and the escalating humanitarian crisis", said it was pausing all its business in Russia with the time frame depending on the nature of the activity.
The Institute of International Finance said it expected Russia's economy to contract some 15 percent in 2022 due to the severity of sanctions imposed over its invasion of Ukraine. It previously forecast a 3-percent expansion.