Georgia's Political Crisis Deepens as Melia's Arrest Sparks Protests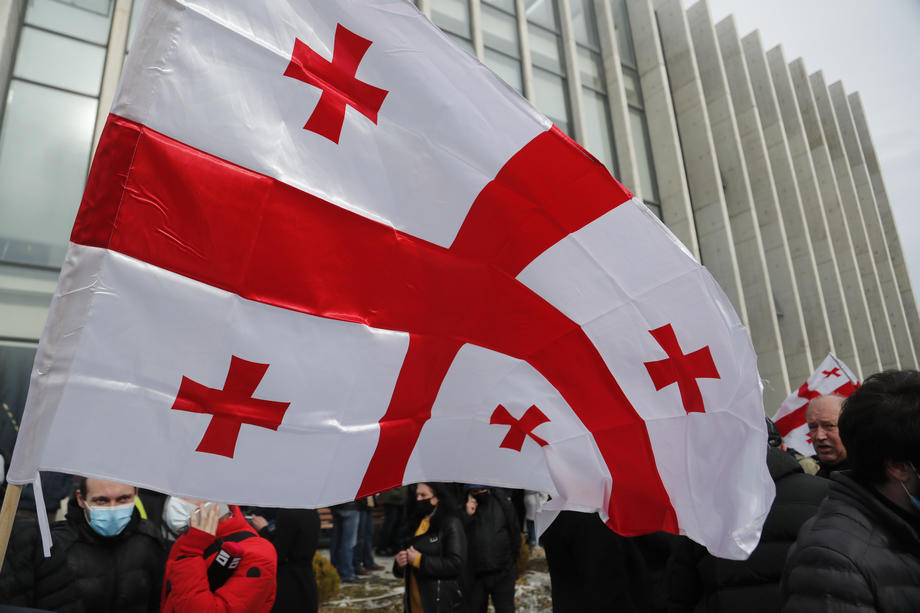 EPA-EFE/ZURAB KURTSIKIDZE
Georgia's political crisis, the most serious in many years, deepened further this week as opposition parties said they will continue to boycott Parliament following the arrest of the country's main opposition leader.
Prime Minister Giorgi Gakharia quit on February 18 after a court issued an order to arrest the nominal leader of the main opposition bloc, the United National Movement (UNM), Nika Melia. The charges involve allegedly masterminding 2019 anti-government protests that turned violent.
Police this week stormed the HQ of the UNM and arrested Melia. Video footage of the event showed him being dragged from the building.
"It's a very volatile situation, end could get violent unfortunately," Shota Utiashvili, vice president of the Atlantic Council of Georgia, told the Tribune in a telephone interview.
The move to arrest the UNM's Melia was all the more surprising since he is not considered a key personal threat to the government. The real force behind the UNM is still overwhelmingly seen as now-exiled President Mikheil Saakashvili.
Gakharia's resignation has exposed rifts in the ruling Georgian Dream party.
"Of course, I believe and want to believe that this step will help reduce polarization in the political space of our country, because I am convinced that polarization and confrontation between us is the greatest risk for the future of our country, its economic development, and overcoming all types of crises," Gakharia said as he quit.
"The thought of bothering to arrest Melia does not make any sense from any point of view, even politically" said former MP and political analyst Petre Mamradze.
He added that it shows the Georgian Dream is growing nervous, especially since its founder, billionaire businessman Bidzina Ivanishvili, announced recently that he was quitting political life "for good", potentially depriving the party of funding and of any sense of cohesion.
"The ruling bloc had no ideology and no identity, expect that of Ivanishvili. Otherwise, it is made up of people with no common orientation", added Mamradze.
Ex-PM Gakharia's gambit seems to have worked – at least for now, as the interior ministry said plans to arrest Melia had been placed on hold "temporarily".
The ruling party quickly appointed 39-year-old Irakly Garibashvili as Prime Minister. Garibashvili has already served one stint as PM.
The turbulence comes as Georgia's tourist-reliant economy – observers say as much as half of it is directly or indirectly related to tourist-related activities – has been hit disproportionately hard by the COVID crisis. The country of 3.7 million registered 8 million international arrivals in 2019, before the pandemic reduced traffic to a trickle.
Georgia has prided itself on political and economic progressivism over roughly the last 20 years, and has said it intends to formally apply for EU membership in 2024.
But growing concerns about a court system regarded as increasingly lacking independence, and election irregularities, have stripped some of the country's democratic luster.
Georgia Dream won last autumn's parliamentary elections. While international observers said the vote was "competitive and, overall, fundamental freedoms were respected" they also cited pervasive allegations of pressure on voters, and there were widespread reports of vote-buying.
Opposition lawmakers refused to enter the new parliament, claiming the body was a sham.
The European Union, the NATO parliamentary assembly (Georgia has close ties with the bloc), and the U.S. State Department have all expressed alarm over the situation in Georgia.
They have urged the major political forces in the country to engage in dialogue. Georgia has largely chaotic and at times anarchic during its first decade of independence since the break-up of the Soviet Union. It has had no diplomatic relations with Russia since the 2008 war between the two countries. Russia bankrolls two separatist territories, Abkhazia and South Ossetia, and has sizeable military contingencies in both.
EU member Lithuania, a close ally of Georgia, has taken up the role of de-facto mediator in the political crisis. It has warned that a failure to calm political tensions which could cause the country to spin out of control risks everything its has worked for – and would scuttle any chances at closer ties with the EU.
Such a development would also crush prospects for enhanced foreign investment as well as further handicapping the vital tourism sector by scaring visitors away.