Georgia's political crisis deepens, EU-mediated talks fail to end deadlock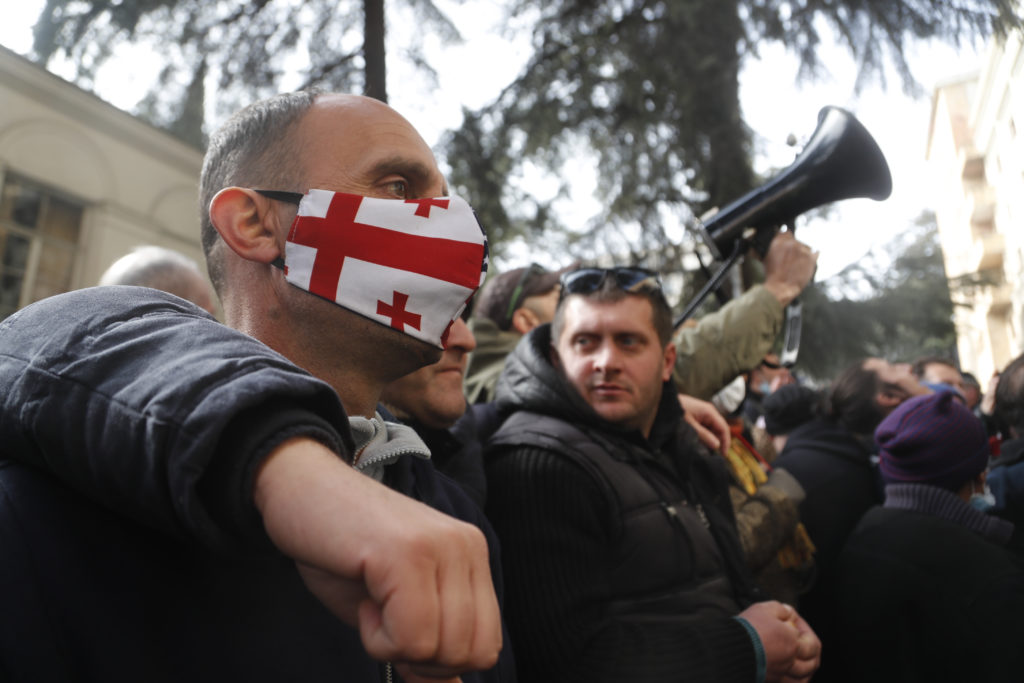 TBILISI
April 1, 2021
Georgia's political crisis, the most serious in many years, further deepened this week, as the government and opposition failed to reach an agreement on ending the deadlock. Opposition groups want new elections, insisting last year's contest was rigged, and have boycotted parliament. The situation has paralysed a system already overwhelmed by the COVID crisis, as Georgia's tourism-heavy economy has been hit especially hard.
The situation has alarmed the EU, which has appointed a high-level special envoy to mediate. But the envoy, Christian Danielsson, left  Georgia late on Tuesday empty handed. Ruling party and opposition leaders rushed to accuse each other of sabotaging any agreement.
While international observers said the vote was "competitive and, overall, fundamental freedoms were respected" they also cited pervasive allegations of pressure on voters, and there were widespread reports of vote-buying.
The situation worsened earlier this year when Prime Minister Giorgi Gakharia quit in February after a court issued an order to arrest the nominal leader of the main opposition bloc, the United National Movement (UNM), Nika Melia. The charges involve allegedly masterminding 2019 anti-government protests that turned violent. Gakharia indicated that the court order was dubious, and cited the possibility of disorder in the country.
"I'm sad to report that none of the political parties could agree to this solution in whole," Danielsson said after an eight-hour meeting.
Opposition's main demand on snap election was not included in the document that was on the table during talks, participants said.
The document instead included issues concerning the electoral and judicial reforms, and parliamentary power-sharing points. It also referred to the prospect for dropping charges and a release of opposition leader Melia, although did not envisage the release of Giorgi Rurua, an opposition activist and a shareholder of pro-opposition Mtavari Arkhi TV, whom opposition also considers as a political prisoner.
"Clearly, we may disagree with the opposition's decision to boycott parliament, but the fact is that the crisis has caused this issue," Gia Nodia, an independent Georgian analyst, said.
"So if there is no change in this issue, there will be no compromise."
The government accused opposition leaders of setting ultimatums.
"The opposition blocked the dialogue by setting ultimatums over issues of snap election and [a release of ] alleged political prisoners," Irakli Kobakhidze, Georgian Dream's chairman, said.
Opposition responded by saying that the government's unwillingness to find a solution threatened Georgia's Euro-Atlantic aspirations.
"The West has seen once again, who it deals with (the ruling Georgian Dream party)," Giorgi Vashadze, an opposition Strategy Aghmashenebeli leader, said after failed talks.
The European Union, the NATO parliamentary assembly, and the U.S. State Department have all expressed alarm over the situation in Georgia.
Georgia's Western partners warned that a failure to calm political tensions which could cause the country to spin out of control risks everything it has worked for – and would scuttle any chances at closer ties with the EU.
"It (finding a solution) is essential for the country's democratic consolidation and its European aspirations," Danielsson said.
Such a development would also crush prospects for enhanced foreign investment as well as further handicapping the vital tourism sector by scaring visitors away.
Georgia has largely chaotic and at times anarchic during its first decade of independence since the break-up of the Soviet Union. But it has prided itself on political and economic progressivism over roughly the last 20 years, and has said it intends to formally apply for EU membership in 2024. It also wants to join NATO, a move that irritates the country's former Soviet master, Russia.
Georgia has no diplomatic relations with Russia since the 2008 war between the two countries. Russia bankrolls two separatist territories, Abkhazia and South Ossetia, and has sizeable military contingencies in both.
But growing concerns about a court system regarded as increasingly lacking independence, and election irregularities, have stripped some of Georgia's democratic luster.
The U.S. Department of State said in its 2020 Human Rights Report that concerns over the situation in Georgia included serious problems with the independence of the judiciary along with detentions, investigations and prosecutions widely considered to be politically motivated; unlawful interference with privacy; limited respect for freedom of peaceful assembly and association; and crimes involving violence or threats targeting LGBTI persons.
Additional pressure on the political situation in Georgia comes from the ruling Georgian Dream (GD) party that has also been hit with other high-level defections.
Billionaire Bidzina Ivanishvili, seen as the sole glue and financier of the ruling party, unexpectedly announced recently he was quitting politics "for good", bringing into question the GD's cohesion and very existence.
Some analysts say that former PM Gakharia may appear on the scene again with a new political force, becoming a new player. He said last month that would return to politics, but did not elaborate further.
This political crisis has raised further concerns about the prospects for Georgia's economic recovery.
Georgia's highly tourism-reliant economy has been hit especially hard by the COVID crisis, and lacks the resource-extraction or manufacturing base that has helped cushion the blow in some other ex-Soviet countries.
The country's gross domestic product declined by 8.3 percent year-on-year in January-February this year, compared to 3.7 percent growth in the same period in 2020.