Georgia's ruling party wins local elections, opposition demands Saakashvili's release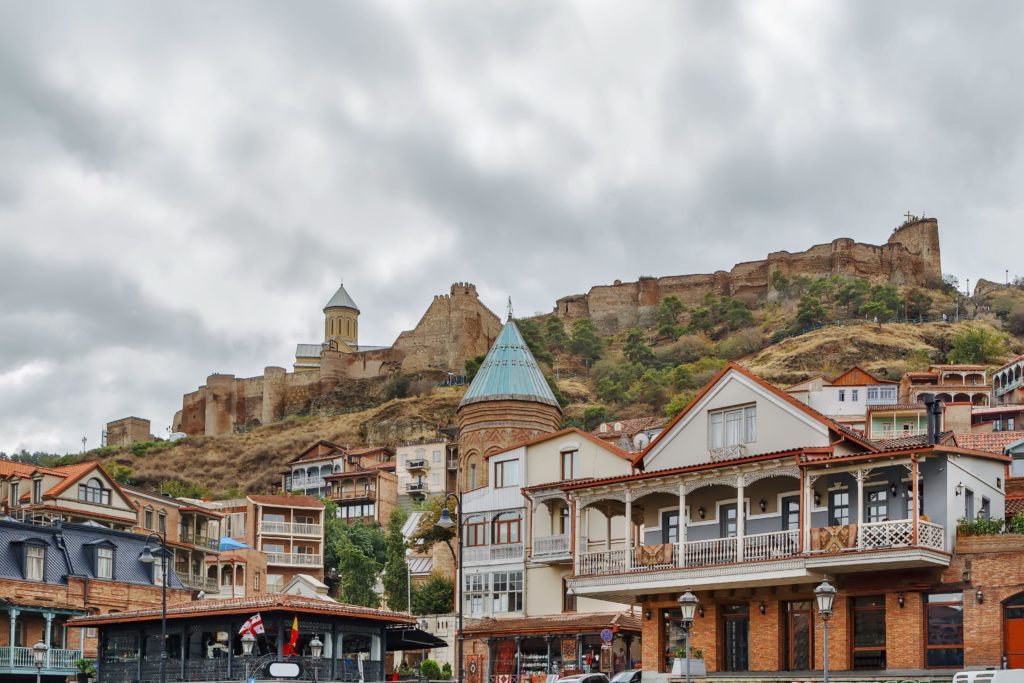 Alamy
TBILISI
Georgia's ruling Georgian Dream party won the ex-Soviet state's local elections, while the opposition demanded the release of former President Mikheil Saakashvili, whose surprise return threw national politics into deeper turmoil, with little prospect of solving a crisis that has paralysed public activity since a disputed national poll nearly a year ago.
The vote was seen as a test for the ruling party after months of a standoff between the Georgian Dream and the opposition United National Movement (UNM), founded by Saakashvili, president of the country from 2004-13 and convicted in absentia on charges of abuse of authority. Saaakashvili, detained shortly after entering Georgia last week, was being held at a prison outside the capital.
With all the votes counted, the Georgian Dream had won 47 percent and the UNM 31 percent, with the remaining votes being distributed among other opposition parties. In single-mandate contests, ruling party candidates won 44 of 59 mayoral races, while runoffs are expected in 15 municipalities, where none of the candidates secured more than 50 percent of the votes.
A second round will also be held on October 30 in five major cities, including the capital, where incumbent mayor Kakha Kaladze got 45 percent of the vote to 34 percent for UNM leader Nika Melia, who was held in prison for three months this year on charges of fomenting violence.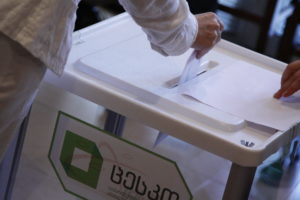 UNM DEMANDS EX-PRESIDENT'S RELEASE
Opposition leaders alleged there had been mass vote-rigging. But there was no immediate indication of unrest in Tbilisi or other cities after the results were declared, although hundreds of the UNM supporters demanding Saakashvili's release staged a protest on Monday in the town of Rustavi in front of the prison where the former president was being held.
"It is my human, political, manly, civic duty and obligation to fight as long as this person (Saakashvili) is in prison. This is my human and friendly obligation as it is for hundreds of thousands of Georgian citizens," UNM leader Melia told the crowd.
International observers from the OSCE and the European Union gave a guarded endorsement of the election, but voiced misgivings over threats of violence and allegations of cheating.
"These elections saw a large range of candidates campaigning freely and many diverse views. They were also run transparently and professionally," Albert Jónsson, mission head for the OSCE's Office for Democratic Institutions and Human Rights, said in a statement.
"However, an increasingly aggressive political discourse and even cases of physical violence were of deep concern. Widespread and consistent claims of violations need to be thoroughly investigated by the authorities."
Demonstrations gripped Georgia for months after allegations of vote-rigging in last year's election and Melia's arrest – tarnishing its reputation in the West and further threatening a fragile recovery of its tourism-reliant economy from the COVID pandemic. The European Union brokered a deal – signed by most parties but not the UNM — to end the unrest, release Melia on bail and move forward on judicial and electoral reforms. Opposition members returned to parliament.
The Georgian Dream agreed it would call an early national election if it failed to win 43 percent of the vote in the local election, but later backed out of that commitment saying that the deal had "served its purpose and exhausted itself".
The next parliamentary election is due in 2024.
SURPRISE RETURN
Saakashvili's surprise return to Georgia after eight years in exile – including several years serving in senior state posts in Ukraine – injected new uncertainty to the country's bid to restore a measure of stability.
Saakashvili sneaked into Georgia and issued a video appeal to his supporters on Facebook, from the Black Sea resort of Batumi, one of his power bases, to vote for opposition candidates and to stage protests against the outcome to "protect" their votes.
In the end, few Georgians appeared to heed his appeal.
His arrest in Tbilisi was later announced by Prime Minister Irakli Garibashvili and official videos showed him grinning broadly as police led him away.
"(Saakashvili) had better behave, otherwise, we will bring more charges," Garibashvili said on Monday, responding to a letter the former president wrote in jail, in which he called on Melia to "go on a constant and much stronger attack" in the run-off votes.
Garibashvili said the municipal election "has finally demolished the destructive opposition".
Georgia's ombudswoman said the former president had declared a hunger strike in detention, saying his conviction and six-year jail sentence in 2018 were based on politically motivated charges.
Saakashvili had acquired Ukrainian citizenship and spent much of his time in exile in Ukraine, where his last position was head of the Executive Reform Committee. Ukrainian President Volodymyr Zelensky vowed he would do everything possible to ensure Saakashvili's safe return to Ukraine. Georgia's ambassador to Kyiv was summoned to the foreign ministry.
The flamboyant Saakashvili had also worked as governor of Odesa region under former Ukrainian President Petro Poroshenko. But the two fell out and he was deported from Ukraine – only to return and have his citizenship restored when Zelensky took over as president after defeating Poroshenko in a 2019 election.
While in office, Saakashvili portrayed himself as a reformer, staging a high-profile cleanup of the police and tackling corruption. But he was accused of acting to choke the opposition and free speech. He was in office when Russian troops poured into Georgia in 2008, eventually entrenching the positions of separatists who have controlled the regions of Abkhazia and South Ossetia virtually since independence from Soviet rule in 1991.
Saakashvili left Georgia in 2013 after serving two terms as president. His UNM lost the 2012 parliamentary election to the Georgian Dream coalition founded by billionaire Bidzina Ivanishvili, who made his fortune in the 90s in Russia.
Ivanishvili said last January that he had quit politics for good, but opponents accused him of running the country of 3.7 million from behind the scenes since 2013, when he stepped down as a prime minister and shifting Georgia off a reform path and closer to Moscow. Georgia declares officially it wants to join the EU and NATO, but the current government supports closer ties with Moscow.