In Wake of War Victory, Azerbaijan Moves Fast On Economic, Diplomatic Fronts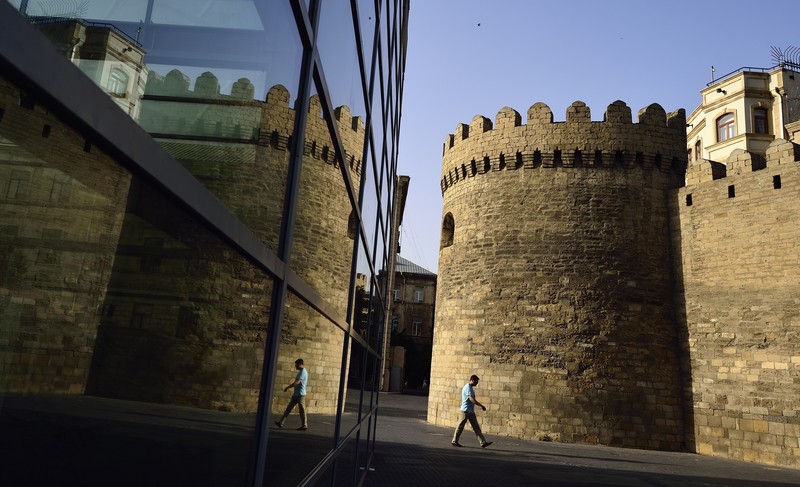 EPA/VASSIL DONEV
Few governments will look back on the last year with anything but dread. The obvious scourge of COVID, political uncertainty – from the U.S, Brexit, protests rocking once-monolithic-looking systems in Russia and Belarus, just to take a few examples.
That is, unless you are Azerbaijan's government of President Ilham Aliyev.
Things did not look so bright for the country even six months ago. It too faced severe effects from COVID.  Then in July another bloody border skirmish with Armenia – the latest in the 30-year war – ended up with more military casualties -two of the country's top military brass were also killed.
Having lost patience after the years of fruitless talks, Aliyev promptly fired his longtime foreign minister for perceived dawdling in the endless – and mostly vacuous – negotiations under the aegis of the so-called "Minsk Group" – co-chaired by Russia, France and the United States.
What a difference a few months can make.
WAR VICTORY
Then, in just 44 days – from September to November – Azerbaijan reversed 30 years of humiliation by retaking seven districts seized and ethnically cleansed of 600.000 Azerbaijanis by Armenian forces in 1993-1994. The Armenians had turned those "occupied territories" – where almost no Armenians previously lived – into ghost towns and systematically looted them down to the bricks which were resold. The government in Yerevan refused to contemplate giving up any of these districts despite four longstanding unanimous U.N. Security Council resolutions to relinquish the area.
Azerbaijan, led by Aliyev, who appeared constantly on TV screens dressed in camouflage, appeared to be in full control during the blitzkrieg – which was greatly aided by its longstanding ally Turkey. Azerbaijani forces also – unexpectedly and with great speed – retook the highly strategic and symbolic city of Shusha, regarded as the citadel of Azeri culture. The Armenians had also taken that town in 1993 – but never converted into much more than a mostly empty piece of war booty. (Armenian Prime Minister Nikol Pashinyan even agreed that Shusha was a "sad, pitiful place", as Armenian investors had failed to do anything to develop it). This was predictable, as the city in Nagorno-Karabakh was more than 90 percent populated by ethnic Azeris before the war, which effectively began in 1988.
The lighting speed with which Azerbaijan reversed its losses caught long-time watchers of the region completely off guard, and showed a lack of understanding of how much Azerbaijan – aided by ally Turkey – had been quietly developing its military for years. Azerbaijani forces pounded shockingly obsolete World-war II-style Armenian trench positions with high-tech "suicide" drones. Baku even used repurposed, expendable Ukrainian 1950's crop-dusters to deliberately lure Armenian fire, so as to sniff out their hidden anti-aircraft positions.
Each side has reported about 3,000 military deaths. This is tragic and significant, but remarkably, civilian deaths on both sides combined were a tiny fraction of that – approximately 150 – a remarkably low coefficient in modern warfare. This despite several Armenian attempts to widen the conflict by launching rocket attacks on Azerbaijani cities of no military value – far from the front lines, which caused several dozen casualties.
DEBUNKING OF ENERGY VULNERABILITY
The hostilities again briefly raised questions about the vulnerability of Azerbaijan's energy pipeline corridor linking its natural gas and oil fields with European markets.
But the decisive victory debunked longstanding myths spun by the more hysterical regional pundits and analysts of some sort of existential threat to Azerbaijan's oil and gas export routes – though they run within a few kilometers of where the Armenian front lines stood – front lines now destroyed and taken under Baku's control. In fact, neither major line – the Baku-Tbilisi-Ceyhan (Turkey) crude oil pipeline (BTC) – nor Southern Gas Corridor (SGC) line came close to being seriously disrupted or even temporarily shut down, despite shelling and rocket attacks in the vicinity. Both were also top security priorities for Baku, and merely firing shells at them – even if somehow the Armenians were to have scored a miraculous direct hit – were never going to amount to more than a minor short-term irritant.
As an illustration that the final stage of long war had little effect on the energy routes, the last leg of the 3,200-km route SGC (Southern Gas Corridor)  – running from Albania to Italy under the Adriatic Sea, came on-line exactly as scheduled at the end of 2020. It carries natural gas all the way from Azerbaijani offshore gas fields to the EU.
While output at the first stage is relatively modest at 10 billion cubic meters (bcm) per year, it can be increased by as much as triple depending on demand and further commercial interest. The route had been heavily backed – politically -by the European Union, which has long been concerned about Russia's dominance over European natural gas imports. Thus, even at current rates, the $40 billion dollar pipeline serves at the very least as a proof of concept of the Azerbaijan-EU route's viability and safety, putting to bed any conspiracy theories about its possible vulnerability.
END OF HOSTILITIES SPURS FURTHER DIPLOMATIC ACTION, WARMING ON CASPIAN ISSUES
If anyone thought the celebrations following the victory over Armenia – or the successful start-up of the last leg of the Baku-Italy SGC route would lead to complacency on the part of the government, they were also wrong.
In January, Aliyev and President of Turkmenistan Gurbanguly Berdimuhamedov unexpectedly appeared via a live video hookup and announced that they had finally resolved a last thorny issue which had bedeviled ties since the Soviet collapse.
The last dispute concerned an oilfield roughly in the middle of the Caspian Sea. The delimitation of the Caspian had been a stumbling block diplomatically and economically between the five Caspian littoral states – Azerbaijan, Kazakhstan, Iran, Russia, and Turkmenistan – until a 2018 agreement. Nonetheless, the field, now jointly called "Dotslug" (Friendship in both Azerbaijani and Turkmen) was still being haggled over due to its central position in the mid-Caspian, straddling dividing lines.
Under the televised agreement, the two countries agreed to develop the field jointly. Though the amount of recoverable crude oil reserves in the field are relatively modest, they still could help Baku make up for offshore oil output which has been gradually falling over the past few years.
At the same time, the agreement could potentially pave the way for the green light for a long-contemplated natural gas pipeline along the sea bed of the Caspian Sea the long-discussed Trans-Caspian Pipeline (TCP).
Turkmenistan has the world's fourth largest reserves of proven recoverable natural gas, and the country is in desperate condition economically, with its closed, autarkic and command   economic model increasingly unable to supply even basic staples a long-practiced, outdated rationing system for its population of six million.
The viability of the TCP is widely debated, and would depend on – naturally – prices for natural gas on the world and EU market, as well as whether or not Turkmenistan- which has long resisted direct involvement by major western firms in its economy – would contemplate widespread liberalization.
"It all depends on whether or not the cost of constructing the route would be profitable or even economically viable," said Zaur Shiriyev, an analyst on the South Caucasus region with the Brussels-based International Crisis Group. Nonetheless, he noted, the mere fact that the route was again in play was an important diplomatic coup for Baku.
Just the mere idea of the Turkmenistan President – a former dentist known for eccentric pronouncements (the country claims it has no cases of COVID and President Berdimuhamedov has claimed licorice root may a cure for the malady) – – going on a live video hookup with Azerbaijan's Aliyev – was in itself something rather remarkable. Berdimuhamedov has sometimes dropped out of sight for weeks at a time, evoking all manner of rumour-mongering.
The engagement shows a desire buy Baku to strike a bolder diplomatic posture, even if it risks irritating Russia, which might not like its heretofore virtual monopoly over gas exports to the EU from the former Soviet Union.
In addition, the mere fact that the TCP is again under discussion is bound to once again stoke renewed interest in Azerbaijan as an investment opportunity, much as was the case in the boom days of the 1990s, when foreign energy companies fought for influence and a piece of the pie in potentially lucrative Caspian projects – a contest which also produced spin-off investments in real estate, retail industries and other fields.
ALIYEV PUTS OFFICIALS ON NOTICE
President Aliyev is also wasting no time in seeking engagement with foreign companies to help in the daunting task of rebuilding the formerly occupied territories, currently mostly totally destroyed and littered with landmines which produce military and civilian casualties on a regular basis. The wasteland – one city was so systematically destroyed and looted by the Armenians that it is often referred to as "Azerbaijan's Hiroshima" – are in need of the most basic elements for making them once again habitable.
Aliyev met with the UK Minister for European Neighbourhood and the Americas  Wendy Morton – in early February, emphasizing British companies would be welcome in reconstruction projects. Companies like BP have long been some of the most active in Azerbaijan.
Perhaps even more remarkable for a head of a country whose bread and butter has traditionally been carbon energy exports, Aliyev declared that the formerly occupied territories would be rebuilt along totally "green" energy principles, using solar, wind and hydro power, and not reliant on carbon energy sources.
At the same time, Aliyev rebuked several government officials for ostentatious declarations about setting up regional offices in the now de-occupied territories, saying they were little more than publicity stunts, and added nothing tangible to actual rebuilding. Among them were the leaders of such structures as the Central Bank, the State roadbuilding company Azeravtoyol, State airline AZAL, the State Customs Committee, the State Border Service, and the Ministry of Emergency Situations.
The head of state warned ministers and directors of state companies wishing to open "branches" in the now liberated town of Shusha, for example, to essentially mind their own affairs and refrain from empty gestures.
"What do you care about Shusha?! You want to come, settle down, and build a residence at the expense of the state. They want to have a residence in Shusha too. Sometimes I do not tell the citizens about this, so as not to provoke disdain. I apologize for the expression, but my patience is running out. I say this so that both citizens and officials know. Let the officials know their place and go about their business. I declared Shusha the capital of culture, not the capital of officials," he said earlier in February on live television.
"It seems natural the President now, after the successful conclusion of the war, finally feels confident enough to perhaps take on officials and vested interests who he hesitated to dress down previously," said Thomas Goltz, a long-time Azerbaijan watcher and analyst.
In addition, the head of the de facto state steel company and another prominent minister were both arrested in recent weeks on alleged corruption charges. Aliyev minced no words, calling the steel company chief someone "who had created a personal corrupt monopoly".
Taken together, these issues seem to indicate that the Azerbaijani President wants to portray the country as open for foreign investment – the country has enormous agricultural, touristic, and industrial untapped potential – rather than a carbon-dominated one-trick pony exporter.