Kazakh president issues "shoot to kill" order, vows to eliminate "terrorists"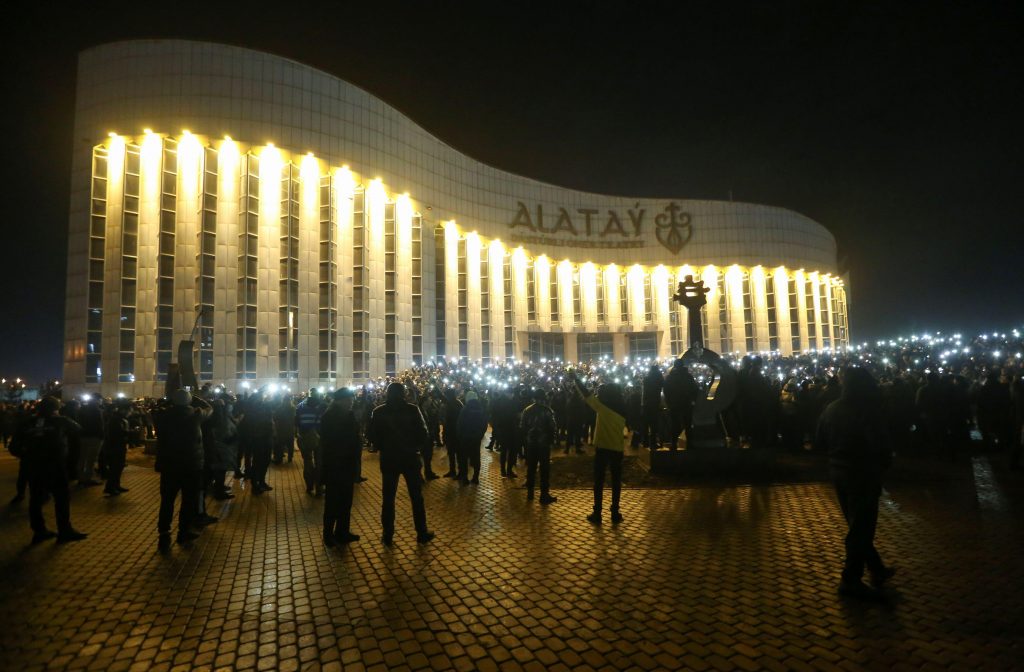 People use lights on their mobile phones during a protest in Almaty, Kazakhstan January 4, 2022 (Alamy).
Kazakhstan President Kassym-Jomart Tokayev, bolstered by the arrival of foreign troops, said security forces had restored control over much of his ex-Soviet Central Asian state and issued a "shoot to kill" order to eliminate the "terrorists" he said were behind nearly a week of deadly unrest.
Tallies issued by Kazakhstan's Interior Ministry put the death toll at 18 security officers and 28 "armed bandits" – a reference to protesters who this week stormed and set fire to administrative buildings, mainly in the country's largest city, Almaty. A total of 216 servicemen were hurt and more than 3,800 people had been detained.
As Tokayev delivered the latest in a series of televised addresses vowing to quell the disturbances, troops from Russia and other ex-Soviet states began their deployment with the stated aim of protecting public and security institutions. They were summoned within the context of an operation by the Russian-led Collective Security Treaty Organisation.
Tokayev blamed the upheaval, sparked by steep New Year fuel price increases, on "20,000 bandits", from both Kazakhstan and abroad, who stood behind the mass disorder in Almaty.
"I have issued an order to the security forces and army to shoot to kill without warning," Tokayev said, standing stiffly at a rostrum in front of a national flag.
"There have been calls from abroad for talks to solve the problem by peaceful means. How stupid! What sort of talks can there be with criminals, with murderers? We have had to deal with armed, trained bandits, both local and foreign. These are terrorist bandits. They must therefore be destroyed. And this will be done very soon."
The president offered no evidence to support his statements.
Footage posted on the Internet on Thursday showed Kazakhstan security forces advancing through Almaty's Republic Square, the focus of much of the unrest, in full riot gear and automatic weapons drawn.
Almaty streets quieter, but food in short supply, banks shut
Radio Azattyk, the Central Asian service of U.S.-funded Radio Free Europe-Radio Liberty, said three bodies remained uncollected in the square early on Friday. Reports posted on a variety of sites said the city was quieter on Friday, but reports persisted of gunshots or explosions. Gutted cars and other debris littered city streets.
The protests, initially launched in the oil-producing west of the country to denounce the doubling of fuel prices, quickly became a forum in many cities for widely-held grievances over low living standards and poor post-Soviet governance in a country boasting considerable resource wealth.
The Internet remained largely blocked throughout the vast country, banks were shut and residents were having difficulty finding food and other staples.
Provocateurs, social disparities
Many of the latest accounts of unrest in Almaty, including widespread looting and groups of young people stopping cars at random, suggested that some of the protests had been taken over by groups bent on fomenting disorder rather than sending a political or social message.
"The situation in Almaty is complicated. I believe these people are provocateurs. Those who kill and destroy are looters and I am not going to justify the actions of looters," Ilyas Tleulin, a bankruptcy lawyer in Almaty, told The Tribune. Though on a holiday outside the country, he remains in touch with family and other residents.
"On the other hand, you have to understand that there are great social disparities and very strong social tension that has built up and hung in the air for the last seven to 10 years…A great many people live very badly indeed without the possibility, let's say, to work officially and have their debts written off."
And Tokayev accused the "supposedly free media outlets" in the country and outlets based abroad of encouraging unrest.
Protests without advance notice are not permitted Kazakhstan, by far the wealthiest country in ex-Soviet Central Asia, and the opposition is not represented in parliament. Human rights groups have said Kazakhstan's law on public gatherings, which provides for prosecution for taking part in unauthorised gatherings, contradict international standards.
The dispatch of the troops from Russia, Belarus, Armenia and Kyrgyzstan was recognition of Moscow's continuing role as a sort of power broker in the region and an acknowledgement that the Kremlin wanted to staunch popular unrest in the region quickly. Russia shares a border stretching over 8,000 km and the two countries have close economic links – special security measures were ordered to protect the Baikonur space rocket launch site on Kazakh soil
Unprecedented dispatch of troops
The troop dispatch was unprecedented in the history of the CTSO – a security alliance set up in the years following the collapse of Soviet rule which usually confines its activities to exercises.
The Russian-led group refused a request from Kyrgyzstan in 2010 to intervene in social upheaval in that country on grounds that it was an internal matter. This time, it approved the dispatch of forces within hours.
Kremlin leader Vladimir Putin is wary of any grass-roots social movement that could threaten the established order in the ex-Soviet region.
In the past year, he has offered considerable financial support – and even the prospect of military support to Belarusian President Alexander Lukashenko who ordered a crackdown by the security forces to snuff out weeks of unprecedented rallies by protesters alleging he rigged his 2020 re-election.
Russia also acted to seize the Crimea peninsula and foment separatist unrest in eastern Ukraine in 2014 after mass protests forced the removal of a Ukrainian president friendly to Moscow. Large concentrations of Russian troops have remained on Ukraine's borders in recent weeks as Moscow seeks "security guarantees" from Western nations that NATO will not expand to include Ukraine.
And the Kremlin has clamped down hard on any public protests against Putin.
"Moscow has a chance to take the most advantageous position for itself — a physically forceful presence on the territory of a state that is crucial for Russia in the role of a guarantor upon whose position further events depend," Fyodor Lukyanov, chairman of the Council on Foreign and Defence Policy think tank,, wrote after the CSTO decision was taken to send troops.
Radio Azattyk said protesters' demands over the course of the week had included creation of an emergency body to take charge of the situation, the appointment of a government with representatives of civil society and the formation of groups to protect residents from looters. It said some activists had also wanted to stop the deployment of troops under the CTSO.
As the protests intensified, the president had offered concessions. Talks took place with demonstrators, the fuel price increase was rescinded, the government was dismissed – but all to little effect.
Foreign governments closely watched developments in a country which has attracted significant investment in the post-Soviet period.
U.S. Secretary of State Antony Blinken said Washington still had questions about Tokayev's request for military reinforcements from a Russian-led alliance.
"It's not clear why they feel the need for any outside assistance, so we're trying to learn more about it," he told reporters. "One lesson in recent history is that once Russians are in your house, it's sometimes very difficult to get them to leave."
China, with increasingly close links to Kazakhstan, welcomed Tokayev's actions.
"You decisively took effective measures at critical moments to quickly calm the situation, which embodies your responsibility as a politician," Chinese leader Xi Jinping, said in a message, according to the official Xinhua News Agency.
Tokayev took over as president in 2019 from longstanding Soviet-era leader Nursultan Nazarbayev, who tolerated little dissent and nurtured a form of personality cult.
Much of the protesters' anger seemed directed at Nazarbayev, who has retained a considerable measure of control of national affairs from behind the scenes. Crowds were observed chanting "Old man, out!" in reference to the former leader and video footage showed protesters toppling a statue of him outside Almaty.
One of Tokayev's actions aimed at assuaging that anger was the removal of Nazarbayev as head of Kazakhstan's Security council as Tokayev said he was assuming control of all formal levers of power. Tokayev also dismissed Samat Abish, Nazarbayev's nephew, from the position of first deputy head of the country's national security service.
Russian and Kazakh media said authorities had ceased referring to the country's capital as Nur-Sultan – as it was renamed after Nazarbayev left office – one of several name changes to the city in the post-Soviet era.
An unexpected development related to the unrest was a fall in the value of the  Bitcoin crypto-currency – it dropped in value $47,000 to less than $42,000 per digital coin.. Analysts linked the fall to suggestions by the U.S. Federal Reserve that it might raise interest rates, but also the fact that nearly a fifth of all Bitcoin "mining" is conducted in Kazakhstan because of the country's low electricity rates.