Kazakhstan imposes curfew, police confront protesters, after fuel price rises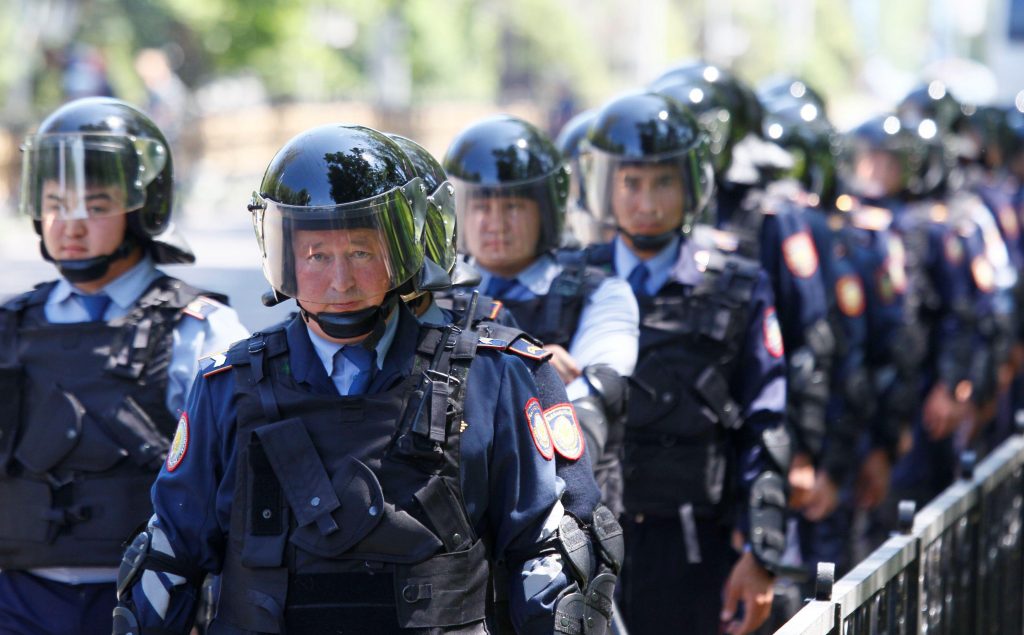 Kazakhstan riot police at a 2016 protest (Alamy)
Riot police firing stun grenades fought pitched battles with demonstrators and Kazakhstan's president imposed an overnight curfew and banned mass gatherings as protests over fuel price increases spilled over into many of the ex-Soviet state's cities.
The scale of the unrest and public fury was unprecedented in the country, with many protesters calling for the government's resignation. President Kassym-Jomart Tokayev imposed a two-week state of emergency in Almaty, Kazakhstan's largest city, and in the oil-producing Mangystau region, where the unrest began in the New Year over the doubling of prices for liquid petroleum gas, or propane, the most widely used fuel for vehicles.
"Calls to attack government and military offices are absolutely illegal," Tokayev said in a televised appeal before introducing the emergency measures. "The government will not fall, but we want mutual trust and dialogue rather than conflict."
Protests on this scale are rare in Kazakhstan, where Tokayev took over in 2019 from longstanding Soviet-era leader Nursultan Nazarbayev, who tolerated little dissent in the Central Asian state. Protests without advance notice are not permitted.
Footage from Almaty showed cordons of riot police carrying shields and advancing down streets where demonstrators were gathered. Explosions were heard in the background, smoke wafted through the air and at least one police vehicle was set ablaze.
Independent journalists said police tossed stun grenades into crowds, beat protesters with truncheons and dragged many of them into waiting buses.
Demonstrators demand jobs, better living standards
Radio Azattyk, the Kazakh-language service of U.S.-funded Radio Free Europe-Radio Liberty said demonstrators were demanding jobs and improved living standards. Some accounts said protesters shouted "Old man out!" a reference to Nazarbayev's continuing influence in the country, and "Government resign!".
The Radio said more than 100 people had been detained at two separate rallies in Almaty, including at least two journalists. Mobile internet communications were blocked for a time. The Radio also reported clashes in other cities, including the capital, Nur-Sultan.
The unrest first broke out in the oil town of Zhanaozen after New Year's Day in response to an official decision to rescind a price cap on propane which sent the price of fuel soaring from 60 to 120 tenge ($0.15 to $0.30) a litre. Officials had said the increase was necessary as price levels made propane production unprofitable.
The town was the scene in 2011 of protests by oil workers demanding improved working conditions – 16 people died when they were broken up.
Protesters said they were worried the fuel price increase would have a knock-on effect on staples and denounced what they described as rampant corruption and as well as unemployment and low wages.
Tokayev told protesters from the outset of the unrest that they had the right to issue demands "but this must be done in accordance with the law".
Protests spread quickly
The demonstrations quickly spread to Aktau, the main centre of the Mangystau region, where residents said 6,000 mainly young protesters massed in the main square on Monday and set up a tent and a yurt, with the help of local businessmen, to enable them to remain there round-the-clock.
A government commission quickly met with representatives of the demonstrators and Tokayev announced that the price increase would be rescinded in the Mangystau region.
In announcing the move, the president appealed on Twitter to demonstrators "not to heed the calls by destructive elements whose interest lies in undermining the stability and unity of our society".
He said a government meeting would be held on Wednesday to examine the situation and consider protesters' demands.
The ruling Nur Otan party holds most of the seats in the Kazakhstan parliament and the government's opponents are unrepresented.
Human rights groups have said Kazakhstan's law on public gatherings, which provides for prosecution for taking part in unauthorised gatherings, contradicts international standards.