Kazakhstan president says Russian troops to leave, criticises predecessor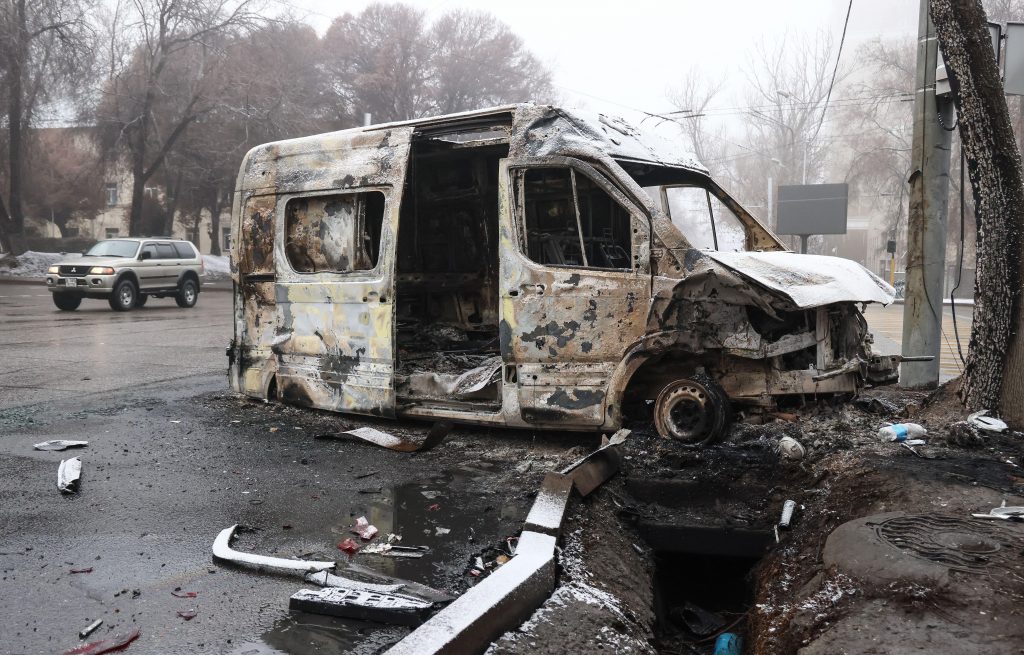 A burned-out vehicle in an Almaty street on 8th January 2022 (Alamy)
NUR-SULTAN
Kazakhstan President Kassym-Jomart Tokayev said a Russian-led troop contingent drafted in to bolster a sweeping security operation to restore order in the country's largest city would start returning home within days.
Tokayev also named a new prime minister and announced measures to instil public confidence in state institutions. And he laid bare widespread notions of tension between rival Kazakh interest groups by voicing rare criticism of his predecessor – independent Kazakhstan's first president Nursultan Nazarbayev – saying his practice of favouring his friends in developing the economy had created a group of super-rich entrepreneurs.
The United Nations and human rights groups, meanwhile, called for independent inquiries into the crackdown in Almaty, the large death toll among protesters and mass detentions – estimated at 9,900 by authorities.
Tokayev was addressing parliament to provide an account of the progress in operations to return the city of Almaty, Kazakhstan's commercial capital, to normal activity, announce his revamped government and set down his legislative priorities.
Pullout to begin in two days
The president repeated his assertion, without providing evidence, that "foreign-trained terrorists" lay behind the unrest and that the security forces, buttressed by the six-nation Collective Security Treaty Organisation (CSTO), had taken action in time to prevent Almaty and other cities from being taken over as part of a plot to seize power.
"In general, the difficult phase of the counter-terrorist operation is complete. The situation is stable in all regions. And in this connection, I hereby announce that the main mission of the CSTO has now successfully concluded," he told the assembly.
"In two days, the gradual withdrawal of the CSTO peacekeeping contingent will begin. The withdrawal of the contingent will take no more than 10 days."
No official death toll has been announced in the unrest, particularly the operation to restore calm in Almaty.
The protests began in oil-producing western Kazakhstan in response to steep price increases in the price of fuel for vehicles. They spread quickly and turned into mass demonstrations against low living standards and poor governance in a country with considerable resource wealth, though Almaty residents said some of the protests had been hijacked by elements bent on causing turmoil.
Kremlin leader Vladimir Putin has offered support to Tokayev and said the duration of the Russian-led mission of more than 2,000 troops was entirely up to the Kazakhstan president.
Western countries, particularly the United States, were sceptical about the use of Russian troops,  suggesting that previous deployments in ex-Soviet states, including Georgia, Ukraine and Moldova, had turned into long-term stays, not necessarily with the agreement of the host country.
In Geneva, the U.N. Human Rights Office called for prompt, independent, and impartial investigations into the deadly crackdown.
U.N. wants details on casualties, tactics
U.N. human rights spokeswoman Liz Throssell said her agency was seeking more details on the anticipated high number of deaths in the confrontations pitting security forces against protesters.
"What we expect, and hope is that, of course, as more information comes to light, that we are able to get more complete and reliable figures…into these killings," she said. "And that would include, for example, whether unnecessary and disproportionate use of force was made by the security forces."
Rights group Human Rights Watch called on Kazakhstan to rescind a "shoot without warning" order issued by Tokayev at the height of the disturbances last week.
In his remarks to parliament, Tokayev went out of his way to say his legislative agenda would now focus on improving the living standards of rank-and-file Kazakhs and restoring their faith in state institutions.
And part of that meant large companies making a contribution to their well-being – through a "Fund for the people of Kazakhstan" —  and backing away from the policies of his predecessor. He did not refer to Nazarbayev by name, using instead the title bestowed on him during his time in office – "Elbasy", or father of the nation.
"Thanks to the first president – Elbasy – a group of very wealthy companies, and groups of people, have emerged in the country, rich even by international standards," he said. "I think it is time they pay their dues to the people of Kazakhstan and help them on a systemic and regular basis."
Suggestions have proliferated during the crisis of a rift between the president and Nazarbayev, who has retained considerable influence despite stepping down in 2019 and designating Tokayev as his successor.
As protests moved quickly across the country to grip Almaty, demonstrators chanted derisive slogans denouncing Nazarbayev and a statue of him was torn down outside Almaty.
Tokayev removed Nazarbayev last week from his post as head of the country's Security Council. The speculation intensified as the National Security Committee announced that former intelligence chief Karim Masimov, a former prime minister and close associate of Nazarbayev, had been detained on suspicion of high treason. Other senior security officials have since been dismissed.
Nazarbayev tolerated little dissent during his years in office – since before the collapse of Soviet rule – a policy largely left untouched by his successor as opposition parties now hold no seats in parliament. An elaborate personality cult developed around Nazarbayev and media have compiled long lists of his family's vast foreign property holdings.
Tokayev last week dismissed his government in a concession that failed to halt the protests and in his address to parliament, he named a replacement with Alikhan Smailov, 49, as prime minister. He had previously served as first deputy prime minister.
Deputy Prime Minister Roman Sklyar was promoted to the post of the first deputy prime minister, while the ministers of information, justice, health, industry, economy, culture, finance and energy were replaced.
Tokayev also announced a five-year salary freeze for top public officials, clearly an attempt to address the anger of protesters denouncing deep inequalities in Kazakh society.
"The salaries for this category of a civil servant are already quite high enough," he said.