Kazakhstan President tells Putin unrest was "attempted coup"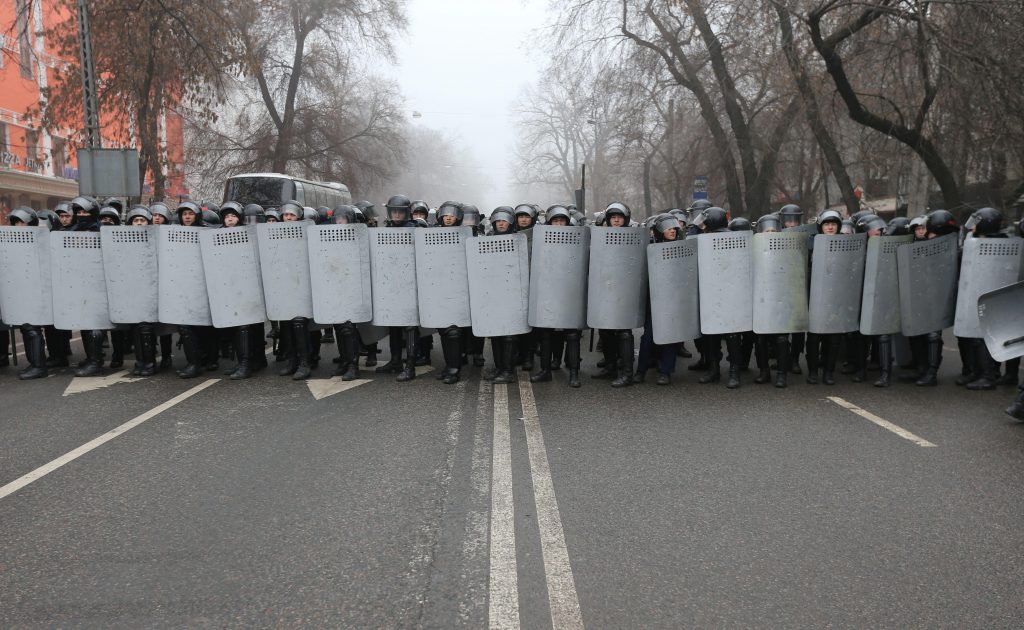 Kazakhstan security forces block a street in Almaty on 5th January 2022 (Alamy)
NUR-SULTAN
The president of Kazakhstan told Kremlin leader Vladimir Putin that several days of unrest during which public buildings and the airport were stormed and set alight amounted to an attempted coup d'état staged by foreign-trained terrorists.
President Tokayev Kassym-Jomart Tokayev was addressing – by video link – a summit meeting of the Russian-led six-nation Collective Security Treaty Organisation, which swiftly dispatched troops to Kazakhstan last week to help restore order in the Central Asian state.
More than 2,000 troops, along with heavy equipment, had arrived in the ex-Soviet state and were guarding key buildings and installations. Security services were proceeding with mopping up operations in the unrest, which began as demonstrations against fuel price increases but quickly turned into furious protests in the commercial capital Almaty against low living standards and bad governance.
A total of 7,939 people have been detained in connection with the unrest, Kazakhstan's Interior Ministry said. Tokayev said a death toll, including civilian casualties, was being established –the president said current data showed 16 servicemen had been killed and 1,300 injured.
"Groups of armed fighters waiting for the right time went into action. Their chief aim became clear – undermining the constitutional foundation, destroying the governing institutions and seizing power," Tokayev told the summit as the country marked a day of mourning for those killed.
"We are talking here about an attempted coup d'état. It is now clear that all these military actions were being coordinated by a single centre, a carefully planned operation entering its decisive phase…It is with certainty that I am speaking of direct involvement of terrorists, including foreign fighters committing aggression against Kazakhstan."
Some observers were doubtful about Tokayev's assertions, without proof, that "20,000 bandits" lay behind the violence, though many residents believed the protests were hijacked by elements seeking to cause disruption.
The president offered no evidence to support his allegations.
President to announce government changes
The summit meeting took place on the eve of Tokayev's announcement of changes to his government – moves likely to give prominence to the officials who will determine the way Kazakhstan is to proceed with development.
In his remarks to the meeting of the six-nation grouping of ex-Soviet states, Putin said that "well organised and clearly managed groups of militants" had spearheaded the violence "including those who obviously underwent training in terrorist camps abroad. Events in Kazakhstan are not the first, nor the last, attempt to meddle into our internal affairs from abroad."
Putin said an agreement to send the peacekeepers was quickly put into place and they would stay  "for a limited period, as long as the president of Kazakhstan, the head of state, believes it is possible for them to be used."
Endorsing the president
Putin's wording – on the eve of the expected government changes — was clearly intended as an endorsement of Tokayev, who had demonstrably expressed gratitude to Russia for dispatching the troops to restore order.
The president had initially tried to deal with the unrest by rescinding the fuel price increase and dismissing his government, but the protests became increasingly violent, prompting him to issue a "shoot to kill" order against "terrorists".
Some analysts have speculated that the unrest was the outcome of a sort of power struggle between the president and his predecessor, long-time head of state Nursultan Nazarbayev, who has retained considerable influence despite stepping down in 2019 and designating Tokayev as his successor.
As protests spread from the oil-producing west of the country to Almaty, demonstrators chanted derisive slogans denouncing Nazarbayev and a statue of him was torn down outside Almaty.
Tokayev removed him from his post as head of the country's security council. The speculation intensified as the National Security Committee announced that former intelligence chief Karim Masimov, a former prime minister and close associate of Nazarbayev, had been detained on suspicion of high treason. Other senior security officials have since been dismissed.
Nazarbayev tolerated little dissent during his years in office – since before the collapse of Soviet rule – a policy largely left untouched by his successor as opposition parties now hold no seats in parliament. The former leader developed a sort of personality cult and media have compiled long lists of his family's vast foreign property holdings.
The call for help to the Russian-led CSTO was an indication of Moscow's role as a regional power broker and the Kazakhstan leader's preference to strengthen links with its much larger neighbour. Other members of the CSTO include Armenia, Belarus, Kyrgyzstan and Tajikistan.
Western countries voiced suspicions of the manner in which Tokayev dealt with the unrest.
"The shoot-to-kill order, to the extent it exists, is wrong and should be rescinded," U.S. Secretary of State Antony Blinken told ABC Television's "This Week" programme. "And Kazakhstan has the ability to maintain law and order, to defend the institutions of the state, but to do so in a way that respects the rights of peaceful protesters and also addresses the concerns that they've raised – economic concerns, some political concerns."