Kazakhstan protesters unmoved by concessions, storm official buildings, airport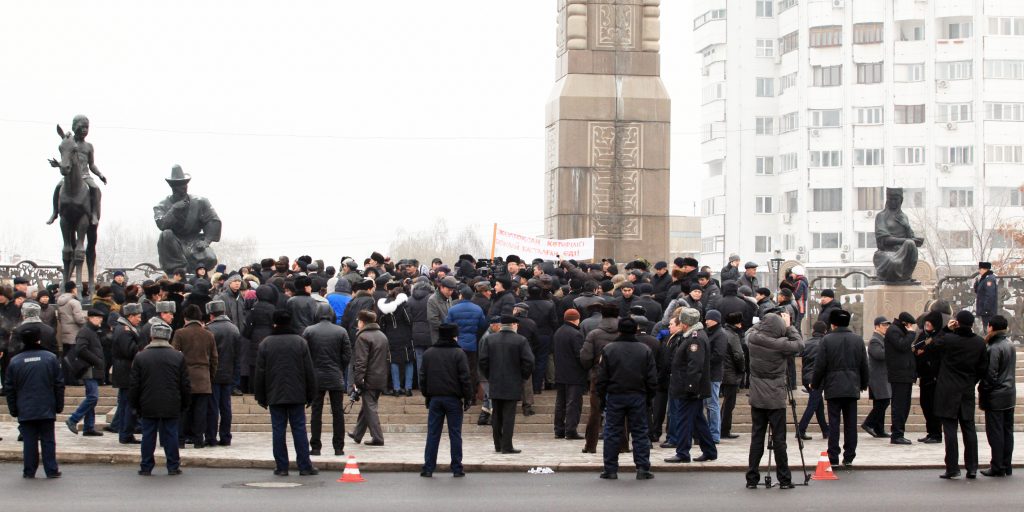 Protest held in December 2011 in Republic Square, Almaty, Kazakhstan -Alamy
Protesters in Kazakhstan, unmoved by concessions offered by national leaders, took on riot police and stormed official buildings and the country's largest airport in a furious show of discontent at living standards and post-Soviet governance.
Kazakhstan and Russian media quoted Kazakhstan's Interior Ministry as saying eight police officers and national guardsmen had been killed in the unrest.
The protesters surged through the streets of Almaty and other cities well after dark, paying little heed to a curfew, the extension nation-wide of a statement of emergency and the dismissal of the government. The original spark that set off the protests, steep price rises for liquid petroleum gas, or propane, for use in vehicles, was also rescinded.
But the demonstrations have gone well beyond the issue of fuel prices in what is normally a highly stable and resource-rich country, with protesters taking aim at the elite that has run Kazakhstan in the 30 years since the collapse of Soviet rule.
The reverberations were already being felt outside Kazakhstan – President Kassym-Jomart Tokayev was shown on television at a meeting of Kazakhstan's Security Council asking other members of a post-Soviet security pact, the Collective Security Treaty Organisation, including Russia and Belarus, for help in ensuring order.
Official statements said Belarusian President Alexander Lukashenko spoke to Tokayev twice by telephone. Lukashenko's crackdown by security forces enabled him to weather weeks of mass protests denouncing his 2020 re-election as rigged. He also secured both diplomatic and financial support from Russian President Vladimir Putin.
Radio Azattyk, the Kazakh-language service of U.S.-funded Radio Free Europe-Radio Liberty quoted military officials in Almaty as saying a "special operation to ensure order" had been launched and urging residents to remain calm. A military statement noted the "high degree of organisation by bandits taking part in the disorder" and suggested there had been "serious preparations made for this abroad".
President vows tough measures
Video footage showed security forces equipped with shields and full anti-riot gear advancing down city streets, confronting protesters or bundling them into waiting buses. Shots or explosions from stun grenades resonated in the background.
Tokayev, in one of several televised appeals to his countrymen, blamed the disturbances on "financially-motivated conspirators" and vowed to act "as toughly as possible…This is a question of the safety of our country. I am certain that the people will support me."
He pledged to proceed with the "political transformation" of Kazakhstan.
Tokayev decried scenes of "mass attacks on security forces" in Almaty. "Crowds of bandit elements are beating and bullying servicemen, dragging them naked through the streets, exhibiting violence towards women and robbing shops," he said.
Under state of emergency regulations, Tokayev has imposed an 11 p.m. to 7 a.m. curfew – he is also empowered to ban protests. The internet has been blocked throughout the country.
Footage from Almaty, Kazakhstan's largest city, showed smoke billowing from the mayor's office and main government building. Protesters also stormed the airport, causing mass cancellations of flights, and massed near the president's residence and prosecutor's office.
Protests on this scale are rare in Kazakhstan, where Tokayev took over in 2019 from longstanding Soviet-era leader Nursultan Nazarbayev, who tolerated little dissent and nurtured a form of personality cult.
Protests without advance notice are not permitted in the country, by far the wealthiest in ex-Soviet Central Asia, and the opposition is not represented in parliament. Human rights groups have said Kazakhstan's law on public gatherings, which provides for prosecution for taking part in unauthorised gatherings, contradict international standards.
Much of the protesters' anger seemed directed at Nazarbayev, who has retained a considerable measure of control of national affairs from behind the scenes. Crowds were observed chanting "Old man, out!" in reference to the former leader and video footage showed protesters toppling a statue of him outside Almaty.
One of Tokayev's actions aimed at assuaging that anger was the removal of Nazarbayev as head of Kazakhstan's Security council as Tokayev said he was assuming control of all formal levers of power. Tokayev also dismissed Samat Abish, Nazarbayev's nephew, from the position of first deputy head of the country's national security service.
Tokayev had initially proclaimed emergency rule only in Almaty and in the oil producing Mangystau region, where unrest began in the New Year over the doubling of fuel prices.
Government dismissed – to little effect
On Wednesday, he dismissed his government – one of the protesters' earlier demands – but to little apparent effect. Protests spread rapidly to other parts of the country, including the new capital Nur-Sultan and other cities.
Radio Azattyk said protesters were aggrieved as the price increases and mass poverty in an oil-exporting country. Demonstrators were demanding jobs and improved living standards.
The unrest first broke out in the oil town of Zhanaozen after New Year's Day in response to an official decision to rescind a price cap on propane which sent the price of fuel soaring from 60 to 120 tenge ($0.15 to $0.30) a litre. The town was the scene in 2011 of protests by oil workers demanding improved working conditions – 16 people died when they were broken up.
Protesters said they were worried the fuel price increase would have a knock-on effect on staples and denounced what they described as rampant corruption and as well as unemployment and low wages.
Tokayev told protesters from the outset of the unrest that they had the right to issue demands "but this must be done in accordance with the law".
A government commission quickly met with representatives of the demonstrators and Tokayev announced that the price increase would be rescinded in Mangystau region.