Kazakhstan's first leader Nazarbayev says no conflict with successor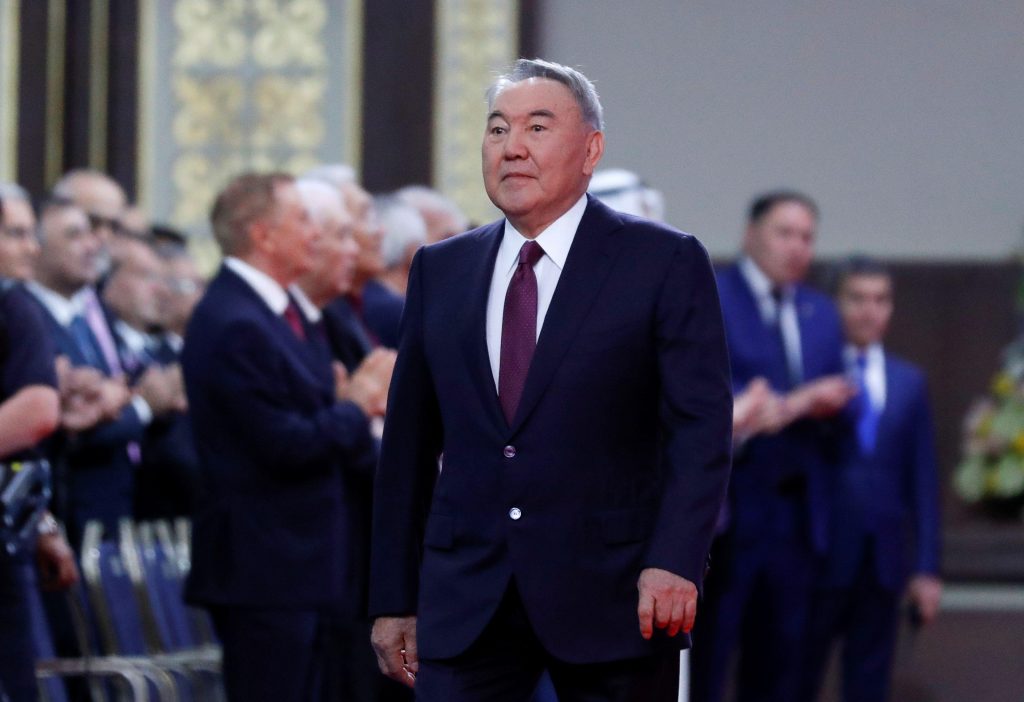 Nursultan Nazarbayev, Kazakhstan's first president (Alamy)
NUR-SULTAN
Kazakhstan first president, Nursultan Nazarbayev, said in his first public comments since deadly unrest jolted the Central Asian country that there was no conflict pitting him against his successor and urged his compatriots to back reforms intended to improve their well-being.
Nazarbayev's comments, delivered somewhat nervously in a video address posted on his website, sought to scotch widespread suggestions of a power struggle between him and Kassym-Jomart Tokayev, who took over from him in 2019. It is widely acknowledged that he continued to wield considerable influence after stepping down as president.
The unrest broke out in the New Year as peaceful protests against steep increases in fuel prices in western Kazakhstan and raced across the vast country to engulf the financial capital Almaty, with gangs storming and setting public buildings on fire before security forces restored order – bolstered by a contingent of troops from Russia and other ex-Soviet states.
Officials have put the death toll in the mayhem at 225.
Many of the protesters shouted derisively "Old Man, Out!" in reference to Nazarbayev, 81, and his continuing influence on state affairs. As the violence swept eastward, Tokayev removed Nazarbayev from his remaining senior post as head of Kazakhstan's Security Council.
And he obliquely criticised the former leader's practice of promoting his family and friends in positions of influence and wealth while many in the country lived badly.
Former president expresses condolences, calls for unity
In his video appeal, Nazarbayev sat at a desk in front of several national flags, twiddling her thumbs and repeatedly speaking in a monotone. He said he was now a simple pensioner in the Kazakhstan capital and dismissed widespread speculation that he had left the country during the unrest.
"President Kassym-Jomart Tokayev holds power to the fullest extent. He is chairman of the Security Council. He will soon be elected chairman of the Nur Otan party," the former president said referring to the party that has run Kazakhstan since the Soviet collapse.
"There is, therefore, no conflict or confrontation in the elite. Rumours to that effect are absolutely groundless."
Nazarbayev, given the formal title of Elbasy, or leader of the nation in 2019, said he had worked for 30 years in office to build up Kazakhstan's prestige. He offered condolences to the families of those who died in the unrest he said had sought to destroy the country's "integrity and foundations".
"Ensuring stability and calm in the country was always my aim. We need to preserve these immutable values. We will overcome this crisis and become stronger," he said. "The president has proposed a new programme of reforms aimed at raising the well-being of the people. This programme must be supported."
Nazarbayev's address clearly did not please everyone.
"I think we could well have done without this speech. The speechwriters and advisers didn't even think to include an apology that he was not alongside his people at such a difficult time," commentator Syrym Itkulov said on his Facebook page, adding that television professionals said the video had been produced "hastily" with no indication where or how Nazarbayev was filmed.
"As it happens, it's almost like a mockery – recalling that you are but an ordinary pensioner…while people around you are dying and the country came close to losing its state institutions…And the main thing was there was no emotion."
Tokayev dismissed his government at an early stage in the unrest with the hope that the measure would assuage public anger, but the protests escalated quickly with demands going far beyond the fuel price increase to raise broader issues of post-Soviet governance. Dissent has been kept under tight control, with the opposition unrepresented in parliament.
In Almaty, many of the protests appeared to have been taken over by elements bent on spreading disorder rather than voicing political or economic grievances.
Tokayev issued an order to "shoot without warning", criticised by human rights groups, and said the unrest was being orchestrated by 20,000 foreign terrorists".
As the Russian-led "peacekeeping" contingent flew into the country, Tokayev announced the formation of a new government and pledged to pursue comprehensive reforms.
In the days following the restoration of order, many figures linked with Nazarbayev were dismissed or even arrested.
These include, in recent days, his son-in-law, Dimash Dosanov as head of the national oil transport company KazTransOil, and Kairat Sharipbaev as chief executive of natural-gas pipeline operator QazaqGaz.
Both companies play a key role in the country's oil and gas industry, a key driver in economic growth for decades.
Timur Kulibayev, another son-in-law, resigned as chairman of the Atameken employers' group.
Security service undergoes change
The country's security service is also undergoing considerable change amid questions over how the protesters were able to storm public buildings in Almaty, the country's biggest city.
At the height of the protests, Tokayev dismissed Karim Masimov, head of the KNB security service and his arrest was announced days later. Uncertainty surrounds the fate of Nazarbayev's nephew, Samat Abishev, first deputy head of the security service. His reported dismissal and detention were denied by security officials.
Nazarbayev's eldest daughter, Darigha, a member of parliament, has skipped all sessions of parliament for two weeks, with her spokeswoman saying she would be on sick leave until the end of the month.