Kyiv endures night-time bombardments; West to bar Russia from SWIFT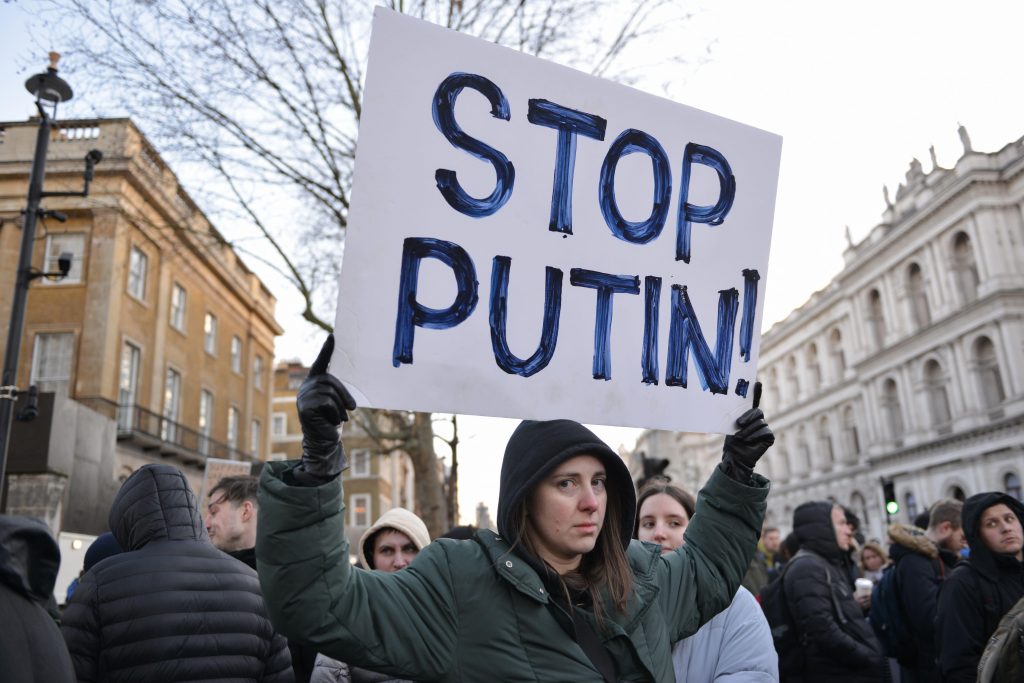 Ukrainian protesters in London (Alamy)
Ukraine's capital endured further overnight bombardment but the Russian advance to capture the city encountered stiff resistance from Ukraine's military and volunteers while Western countries took a major step forward in punishing Moscow by agreeing to bar several Russian banks from the Swift international banking payments system.
Ukrainian authorities slapped a 24-hour curfew on Kyiv through the weekend, with Mayor Vitaly Klitschko warning that anyone found in the street would be assumed to be a "saboteur".
In Ukraine's second city, Kharkiv, authorities reported Russian military vehicles were on the move. Street clashes erupted in various districts. Pictures on social media showed two Russian vehicles on fire.
President Volodymyr Zelensky lavished praise on servicemen and on civilians who took up some of the 18,000 arms handed out by authorities or set up production lines for petrol bombs.
Several videos posted online showed civilians berating Russian forces. Others showed Russian military equipment ablaze after encountering Ukrainian defenders or bogged down for technical reasons.
A U.N. official said 120,000 Ukrainians, many of them women and children travelling alone, had left Ukraine since the beginning of the hostilities, with large numbers entering Poland and Moldova.
During weeks of a buildup of more than 100,000 Russian troops, Russian President Vladimir Putin had denied Moscow had any plans to invade its neighbour – eight years after seizing the Crimean peninsula and fomenting a separatist insurgency in eastern Ukraine's Donbas region.
He has since explained that the full-scale invasion was the only way to ensure Russia's security in view of what he said was the West's refusal to consider the Kremlin's call for "security guarantees", including a pledge to expand NATO no further and to never allow Ukraine to join.
The United States and NATO rejected those principles on grounds that they entrenched "spheres of influence" in Europe and amounted to dictating a foreign policy framework to a neighbouring state. But they offered to discuss arms control issues and transparency in military exercises.
U.S. President Joe Biden and other NATO leaders have ruled out dispatching troops to Ukraine, leaving Kyiv to confront the full heft of the Russian military on its own. Putin says the incursion is intended to "demilitarise" and "denazify" the country, suggesting that his objective is to topple Zelensky.
Explosions were reported in various Kyiv districts throughout the night, but local authorities said they remained in overall control. Missiles hit an oil depot outside the capital, prompting warnings of toxic fumes in urban areas.
Barred from moving about their city, most Kyiv residents stayed overnight in shelters or in the metro, where trains were left in stations with doors open to provide more room. Residents remaining in their homes were told to stay away from windows or in the bathtub and to head for shelters upon hearing warning sirens.
"We have withstood and successfully repelled enemy attacks," Zelensky said in one of his periodic videos, posted around mid-day on Saturday.
"The fighting continues in many cities and districts of our state, but we know that we protect the country, the land, the future of children…"The occupiers wanted to put a blockade on the seat of our state's power and set up their puppets here. We messed up their plans, they did not gain any advantage over us. "
Casualty figures were impossible to verify but it was clear that Ukraine's armed forces were effective in their resistance. Ukraine's military said 3,500 Russian servicemen had been killed since the military poured into the country from three directions on Thursday. Ukrainian officials have so far announced a death toll of nearly 200 among Ukrainians, though it remains unclear whether these were civilian or military.
Efforts by Western countries to introduce sanctions with an impact on the Russian economy took a leap forward on Saturday, when the European Union, the United States, Canada and Britain agreed to remove "selected Russian banks" from the Swift system  – through which payments for exports and other cross-border transactions are processed.
The agreement followed days of debate, with the evidence of mass carnage in Ukraine eventually winning over European governments slow to agree to the measure, including Germany and Italy.
Italian Prime Minister Mario Draghi agreed to back the measure after a telephone discussion with Zelensky.
"This will ensure that these banks are disconnected from the international financial system and harm their ability to operate globally," European Commission President Ursula von der Leyen said after a videoconference with the other leaders.
"All of these measures will significantly harm Putin's ability to finance his war and they will have a severely eroding impact on his economy. Putin embarked on a path aiming to destroy Ukraine, but what he is also doing in fact is destroying the future of his own country."
Western countries also stepped up military assistance at the weekend.
Germany abandoned its frequently criticised reluctance to provide military hardware, saying it would supply Ukraine with 1,000 anti-tank grenade launchers and 500 stinger surface-to-surface missiles.
The U.S. State Department said it would send $350 million in weapons, including Javelin anti-tank missiles, anti-aircraft systems and body armour. The Netherlands announced the deployment of 50 Panzerfaust-3 anti-tank weapons and 400 rockets,
NATO countries have been deploying forces in larger numbers to the Alliance's member-states in Eastern Europe "to respond quickly to any contingency".