Kyrgyz ex-president's bizarre "return" end of a honeymoon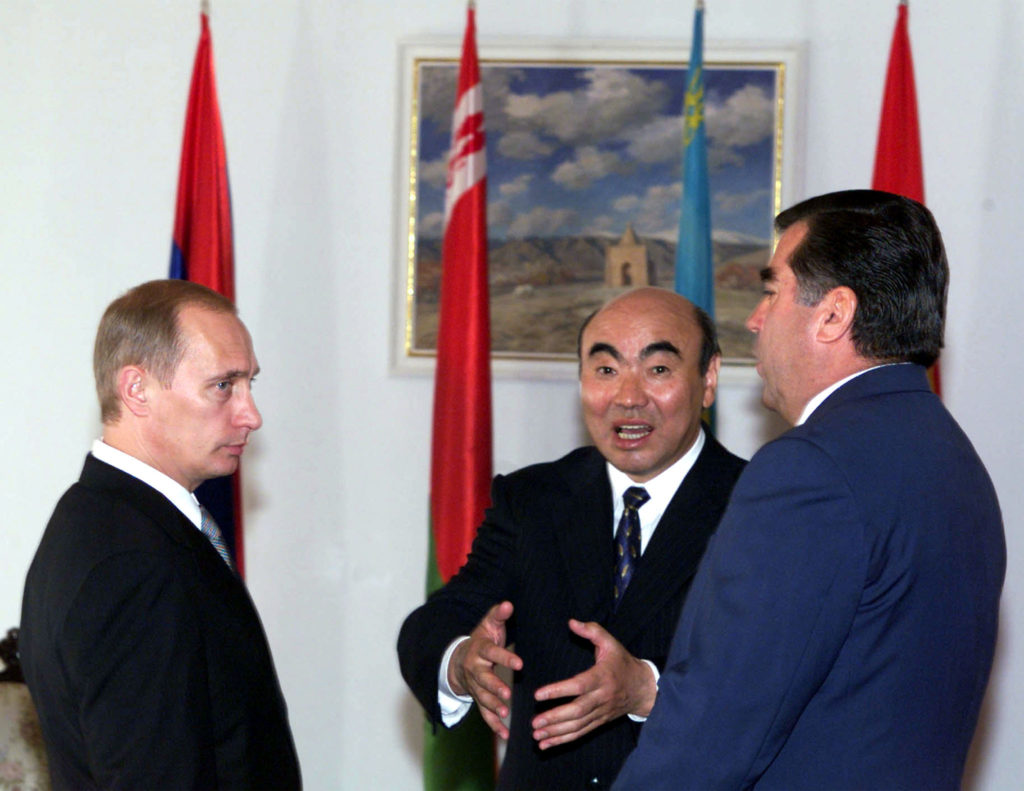 Alamy
BISHKEK
After 16 years of exile in Russia, the former President of Kyrgyzstan, Askar Akayev, once a poster child for democratic values in a region more noted for authoritarian strongmen, suddenly "turned up" in his home country this week.
Akayev was immediately taken into custody by State Security officials.
His arrival back in Kyrgyzstan was murky, to say the least.
In a statement, Kyrgyzstan's National Security Committee, the GKNB, said that Askar Akayev had been "delivered" to the capital Bishkek but did not state how he had been brought there.
The 76-year-old Akayev was immediately hauled off to KGNB headquarters to face interrogation over his role in deals dating to the 1990s over the country's massive Kumtor gold mine, by some estimates the second largest of its kind in the world.
Kumtor produces over 10 percent of Kyrgyzstan's GDP and 20 percent of its exports in cash terms.
It also has a checkered history due to deals with Canadian gold mining firms, the ostensible subject of the investigation.
EXACT CHARGES UNKNOWN, STRANGE APPEARANCE
A physicist, Akayev led Kyrgyzstan from 1990 to 2005.
The Kyrgyz State Security Committee said he had been "charged with corruption" in connection with deals regarding the Kumtor gold mine. It did not say whether he had been formally arrested.
To add further confusion, Akayev emerged from the State Security building briefly on Monday, smiling as usual and saying there was nothing unusual about him showing up in his native country after 16 years in exile.
Akayev told reporters he had come to "cooperate and help" with the corruption case.
"You know that there are allegations against me about Kumtor. Here, at the State Committee for National Security, I was received with cordiality. Very attentive attitude. Naturally, there are questions. Today was the first interrogation. I answered the questions. I came to tell you sincerely how we built Kumtor and why. What mistakes were made. The investigation will continue. The meetings will continue," the local 24.kg news agency quoted Akayev as saying.
GOLD MINE OF TROUBLE
Kyrgyzstan seized control of Kumtor this year. Canada's Centerra Gold had been in charge of everyday operations until then.
The mine started operating in the late 1990s under Akayev. It has been the centre of various scandals since, including an incident where a company truck crashed. It spilt sodium cyanide into a river in the late 1990s.
Successive Kyrgyz governments sought new conditions regarding the mine.
A GLORIOUS FREEDOM FIGHTER FADED
When the USSR fell apart in 1991, Kyrgyzstan was the smallest of the countries of Central Asia to emerge from the rubble with a population of less than five million.
The country is stunningly beautiful, with soaring mountains and high elevation lakes perfect for a storybook future. Ethnic Kyrgyz are historically a nomadic people and many farming or herding families still spend the summer months amid the towering peaks, adding to the idyll.
It was hailed as a possible "Switzerland of Central Asia".
Locals, who were experiencing no improvement in living standards and enduring shortages of water and power, told a reporter: "He promised Switzerland. Instead, we live in squalor."
And it had something else: President Akayev, who seemingly was a significant exception in the region, where eccentric despots or family dynasties ran countries at the time.
He was hailed as a democrat in a region of strongmen.
His lustre faded over the years, of course, as 14 years in power came crashing down in what was known as the "Tulip Revolution".
In the end, it took at most a couple of hundred people who occupied a couple of government buildings. Akayev fled to Moscow.
Akayev later blamed the U.S., his onetime fawning backer, for his downfall. At the time, the United States had a military base at the country's main international airport, used to pursue the war in Afghanistan.
STARRY-EYED FOREIGN DREAMING     
President Akayev's avuncular mien, academic air and philosophical discourses made him stand out from other post-Soviet leaders in Central Asia during the 1990s.
Kyrgyzstan lacked the brutal security apparatus of its neighbours, a further accoutrement in burnishing its democratic norms and Akayev's cachet.
Throw in his professorial bearing and creds.
Akayev holds a PhD in Physics, and even then, in a moondust-sprinkled fashion. His specialisation is a predictably exotic one: holograms.
He has co-authored academic works such as "Evaluation of the Data Filling Factor in Holographic Memory Devices".
During the latter part of his reign, his more acid-tongued political foes liked to quip that he had used this specialisation to its fullest.
"He is a specialist in holograms," a local analyst, Mellis Eshamhanov, told a visiting Western journalist during Akayev's time in office. "Smoke and mirrors."
The contentious gold mine was not the only issue dogging him. His family was linked to the airbase project with the U.S. under which – officially – Washington paid no rent for. Other relatives were accused of running monopolies under which local farmers were forced to sell cotton at artificially low prices. After receiving asylum in Russia, Akayev reportedly returned to his academic interests. He taught at Moscow institutes, even as dozens of criminal cases were brought against his family.
GOLD MINE A SCOURGE FOR OTHER LEADERS
His replacement, now also ex-President Kurmanbek Bakiyev, won 2005 elections to replace Akayev. Bakiyev was also overthrown in a 2010 "revolution" and is also currently wanted on charges related to the Kumtor gold project. Reports had him last living in Belarus, though this is impossible to verify.
This year's government takeover of the gold mine previously operated by Canada-based Centerra Gold amounted to a nationalisation.
Centerra said it was "no longer in control of the Kumtor Mine and can no longer ensure the safety of the mine's employees or operations".
Current President Sadyr Japarov is a native of the Issyk-Kul region, near the mine. He had long advocated its nationalisation as an opposition MP.