Foreign firms interested in rebuilding de-occupied Azerbaijan regions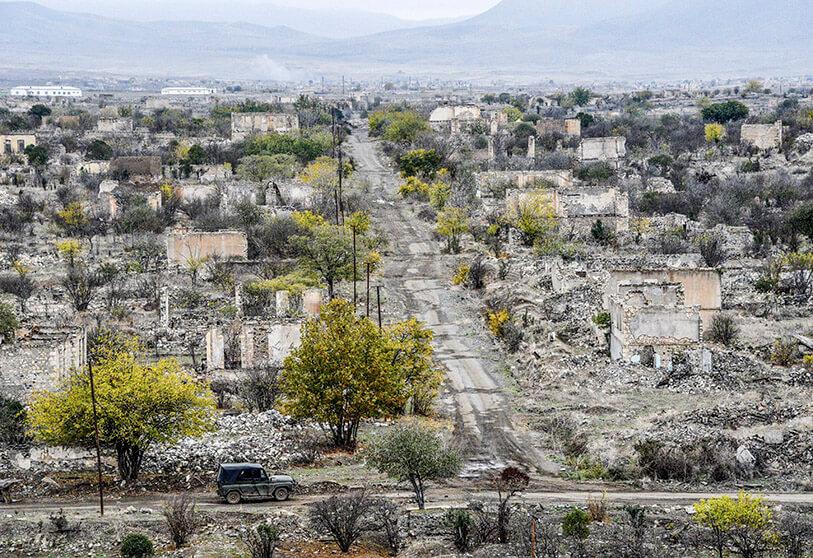 53 foreign companies from a dozen countries have formally expressed an interest in participating in the mammoth projects to rebuild the nearly totally destroyed infrastructure of districts retaken from Armenian occupation late last year, the Coordinating Council in charge of the rebuilding efforts, headed by Samir Nuriyev, said on March 11.
The body said companies from Turkey, Russia, Pakistan, Kazakhstan, Hungary and a number of European countries had formally submitted letters of interest, either as investors in rebuilding efforts or as actual contractors for the projects. It said overall, including domestic firms and small enterprises, 409 firms or individuals have submitted letters of interest. 93 of them are focused on industry, 69 on agriculture, 34 in tourism, and another 104 in trade and services.
Azerbaijani troops, backed by Turkish technical support, used high-tech suicide drones and a massive infantry effort in retaking most of the area late last year during a 44-day blitzkrieg. After the Armenians were forced to sign a peace agreement, only a smaller section of the Nagorno-Karabakh district remains in the control of separatists. Russian peacekeepers have prevented any further violence. At least 6,000 military deaths were reported – roughly 3,000 on each side, and about 150 civilians were also killed.
The occupied territories were once home to 600,000 Azerbaijanis and most had little or no ethnic Armenians lived in them until 1993, when Armenian forces forced them to flee.
The vast region's cities become some of the biggest and most eerie ghost towns on the planet, as Armenian scavengers carted away virtually everything. After taking all personal belongings, they stripped the areas of almost all construction materials, dismantling homes and carting away the bricks, electrical wiring, scrap metal, and even cutting down vast tracts of woodlands. They then resold the loot.
One major city, Agdam, became such a poster child for systematic destruction that it was labelled "Azerbaijan's Hiroshima".  Once home to 60,000, it had a population of zero by the time the Armenians relinquished it.
There were no serious efforts to develop the occupied areas, and the – at most – few thousand ethnic Armenians who resettled there worked mostly as support for Armenian military bases in the area, as well as a few isolated farmers on occupied land. Official estimates are that 95 percent of all infrastructure was either completely destroyed or systematically looted. There was never any significant investment in the areas.
Armenia and it's the separatists it backed refused to withdraw their forces despite four unanimous UN Security Council Resolutions demanding they leave.
Large scale government projects have already begun, including road building and the construction of two new airports.