Long sentences for Belarusian activists–18 years for spouse of beaten presidential candidate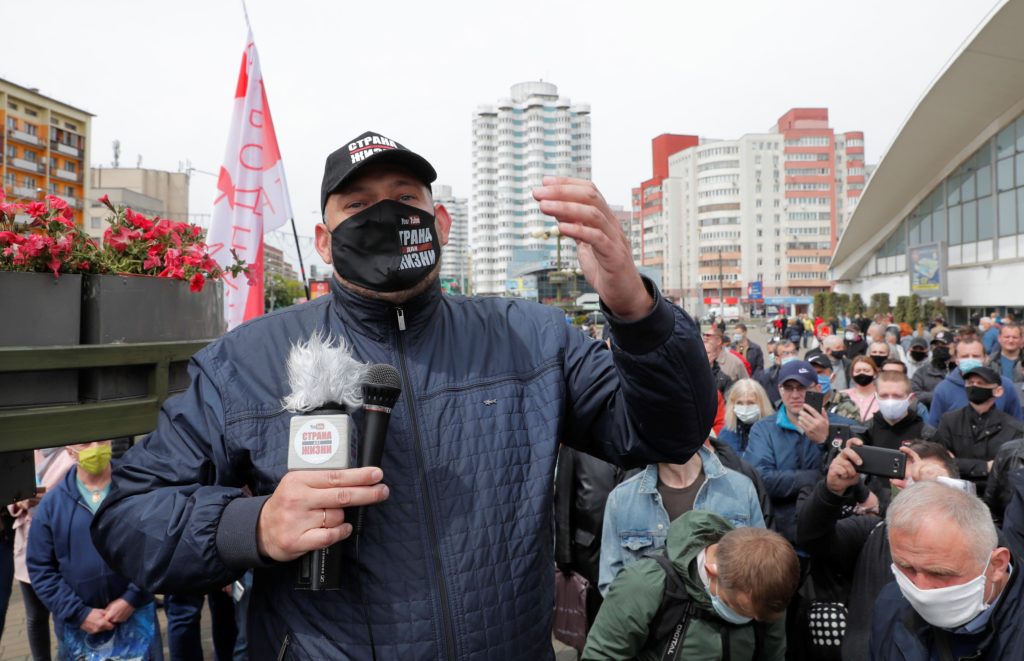 Blogger Sergei Tikhanovsky, shown here in May 2020 before his arrest (Alamy)
A Belarusian court pressed on with a campaign to crush the country's beleaguered opposition, imposing heavy prison sentences on opponents of President Alexander Lukashenko, including an 18-year term on the husband of the exiled woman defeated by the veteran leader in last year's presidential election.
Sergei Tikhanovsky, a blogger charged with inciting mass unrest and whipping up social hatred, was among six dissidents jailed after a closed 173-day trial in the southeastern city of Gomel.
His wife, Svetlana Tikhanovskaya, then ran in his place against the president, winning 20 percent of the vote in an official count denounced as rigged by the opposition and Western countries. Tikhanovskaya fled to neighbouring Lithuania after the poll – as did most of the country's prominent dissidents — and calls herself the legally elected president.
As the verdict was handed down, Tikhanovskaya tweeted: "The dictator publicly takes revenge on his strongest opponents, While hiding the political prisoners in closed trials, he hopes to continue repressions in silence. But the whole world watches. We won't stop."
The opposition telegram channel NEXTA showed Tikhanovsky ushered into a cage in the courtroom in handcuffs but surreptitiously showing a paper emblazoned with the banned red and white colours of the opposition. "Long live Belarus," he shouted – the rallying cry of Lukashenko's opponents.
The court also jailed:
Former presidential candidate Nikolai Statekevich to 14 years
Popular blogger Ihar Loseik to 15 years
Former opposition activists Vladimir Tsyganovich, to 15 years, Artyom Sakov, for 16 years; and Dmitry Popov, for 16 years.
Western outrage
Western countries expressed outrage at the sentences.
"Regrettably, these sentences are further evidence of the regime's disregard for these international obligations as well as for the human rights and fundamental freedoms of Belarusians. The Belarusian people deserve better," U.S. Secretary of State Antony Blinken said in a statement issued by the State Department.
The sentences were the latest in a long line of heavy punishments meted out to opponents of Lukashenko, who was re-elected to a sixth term in 2020. These included 11 years to one of the woman activists who led the campaign against him, Maria Kolesnikova, and 14 years to Viktor Babaryko, a former banker viewed by independent pollsters as one of the most popular figures in the ex-Soviet state.
Official results showing Lukashenko with 80 percent of the vote in the election sparked weeks of unprecedented street protests, snuffed out by brutal police roundups and alleged beatings of activists in detention that instilled a climate of fear among anyone daring to consider taking part in protests. More than 30,000 people were jailed – most for short terms. The opposition group Viasna estimates that there are 920 political prisoners in the country.
The court also sentenced on Tuesday another popular blogger, Ihar Losik, to 15 years in prison. Others handed long sentences were former presidential candidate Nikolai Statkevich, who was given 14 years; and former opposition activists Vladimir Tsyganovich, for 15 years; Artyom Sakov, for 16 years; and Dmitry Popov, for 16 years.
Waves of sanctions
Western countries, led by the European Union, have imposed an escalating series of sanctions against Belarus.
A wave of new punitive measures targetting Belarusian exports was prompted by the diversion to Minsk in May of a scheduled flight crossing Belarusian airspace and the arrest of a dissident journalist who was on board.
New sanctions were imposed in the last two weeks amid allegations that Belarusian authorities enticed Middle East migrants to the country to spark a crisis with the EU by channelling them to the border, creating a humanitarian crisis in makeshift camps and encouraging confrontations with border guards in the EU member Poland. Lukashenko denies the allegations.
Lukashenko has turned increasingly for support to Moscow, one of his few remaining allies.
He has met at least half a dozen times this year with Kremlin leader Vladimir Putin and concluded various accords linked to a plan dating from the 1990s to create a "union state" with Moscow. But he has resisted any notion of his country being absorbed by its much larger neighbour, stressing his own country's "sovereignty" and historical roots.