Lukashenko foe's brutal jail sentence another sign the lights are fading in a long dance act between West, Kremlin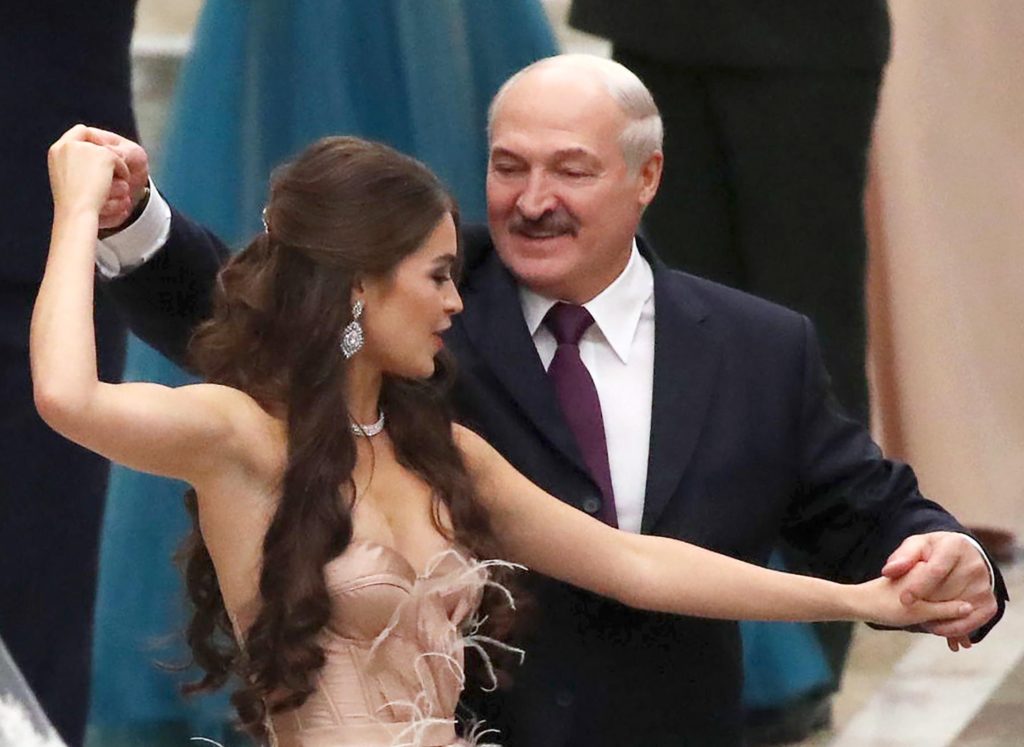 President Alexander Lukashenko dances with recent Miss Belarus winner, Minsk. Alamy
MINSK
A 14-year jail sentence slapped on the man seen as the biggest electoral threat to President Alexander Lukashenko was an unusually grim verdict even by Belarusian standards.
The severe punishment handed down against Viktor Babaryko, who was preparing to run in last year's presidential elections against Lukashenko, in power for a quarter-century, is a bellwether on several fronts.
The 57-year-old former banker was arrested in June 2020, as was his 31-year-old son who was rounded up on tax evasion charges. He refused to plead guilty to the charges of tax evasion and fraud, saying he had done nothing. He was sent to the harshest class of penal colony, which can be notoriously brutal in Belarus.
In a sign of just how tough Lukashenko wanted Babaryko treated, the case went straight to the country's Supreme Court, which makes an appeal technically impossible, though his lawyers vowed to ask the court to re-examine the case.
INVESTMENT DRAG
The heavy sentence certainly will scare away further Western investment in the country, which the EU already sanctioned in unusually swift terms last month.
That came after Lukashenko had an EU-registered airliner diverted to arrest a 26-year-old journalist critical of the government. The Ryanair flight from Greece to Lithuania was forced to divert to Minsk instead.
Belarus had actually – until last year – attracted significant investment among American and EU firms as a hub for software engineering due to its large number of computer experts and lower outsourcing costs.
HEAVY SENTENCE PUSHES BELARUS CLOSER TO MOSCOW
The draconian sentence will also push Lukashenko further into the embrace of the Kremlin. Belarus has relied for years on effective Russian subsidies to keep its economy – much of which remains in state hands – afloat.
The EU sanctions include an embargo on Belarus's main export to the bloc, potash – a main fertiliser component. The bloc also cut off air travel to Belarus, among other measures.
Russia and China are still likely investors, and most potash exports will likely be redirected eastward. But any illusions that the country could somehow remain attractive for Western investment have evaporated.
OPPOSITION FIGURE FIRST ACCUSED OF BEING A "MOSCOW PUPPET"
Ironically, when would-be candidate Babaryko was arrested in June 2020 in advance of the elections, officials in Lukashenko's government alleged he was a stooge of the Kremlin.
Babaryko is known to have decent ties with Moscow and as a banker headed the Belarusian division of Gazprombank. Gazprom is the Russian giant natural gas exporter.
There were no stock allegations of him being a pro-western agent or other typical tropes.
Instead, Lukashenko at the time directly accused Russia of meddling in its affairs and backing his foes, including Babaryko.
"It's clear that the puppeteers are behind them. They are on the one side and the other side. They live in Poland and are supplied from Russia," he said. "We will talk about this with President Putin in the near future at a meeting," Lukashenko said last June.
Ivan Tertel, an official with the Belarus State Control Committee, also accused Babaryko after his arrest of colluding with "puppeteers" from Moscow.
"Babaryko is detained because he was the organiser and leader of illegal activities," Tertel added then.
FINGER-POINTING AT MOSCOW NOT SO SURPRISING
Although many outsiders see Belarus as a Kremlin client state and Lukashenko as Putin's man, the reality is not at all that simple. It never was.
But after seeing Lukashenko on the ropes during weeks of anti-government rallies last year, its economy worsening, and beset by industrial strikes, the Kremlin may have seen an opportunity to make Lukashenko more pliant and dependent. Moscow did not comment on the long sentence Babaryko was given.
Yet, the relationship between Putin and Lukashenko of Belarus has often been awkward.
Putin is a smooth-talking career KGB (later FSB) operative. Lukashenko, a rough-hewn, informal former Soviet farm manager. He often eschews suits for simple flannel shirts or workman-like apparel.
Over the years, Putin displayed barely disguised displeasure with Lukashenko's oblique but obvious overtures towards Europe. He has quietly courted some of the more independent-of-Moscow former Soviet republics like Azerbaijan and Kazakhstan recently.
He even courted Ukraine after pro-Moscow President Victor Yanukovich was driven from power in a bloody uprising in 2014 and fled to Moscow. He prevaricated on Russia's subsequent annexation of Crimea.
The fuzzy "union state" between Minsk and Moscow remains little more than a de facto subsidy to Belarus, as there is no customs control between it and Russia.
Diplomats had called Lukashenko's manoeuvring "walking the line" – trying to seem loyal to Moscow and still retain a modicum of independence.
Despite his authoritarian ruling style, Lukashenko has drawn a line against any suggestion Belarus, which suffered greatly during World War II due to its unfortunate position as a literal battlefield between Nazi-controlled areas and those controlled by Moscow, would ever relinquish its independence.
Estimates are that from a fifth to a third of the entire population died in the carnage.
Several years ago, the Kremlin leader blithely suggested – in a joint Moscow appearance with Lukashenko – that the "union state" was too complicated and that Russia should simply absorb Belarus.
Lukashenko was furious. He promptly flew back to Minsk and accused Putin of "humiliating" him.
But the delicate dance with the West came to an obvious end with the plane incident and the resulting complete fallout with the Western countries.
Some analysts even suggested that there is no way Lukashenko would have interdicted an EU airliner and have it accompanied by a MiG-29 fighter plane without Moscow's active participation, if not instruction.
Timothy Ash, senior emerging markets strategist at Bluebay Asset Management, told CNBC after the incident that "Lukashenko is now totally dependent on Putin for his survival in office and would not have risked his relationship with the Kremlin by undertaking such a cavalier move unless Putin had first given him the green light."
At any rate, forcing down a plane just to arrest a young journalist living in exile, arresting an estimated 30,000 demonstrators – all but a few hundred for more than short periods – and now the unprecedently long sentence handed to Babaryko – are signs on just how vulnerable Lukashenko has become.
OTHERS SAY SIMPLE POWER PLAY
Some political figures are less nuanced in their interpretation of the long prison term given to Babaryko.
"His only guilt is that he decided to run against Lukashenko," journalist Hanna Liubakova wrote on Twitter. "He immediately gathered immense support and is still the most popular politician in Belarus."
"Fourteen years for faith in an idea," Svetlana Tikhanovskaya, the exiled opposition leader who lost to Lukashenko in last year's election, wrote on her Telegram channel. Her own husband, also prevented from running in the presidential race, is on trial in Belarus for disorder and inciting hatred.
CLOSER TO THE KREMLIN
One obvious and irrefutable fact is that Belarus and Lukashenko are now more completely dependent on the Kremlin than ever.
Just days after the EU plane was forced to land in Belarus, Kremlin leader Putin feted Lukashenko over two days in the elite Black Sea resort of Sochi.  He also authorised the disbursement of another $500 million of a previously agreed $1.5 billion loan.
Meanwhile, Lukashenko's pronouncements and actions have been increasingly frenetic and rambling.
He expelled the EU Ambassador and ended cooperation programmes with the bloc, including an agreement to stem the flow of illegal migrants to the EU.
Last week at a gathering marking the World War Two liberation of Minsk – the country's most hallowed of holidays – he said security forces had completed a major anti-terrorist operation and uncovered "sleeper cells" plotting his overthrow.
The president offered no evidence but vowed to complain about them to German Chancellor Angela Merkel. He ordered the Goethe Institute German cultural organisation out of the country and ended academic exchanges with Berlin.
NO TRANSIT FOR GOODS, NO HELP WITH MIGRANTS
He has since threatened to stop the transit of all goods transiting through Belarus on their way to markets elsewhere. "First: not a step inside the Belarusian market; second: not a step through Belarus either," he told a government meeting.
And he has appeared to make good on pledges to stop cooperation on controlling migration – Lithuania said a total of 779 illegal migrants crossed the Belarus-Lithuanian border in the first seven days of July, compared with 636 during the first six months of 2021. Poland has also complained of a large surge.
In response to Russian "revelations" earlier this year of a plot to kidnap and murder him, Lukashenko altered constitutional arrangements to ensure that the country's Security Council – where his eldest son plays a key role – would take over the country in the event of his demise.
BABARYKO TOPS THE POLLS
By all accounts, Babaryko could easily have won a fair election contest against the veteran leader. A survey conducted by the London think tank Chatham House found him to be the most popular and widely trusted politician in Belarus.
He spoke widely and publicly of his distaste for the heavy role of the state in the running of the Belarusian economy. Still, He rejected the pro-Western approach of politicians in neighbouring Ukraine. He pledged continued close ties with Russia while also maintaining good relations with the EU.
That would have made him an acceptable candidate for Moscow.
Kyiv-based analyst Vitaly Portnikov said that Babaryko would never have contemplated a presidential run in Belarus without a nod from the Kremlin. But Moscow has nonetheless essentially abandoned him.
"He was likely told that he would get help with his campaign or at least he would be protected from the dictator's fury if he stayed in power," Portnikov wrote of Babaryko on his Telegram channel.
"But the huge protests changed everything. And Lukashenko wasn't the only one to get scared. Putin also got scared…and Moscow showed no interest in Babaryko's fate."