Lukashenko says Belarus foiled U.S.-backed coup with Russian help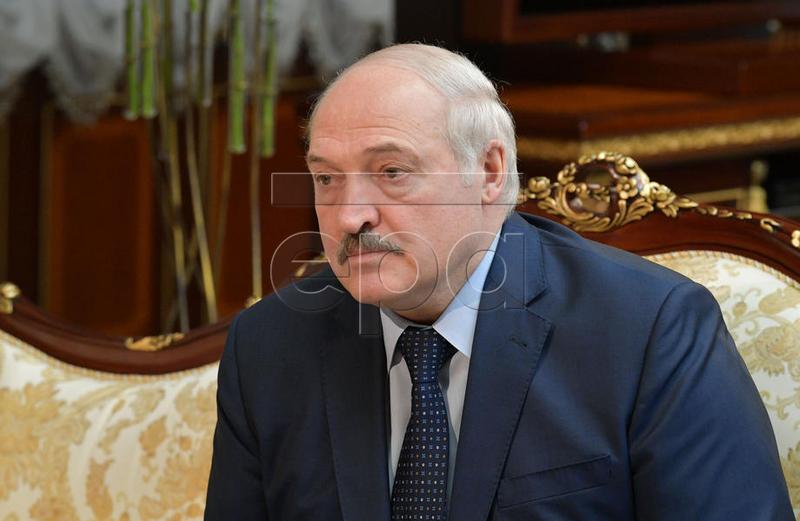 Belarusian President Alexander Lukashenko (EPA)
President Alexander Lukashenko said Belarus had foiled a U.S.-inspired plot to overthrow him and expressed gratitude to the Kremlin for helping uncover it.
Two alleged plotters were detained in Moscow, the Belarusian and Russian security services said.
Activists in the Belarusian opposition, their ranks thinned by a crackdown after mass demonstrations denouncing what they saw as Lukashenko's fraudulent re-election, said the alleged plot concerned a discussion group on Zoom on confronting the veteran president.
Lukashenko said the plot had failed in its aims of "organising a rebellion" and a "creeping coup" later this year. But there were few other details.
"What can they do now? They keep saying the same phrases – everything depends on Lukashenko. We have to take it all down. My task is to make sure that if they do something like this, nothing succeeds," the president said in televised comments as he attended a Soviet-style "subbotnik" mass civic cleanup. Subbotniks were a Soviet mainstay, held on semi-occasional Saturdays in the USSR, and aimed at neighborhood trash clearing and sprucing up. In Belarus they are still a mainstay.
"I have taken a decision and we will make it formal soon and make it public. It will be very serious. One of the key decisions of my quarter-century as president….And even if I'm not around, as the saying goes, it will be 'over my dead body'. "
 Foreign intelligence
The plot allegedly involved holding members of his family hostage in a basement, Lukashenko said.
"Then we found that foreign intelligence was involved. Probably the CIA, the FBI. I don't know which Americans were working on it."
Lukashenko made his allegations amid rising tensions over the mass concentration of Russian troops on the border with Ukraine, with Western countries urging Moscow to pull its forces back.
Lukashenko first came to power in 1994 and has periodically advocated a closer union with Russia, while resisting any notion of yielding Belarusian sovereignty. He appears in full control despite last year's weekly demonstrations. Attempts last month to rekindle the protest movement have had little success.
Lukashenko said he was grateful to Russian President Vladimir Putin for taking action to detain the alleged plotters – an opposition activist and a media consultant who was Lukashenko's press secretary after his first election.
Putin's spokesman, Dmitry Peskov, said the Russian President had raised the alleged plot during his conversation last week with U.S. President Joe Biden, but offered no comment on U.S. involvement. He said the two detainees had been involved in "concrete and destructive plans" against Lukashenko.
There was no comment from U.S. officials.
A statement issued by the press service of Svetlana Tikhanovskaya, the defeated – and exiled – presidential candidate who calls herself the lawfully elected president – said the coup allegations of a coup had "signs of provocation" and she would "refrain from hasty conclusions and decisions".
Ivan Tertel, head of the Belarussian intelligence service, still known by the Soviet abbreviation KGB, said  participants in the Zoom discussion group had included former Belarusian law enforcement officials.
One participant, political scientist Alexander Perepechka, told U.S.-funded Radio Free Europe-Radio Liberty that the Zoom gatherings had been recurring with many people invited to discuss "all possible and impossible options and opportunities".
Among these topics, he said, had been the possibility of a coup d'état, but the talk was entirely theoretical.
"Getting funds and planning is a completely different matter," he told RFE/RL.