Mariam Gyulumyan: bringing Silicon Valley's culture of gratitude to Armenia and beyond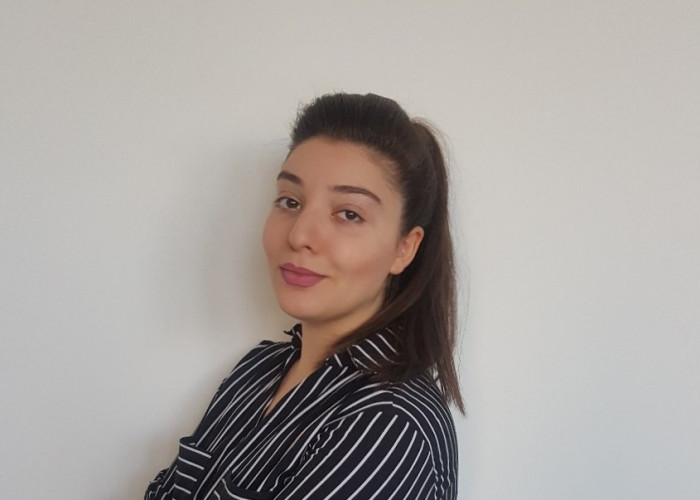 https://www.f6s.com/mariamgyulumyan2
Age: 24
Origin: Yerevan, Armenia
Based in: Yerevan, Armenia
Education: American University of Armenia & Draper University, California
Occupation: Co-founder and CEO of Lucky Carrot
While growing up, Gyulumyan was an A star student, but she never found interest in her classes and only focused on passing the exams necessary to enter university. Gyulumyan studied business at university, but soon found herself sitting in lectures on her phone dreaming about start-ups instead of listening to the professor. The lecturers she did pay attention to were usually business owners with whom Gyulumyan was able to network. She was also very involved in university clubs. Gyulumyan believes that university doesn't prepare you for the real business world and admits she hasn't used any knowledge from university while working on her start-up.
Gyulumyan took some time out of her university degree in Armenia to travel to Silicon Valley to take part in a five-week Hero Training immersive entrepreneurship programme. Created for ambitious future entrepreneurs Gyulumyan learned business fundamentals, lean methodology, marketing & sales, public speaking, prototyping, how to interact with an investor and neuro-linguistic programming, all in a practical setting. This fuelled her desire to become an entrepreneur and gave her a deep understanding of the working culture of Silicon Valley.
The idea for her company, Lucky Carrot, came out of finding a solution to a problem at a local tech company she worked for in Yerevan. Every month on Slack, the employees would vote for an "employee of the month". As only one person received the recognition and financial reward, a lot of employees were left feeling demotivated and disengaged from the company. While doing some research on the issue, Gyulumyan found that employees on average need recognition three to four times a week in order to feel satisfied with their job. In January 2019, Gyulumyan and a team of co-workers took part in a 24-hour hackathon, which they won with Lucky Carrot, an app that helps teams and organisations build a culture of peer recognition and gratitude.
Lucky Carrot is an all-in-one employee engagement platform that enables employees to recognise each other and bring visibility to employees' achievements, allows the employees' voice to be heard through surveys and gives insights on how to enhance employee engagement. The name Lucky Carrot comes from the carrot and stick motivational approach. Employees can award virtual carrots to each other as recognition for their work. The value of the virtual carrots is set by each company that uses Lucky Carrot, and the collected carrots can be redeemed for fun activities, branded gift cards and donations. Since September 2021, you can donate your carrots to charity. There was a fear at the beginning of "carrot corruption", with employees only giving carrots to their friends. Gyulumyan states, however, that this happens less than one percent of the time because every carrot transaction is visible for everyone in the company to see.
Lucky Carrot has two streams of revenue: the first stream comes from the commission they receive from the gift card providers since they bring them clients. The second stream of revenue is the subscription for using the Lucky Carrot software. It costs $2.50 per employee per month.
The analytics from the data imputed by the employees reveals the employee engagement and company culture, detects informal leaders and key team players of the company, and shows the full and real-time visibility of the employees' interactions. They are also developing actionable recommendations which alert HR when something goes very wrong regarding employees' engagement and interactions. In this case, Lucky Carrot provides necessary advice on how to solve the problem. In the future, they hope to accumulate enough to data to start making predictions of possible resignations using AI.
Lucky Carrot's ideal customer profile is 50-5,000 employees in finance, tech, and marketing companies. Lucky Carrot is expanding internationally outside of Armenia. Gyulumyan is targeting the Baltic countries as they already have a huge start-up culture combined with rapidly growing tech companies. The UAE is another target of Lucky Carrot as it already has a thank you culture which would fit with the Lucky Carrot model. Lucky Carrot is being used by 27 organisations, including Hero House, SmartClick AI, Chessify, The Crowdfunding Formula, EarlyOne, gg, Seven Smarts, Onex, FinLex, EV Consulting, Deem Communications, and the Ministry of High-Tech Industry of Armenia.
In order to grow her start-up, Gyulumyan entered Lucky Carrot into the third batch of the Beeline Start-up Incubator, where she met investors from BANA (Business Angel Network Armenia). Four angels from BANA decided to invest in Lucky Carrot. These investments have allowed Gyulumyan to bring more professionals to the team, participate in international conferences, and find new clients and partners abroad. The Director of BANA, Grigor Hovhannisyan, explained that a strong team, interest in Lucky Carrot service from big companies, and the opportunity to grow in the global marketplace were the reasons for the angels' investments.
As a female founder, Gyulumyan has stated that she does not feel as if she is treated any differently from male entrepreneurs. However, she does admit that it is easier for her as she does not have children or a family to look after. Therefore, Gyulumyan strongly encourages female entrepreneurs to start their careers early when they don't have as many responsibilities.
Quote: "Although you can give the most relaxed design workplace and the most incredible benefits to the employee, it will not be enough to keep the talented employee in the company… HR experts should focus on employee engagement."
Sources: BalticsandBox, TechAMReport, Producthunt, SoakedbySlush, HyeTechMinds, LuckyCarrotapp, Itel.am