Migrants in new push to breach Belarus-Poland border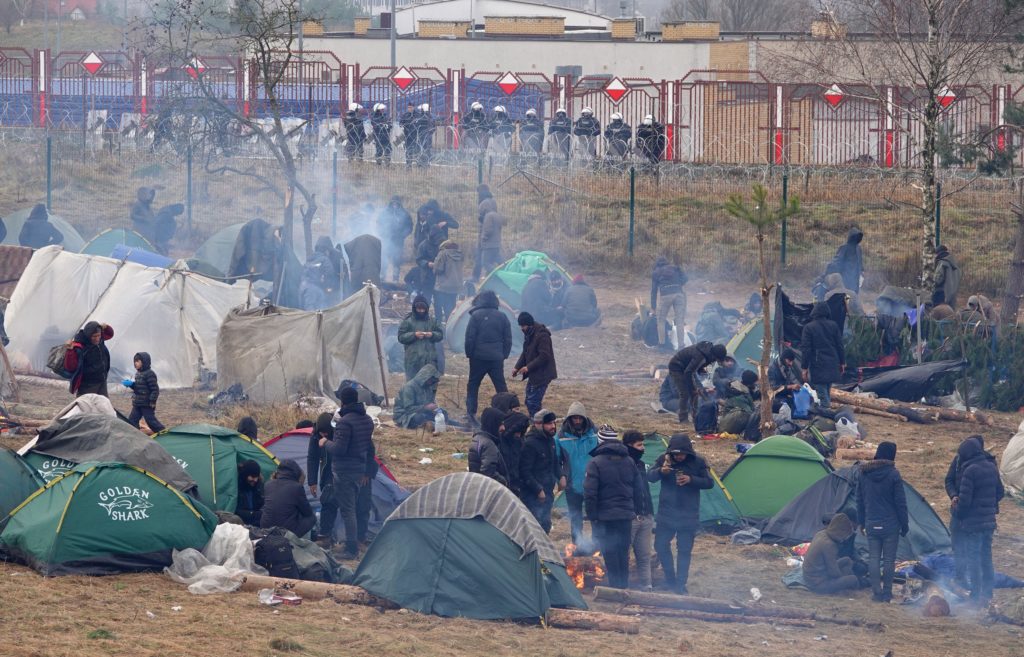 Migrants on the border (Alamy)
Migrants used logs in a new attempt to push across Belarus's border into European Union member Poland, a fresh outbreak of violence amid a humanitarian calamity Western countries say Belarusian President Alexander Lukashenko deliberately created.
Thousands of migrants remained stranded at or near the fortified border. The European Union says Lukashenko enticed the migrants by laying on extra flights, arranging visas and accommodation and having groups channelled to the border as revenge for sanctions the 27-nation bloc has slapped on the Belarusian leader.
Lukashenko, spurned in his bid to get Germany to take in 2,000 of the migrants, said appeals by Western nations for NATO to get involved meant the United States was using the situation to start a war. The veteran Belarusian leader weathered months of protests over allegations he rigged his re-election last year and leading opposition figures have since fled the country or received long prison terms.
Accounts of the situation at the border said a group of about 200 migrants had used logs to try to flatten a section of border fortified by razor wire and patrolled by cordons of Polish servicemen. One report said Belarusian servicemen helped the migrants by trying to distract the Polish border guards with lasers or strobe lights.
"They were trying to break through the border, attacking the border," Border Guard spokeswoman Anna Michalska told media. "They were throwing branches and stones and the attempt was stopped by our officers."
Lukashenko says Americans to blame
Lukashenko, addressing a meeting of top officials devoted to constitutional reform, said Western nations, particularly the United States, were trying to exploit the migrant crisis.
"They are trying to make use of these poor people, this process. And their aim is clear to see. They are openly saying: 'Bring NATO into this. And what does NATO mean? It means starting a war," Lukashenko said.
"They are provoking us. Europe doesn't need this, Europe doesn't want this. Who needs it? The Americans…And they want to do this by using the Poles, the Balts and the Ukrainians."
NATO Secretary-General Jens Stoltenberg, speaking after talks with Polish President Andrzej Duda: "Poland stands with NATO, and NATO stands with Poland."
All NATO member-states, he said, had "made clear that they strongly condemn the Lukashenko regime's exploitation of vulnerable people to pressure neighbouring countries.  This is inhumane and cynical, and we stand in full solidarity with the allies affected."
Poland has said it has been in consultations with Lithuania and Latvia, also bordering Belarus, on how NATO could make its presence felt in the border crisis.
After Germany and the EU rejected for a second time Lukashenko's proposed "humanitarian corridor" for refugees to Germany, the Belarusian leader said he would refuse entry to any EU official and the country would deal with the problem on its own. Lukashenko said he issued his proposal after discussing it in two telephone conversations with outgoing German Chancellor Angela Merkel.
European officials have been forthright in refusing to consider any proposal by Lukashenko.
Some governments, particularly Poland and Lithuania, have expressed surprise Merkel agreed to speak to him,  as the EU has refused to recognise Lukashenko as head of state since his hotly disputed 2020 re-election.
The EU last week agreed last week to impose new sanctions on Lukashenko and details of the punitive measures were to be announced in the coming days.
EU should do more, says opposition leader
Svetlana Tikhanovskaya, the defeated opposition challenger in that poll who calls herself the legitimate president of Belarus, urged EU nations to do more to help the hundreds of Belarusians imprisoned in Lukashenko's crackdown and called for tougher, more effective sanctions.
Tikhanovskaya, who fled to Lithuania after the 2020 election, called the stranded migrants "hostages". Lukashenko, she told the European Parliament, would still pose a threat to Europe even if the hostage crisis were solved,
"Supposing this abuse of migrants is somehow stopped, do you really believe the regime's threats beyond its borders will end there? Increases in the flow of smuggled drugs and other contraband? A military provocation?…None of this is just my imagination. These are threats that the regime itself has made. Whatever it takes to get what it wants," she told European deputies.
Lukashenko, interviewed by the BBC last week, acknowledged that the migrants on the border had received help of some sort from Belarusian servicemen He also acknowledged that many of the protesters who had denounced his re-election had been beaten while in detention but accused Western countries of fomenting – and financing – opposition to his rule.
Tension through the region – far from the Belarusian-Polish border – showed no sign of subsiding as Western countries expressed concern over what they said was a new buildup of Russian troops near Ukraine.
Both Russia and Ukraine held military exercises – Russia in the Black Sea and Ukraine in an eastern region.
Ukrainian Foreign Minister Dmytro Kuleba warned Russia that any attack would incur "political, economic and human losses".
Merkel, speaking alongside Polish Prime Minister Mateusz Morawiecki, said t the European Union must be prepared to issue more sanctions against Russia if it escalates the situation in either eastern Ukraine or on the Belarus-Poland border.
The head of Ukraine's defence intelligence agency, Kyrylo Budanov,  told the U.S. news site Military Times last week, that 92,000 Russian troops were deployed and being made ready for an attack.
Kremlin spokesman Dmitry Peskov accused Western countries of "hysteria". He said the allegations of a buildup could serve to "camouflage aggressive intentions in Kyiv" to try to use force to resolve a seven-year-old conflict in eastern Ukraine. Some 14,000 have died in the conflict pitting Ukraine's military against Russian proxies who have seized large chunks of territory and set up two statelets unrecognised internationally.
A buildup of Russian troops near Ukraine's border kept tensions high for weeks earlier this year in what Moscow said was intended to counter "aggressive" NATO moves in the region. The tension subsided when most of the troops returned to their bases.
As Western countries imposed stiffer sanctions, including on the ex-Soviet state's chief exports, Lukashenko has slowly moved closer to Russia – one of his few remaining allies.
The Kremlin has dutifully backed Lukashenko and denounced the use of force by Polish soldiers, though Putin chided the Belarusian leader last week for suggesting that he could stop the flow of Russian transit gas through Belarusian territory to European customers.