NATO displays unity, Ukraine presses on with counter-offensive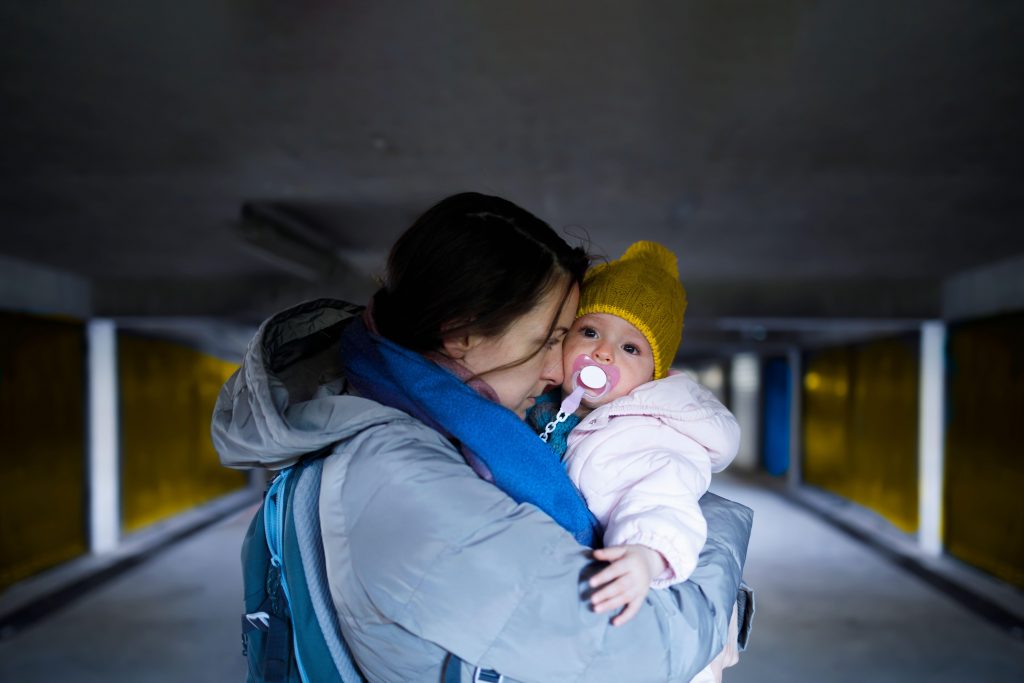 A mother holds her baby in a bomb shelter, Ukraine (Alamy)
The NATO alliance put on a display of unity over the month-old Russian invasion of Ukraine, with Western countries intensifying their sanctions on Moscow, while Kyiv's forces pressed on with counter-attacks to overturn the invaders' earlier advances.
Ukraine said it had set ablaze and destroyed a Russian ship anchored in a Sea of Azov port occupied by the Kremlin's troops and Russia and Ukraine held their first prisoner exchange since those forces first poured over the border on 24th February.
Ukrainian President Volodymyr Zelensky, addressing Western leaders at a rare "triple summit" in Brussels, said he needed more weaponry and more fighter aircrafts. He welcomed Western punitive measures against Moscow, but complained they were late in coming
European countries, still dependent on Russian oil and gas, declined to halt imports of Russian hydrocarbons, but rejected Moscow's demands to pay for them in roubles as a breach of contract and an attempt to evade sanctions.
In Brussels, U.S. President Joe Biden was emphatic in saying that NATO "has never been so united."
"We have to stay fully, totally, thoroughly united," he told reporters after the day of meetings held by NATO, the G7 group of industrialised nations and the European Union.
"The maintenance of sanctions – increasing the pain – to be sure that after a month we will sustain what we are doing. That's what will stop him," he said, referring to Kremlin leader Vladimir Putin.
"The single most important thing is for us to stay unified and for the world to focus on what a brute he is.
Biden said he favoured expelling Russia from the G20 group of industrialised and developing nations or, failing that, admitting Ukraine as a permanent observer.
New sanctions
The United States introduced new sanctions against Russia, aimed at some 300 members of its parliament and a dozen defence companies. It also moved to toughen restrictions on Moscow's access to its considerable financial reserves, ensuring that it could not instead access the country's gold reserves.
"The United States, with our partners and allies, is striking at the heart of Russia's ability to finance and carry out its warfare and atrocities against Ukraine," Janet  Yellen, the Treasury secretary, said in a statement.
NATO Secretary-General Jens Stoltenberg said the Alliance would channel further support to Ukraine through weapons, funding and intelligence, but restated the Alliance's decision not to impose a "no fly" zone over Ukrainian skies – considered too risky in terms of confrontation with Russia,
"We have a responsibility to ensure that this conflict does not become a full-fledged war between NATO and Russia," said Stoltenberg. NATO countries have long ruled out deploying troops on the ground in Ukraine.
NATO had already announced its intention to deploy four new battlegroups in Bulgaria, Hungary, Romania and Slovakia – adding to two groups already operating in Poland and the three Baltic states since Russia's 2014 annexation of Crimea.
Both Biden and Stoltenberg said NATO would have to reconsider their strategy in the region if Russia resorted to the use of chemical weapons.
Russia's foreign ministry said the outcome of the NATO summit proved that Western countries were not seeking an end to the conflict.
The West, it said, was "reaping a terrible harvest" from its decision to arm Ukraine and had encouraged it to use force against Russian speakers in the east of the country.
Putin said from the outset that the purpose of the military operation was to "demilitarise" and "denazify" Ukraine – a reference to the country's Western-oriented leaders since 2014, when a Russia-friendly president fled the country after mass protests in Kyiv. Putin has accused Zelensky's administration of waging "genocide" in eastern Ukraine.
Zelensky was grateful, but blunt in his remarks to the three consecutive summit meetings.
"A little late"
He told NATO leaders that he had requested a no-fly zone over Ukraine since the outset of the conflict "in any format. Protect our people from Russian bombs and missiles. We did not hear a clear answer…And you see the consequences today. How many people were killed, how many peaceful cities were destroyed?"
To leaders of the 27-nation EU he said  Ukraine welcomed the imposition of sanctions but added: "These were powerful steps. But it was a little late. "
Europe, he said, had blocked the Nord Stream 2 gas pipeline from Russia to Germany, long opposed by Ukrainian authorities, "but again it was a little bit late. Had this been done in good time, Russia would not have created a gas crisis."
Both German Chancellor Olaf Sholz and EU Commission President Ursula Von Der Leyen rejected out of hand Putin's demand that future gas shipments be paid in roubles – a move to bolster the Russian currency from the more than 20 percent plunge in value since the invasion was launched.
"This would be a unilateral decision and a clear breach of contract," Von Der Leyen said. "It would be an attempt to circumvent the sanctions. We will not allow our sanctions to be circumvented. The time when energy could be used to blackmail us is over."
Deputy Prime Minister Iryna Vereshchuk announced the first prisoner swap since the invasion – 10 Ukrainian prisoners of war held by the Russian military were released in exchange for 10 Russian soldiers captured by Ukrainian forces.
Ukraine also handed over 11 civilian Russian sailors, rescued from a sunken ship near Odesa to Russia in exchange for 19 Ukrainian civilian sailors.
In the dramatic attack on the anchored Russian ship reported by the Ukrainian navy, the 370-foot Orsk tank carrier, was struck and destroyed in Berdyansk harbour on the Sea of Azov days after unloading equipment for Russian troops moving through southern Ukraine. Pictures showed the vessel on fire – Russia offered no comment.