New Russian barrages on Ukrainian cities – still controlled by Ukrainian troops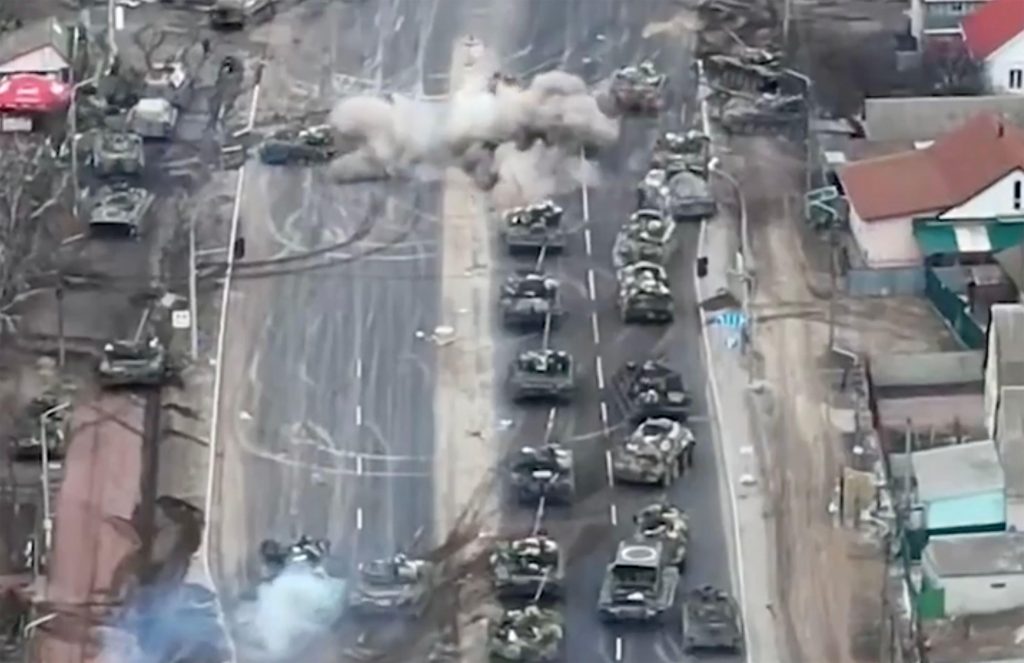 Russian tanks and armoured vehicles ambushed outside Kyiv (Alamy)
Russian forces launched new barrages on major Ukrainian cities, inflicting heavy damage and casualties, but their advance into those major population centres made little headway and they remained under Ukrainian control.
Western defence analysts suggested Russian troops were bogged down, particularly outside the capital, the invaders' supply lines unable to provide troops with food and fuel. One U.S. estimate said the Russian death toll stood at 7,000 troops.
Rescue teams in the shattered and encircled southern port of Mariupol pulled survivors out of a bomb shelter which withstood a Russian attack on the city's drama theatre. About 30,000 people had now escaped from the town as evacuations proceeded after being blocked for days by shelling.
U.S. President Joe Biden, who infuriated Moscow on Wednesday by branding Kremlin leader Vladimir Putin a war criminal, stood by his accusation, denouncing Putin as a "murderous dictator, a pure thug who is waging an immoral war against the people of Ukraine".
On Friday, Mr. Biden will speak with the president of China, Xi Jinping, and plans to warn Beijing not to aid Moscow, his spokeswoman said.
Russian forces launched new attacks on Mariupol and on Kharkiv, Ukraine's 'largely destroyed the second city. Attacks also persisted on Chernihiv, near the Russian border.
Britain's Ministry of Defence said Russian forces were having difficulty pressing on with their offensive.
"Logistical problems continue to beset Russia's faltering invasion of Ukraine," a ministry report said. Soldiers, it said, had been unable to resupply their forward troops effectively with "basic essentials such as food and fuel," due to their limited mobility and lack of air superiority.
"Incessant Ukrainian counterattacks are forcing Russia to divert large numbers of troops to defend their own supply lines. This is severely limiting Russia's offensive potential."
U.S. intelligence estimated the number of Russian dead at 7,000 three weeks into the invasion.
Ukrainian commanders on the ground reported new counter-offensives that were keeping the Russian troops out of their cities, particularly outside Kyiv.
Ukrainian President Volodymyr Zelensky, in his latest virtual address to a foreign parliament, told Germany's Bundestag that Berlin had turned a deaf ear to Ukraine's pleas for more measures to guard against invasion and mass destruction. As he did with other parliamentarians, Zelensky drew on historical allusion, in this case, the Berlin wall, calling for help in taking down a wall Russia was erecting to divide Europe.
"It's not a Berlin Wall – it is a wall in central Europe between freedom and bondage and this wall is growing bigger with every bomb" dropped on Ukraine, Zelensky told the chamber.
French President Emmanuel Macron, who had led European last-ditch diplomatic efforts to fend off an invasion, said the Russian onslaught had rejuvenated the NATO alliance which he had derided as "brain dead" three years ago.
Russia has just sent electroshock of awakening," Macron told reporters.
His remarks coincided with efforts by NATO members to boost forces in the alliance's eastern flank and bolster support for Ukraine.
Ukraine's drive to secure NATO membership – as set down in the country's constitution – has been cited by Putin and other Russian leaders as one of the main reasons behind Moscow's hostility to Kyiv. Putin says the main aim of the incursion is to "demilitarise" and "denazify" Ukraine – references to Ukraine's pro-Western leaders since a Russia-friendly president fled the country in 2014 under pressure from mass demonstrations.
Russian and Ukrainian negotiators met for the fourth straight to clinch a cease-fire and a possible peace deal.
One of the chief advisers to Zelensky at the talks told the Polish newspaper Wiadomości that the alliance had proven itself to be wholly ineffective in meeting the challenges of an aggressive Russia.
"The truth is that the biggest military alliance in the history of humankind makes absolutely no impression on the Kremlin. All this talk about NATO approaching Russia's borders is just a gimmick for Russian internal propaganda to justify the invasion of Ukraine and other countries."
Ukraine, he told the daily, would favour building a new alliance "sufficiently strong to stop Russia should it wish to attack someone else."