Nigar Kocharli: promoting Azerbaijani literature against all the odds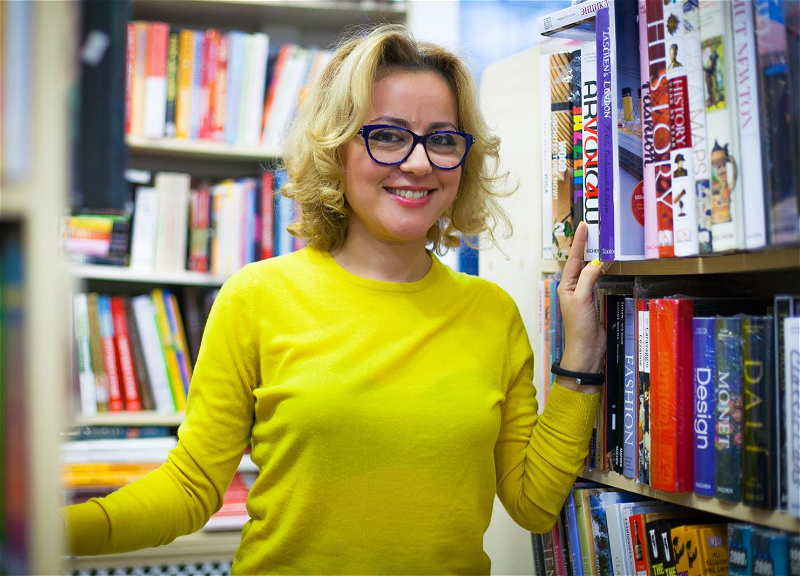 1news.az
Age: 46
Origin: Baku, Azerbaijan
Based in: Baku, Azerbaijan
Education: Baku State University
Occupation: CEO Ali and Nino Bookstores
Nigar Kocharli was born into a family of intellectuals from Baku, who during the time of the Soviet Union represented the middle class. Her father was a geophysicist and her mother an engineer-economist. Since childhood, Kocharli was told stories about her family history in pre-revolutionary Azerbaijan. About beks, buried treasures and those who did not accept the Soviet regime and went to fight in the mountains. These stories encouraged her dislike for the Soviet system, but also turned her into an avid reader at just four years old. By the time she was six, Kocharli was already enrolled in several children's libraries.
Kocharli graduated from university with a degree in mathematics. Despite not working a single day in the field, her mathematical education helped Kocharli set up her own business by allowing her to form a clear logical apparatus and the ability to analyse and plan strategically. Kocharli believed in order to build a successful career she had to study English. She taught herself the language in four months, which allowed her to get her first job. She continued to work for many foreign companies, including the United Nations Development Programme Community Empowerment Project.
In 2001, the idea for her business was born while Kocharli and her friend were taking a walk around Baku. There were books on sale at Torgovaya street where Kocharli often bought books for herself. Her friend noted that "You spend so much money on books! You hadbbetter open your own bookstore." This comment struck Kocharli and so later that day, she contacted Russian publishers and over the next few weeks signed contracts with them to distribute their books. When the first batch of books arrived, Kocharli distributed them around Baku. She was terrified of taking risks in her new business  – her first investment was $600 and for the first six months, she continued to work at her day job, running to the bathroom to take secret calls with publishers. Kocharli quit her job and focused all her time and energy on her wholesale book business. After that, there was not one day that she regretted her decision.
In 2003, Kocharli opened her first bookstore on Fountain Square in downtown Baku. She christened her first store Ali & Nino after the popular classic Azerbaijani novel about a romance between a Muslim Azerbaijani boy and Christian Georgian girl in Baku during the years 1918–1920. The novel was first published in German in Vienna in 1937 by Kurban Said and is highly regarded in the West as a literacy masterpiece, but had never been published in Azerbaijan until 2003, when Kocharli decided to publish the novel at her own expense. Today, Ali & Nino is the biggest selling book in Azerbaijan and is regarded as the country's national novel.
Kocharli's Ali & Nino business has expanded rapidly over the years and there are now 10 bookstores, a publishing house and the first-ever online bookstore in Azerbaijan. Ali & Nino is the first bookstore chain in Azerbaijan. Ali & Nino used to have cafes in their bookstores, but the format didn't work as calculating daily expenses for food was not what Kocharli wanted to spend her time on. She decided it was best to focus solely on selling books.
Every day, dozens of new products arrive on the virtual bookshelves of the online store. With a simple click, you can choose and purchase any book you like if you live in Baku, it will be delivered to you within one day and within a few days to the regions. The online and physical stores sell books in Azerbaijani, Russian, English, German, French and Turkish. Sixty percent of Ali & Nino's customers read in Russian, 25% in their native language, and 15% in Turkish and English. Kocharli has contracts with more than 40 Russian, English, American, Ukrainian, Belarusian, and Turkish publishing houses. Together with the Qanun publishing house, Ali & Nino publish a huge number of books in the Azerbaijani language. Sometimes the translations are not perfect, but Kocharli is still happy that certain books have come out in Azerbaijani to encourage her fellow citizens to read in their mother tongue.
Kocharli is passionate about encouraging Azerbaijanis to read more and promoting Azerbaijani literature. Kocharli spends only two to three hours a day in the office. The rest of her time is spent in one of her stores selling the books. Ali & Nino host literacy evenings and book signings to encourage people to visit the store.
Kocharli has started many marketing campaigns which have also been successful in encouraging more Azerbaijanis to read. Kocharli noticed many of her customers were choosing books based on their cover, so she began to wrap some books in brown paper and stuck intriguing notes on the front. The trick worked wonders by increasing sales and giving books a second chance. One of Ali & Nino's customers bought books online and sent a message telling Kocharli to place the books at the front of the store and allow people to take them for free. This allowed those who could not normally afford books the chance to finally read them.
In 2009, Kocharli founded Azerbaijan's first literacy prize in order to increase interest among the public in Azerbaijani books and give writers an incentive to create new books. The press and the public discussed the nominated books heatedly. Kocharli believes that with the literacy prize she succeeded in her main goal – to draw public attention to writers and literature.
During the lockdown, bookselling in classic bookstores was hit hard as stores closed, but book publishing around the world took off at a new pace because people found themselves stuck at home with nothing to do. Everyone started buying books online. Kocharli was lucky that she had been promoting Ali & Nino's online sales for 10 years, which turned out to be very useful during the pandemic. In the early days of lockdown, the company was so busy they did not have time to answer calls and deliver orders. The regions turned out to be the most promising market during the lockdown as there are no bookstores there, with the exception of small shops.
Kocharli has also faced major struggles as a female entrepreneur who refuses to give bribes. In order to get her goods through customs, she was expected to pay bribes, but Kocharli refused, even if it caused her stress or the books were delayed. In 2018, she revealed her business had come under threat from Kamaleddin Heydarov, the Minister of Emergency Situations. In a post on Facebook addressed to Heydarov and his son, Taleh, she described how four years ago she was invited to the offices of Gilan Holding, a business controlled by Heydarov. During the meeting, a company official demanded she give up her business and hand it over to Gilan. "We are an elephant, and you are an ant – we will crush you," Kocharli said she was told. After this meeting, Kocharli began having problems with customs and shipments of books were delayed. Her staff were harassed by police, and she suffered mysterious burglaries. Meanwhile, Taleh Heydarov started his own book business, a chain called Libraff. And recently, she was told by the administration of seven malls where Ali & Nino shops operate that they will have to close and will be replaced by Libraff shops. By making her troubles public, Kocharli hopes that she will deter people from buying from Libraff and save her stores from closing down.
Quote: "I would like more people to do business in Azerbaijan. Especially women. Azerbaijani women themselves are very smart, hard-working and enterprising. I love working with women: they are very responsible, hardworking, and it is always easy to work with them."
Sources: urban.az, alinino.az, kavkazuzel.eu, anl.az (1), anl.az (2), qorod.blog, sputniknews.ru, eurasianet.org