Nona Noniashvili: bringing economic and social innovation to Georgia's conflict region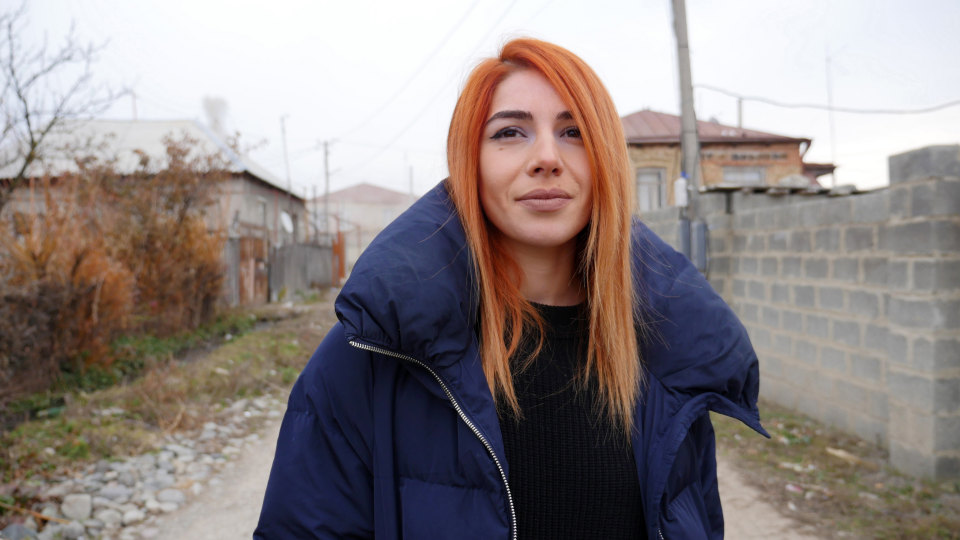 unwomen.org
Age: 27
Based in: Gori, Georgia
Education: Agricultural University of Georgia
Occupation: CEO & Co-founder Champy Snacks
Nona Noniashvili began her startup journey while studying food science and business at the Agricultural University of Georgia. She was sitting in a lecture on drying fruits and was so fascinated by the process that she began experimenting with the process along with her classmates and future co-founders Tamar Sheitnishvili and Shalva Mdzinarashvili.
It took several months in the university labs testing different drying processes before Noniashvili and her friends made apple crisps that had a great flavour, crunchy texture and were healthier than normal crisps. The decision to use apples was perfect for a country famous for the fruit. They produce two types of apple crisps, sweet red apples – Idared, and sour green apples – Granny Smiths.
The innovative drying method removes the water from the apples, creating a crunchy texture while leaving in all the vitamins and nutrients. The crisps contain no oil or sugar, and they are also free from salt and preservatives. Noniashvili and her team undertook extensive market research, tasting fruit and vegetable crisps from companies around the world. They found that, compared to their own crisps, these international products typically relied more on baking rather than drying, they also came in thicker slices and were visually darker. With 33 percent of the adult population in Georgia medically obese, Noniashvili focused on developing her product as a healthy alternative snack.
In 2015, while in her third year of university, Noniashvili's company won Smart-up Georgia, a five-month competition aimed to foster and support entrepreneurship among young people in Georgia. She won 5,000 lari (1,500 euros) and a rewarding study trip to Estonia to meet with successful Estonian start-up entrepreneurs. The money helped Noniashvili's team to construct a drier prototype.
In 2016, the team won the "TS Fund" competition, winning a $10,000 grant which allowed Noniashvili to construct a more efficient dryer and purchase a packing machine. Once StarStep Georgia financed them with 100,000 GEL (€30,000) they purchased further machinery and equipment, took its first packaged product Idared apple crisps to the market, and developed its distribution network.
In 2016 when Noniashvili's company was created under the name Enkeni, she decided to build the factory in the village of Ditsi, in the Gori region, because one of her business partners was from there. Production at the factory in Ditsi was delayed for a year and a half as the boundary line between Georgian-controlled territory and the breakaway region of South Ossetia runs through the village.
Ditsi Village is located 100 kilometres from the capital Tbilisi. Noniashvili makes this long journey 2-3 times a week to check up on production at the factory. In order to enter the village and get to the factory, you have to cross multiple checkpoints guarded by armed police. The environment is tense, and the 1,072 Ditsi residents live under constant strain from a conflict that has been going on since 2008.
While setting up the factory they had problems with electricity and communications in the village. It was impossible to find enough properly qualified staff in the beginning, and even securing raw materials of the right quality was a significant obstacle.
Noniashvili explains that "setting up here was a really important part of building our company and continues to be crucial to our business goals – to partake in our share of social responsibility to help this region grow amidst the conflict." The employment rate in Ditsi is low and Enkeni is the first functioning factory in Ditsi that employs local staff. The apples used to make the crisps come from local farms in the Gori region.
Noniashvili and her two co- founders have put a special emphasis on being close to their customers. They take part in events, exhibitions, workshops, and festivals promoting their brand, which changed its name to Champy in 2018. They also hold tastings in leading sales outlets or fitness clubs. "During the tasting process, we establish face-to-face contact with potential customers and share our start-up story. In this way we're raising brand awareness, empathy and gaining useful feedback," says Noniashvili.
With a well-rounded and attractive product, Champy has almost 10,000 likes on Facebook, celebrity endorsements and is sold in Georgia's leading outlets, including Agrohub, Europroduct, Fresco, Goodwill, Nikora, and Spar. In Rooms Hotel the crisps are available in every room's mini bar.
Sales of healthy foods and awareness of healthy eating are increasing in Georgia. There is demand in the market for more variety, which is why Noniashvili and her team want to develop dried vegetables, tangerines, pumpkins, melons, and other fruit into their Chumpy crisps.
Noniashvili managed to keep her business afloat during the COVID-19 pandemic. They were only mildly impacted by the pandemic, as food production was allowed to continue. Champy sold its product in markets and through an online platform (Soplidan.ge). Amid the pandemic, the team worked on marketing their healthy snacks and developed a free delivery service – all of which boosted their crisps popularity. "Our sales actually grew, even during the pandemic," Noniashvili says proudly. Champy has now started export negotiations with several U.S. and European countries.
In 2021, Champy won the EU funded Caucasus Social Innovation Competition which rewards socially responsible and green business ideas in Georgia and Armenia and is aimed at vulnerable young individuals living in border communities, therefore Champy was the perfect winner. Champy then joined the GREENcubator – a green business acceleration that allowed Noniashvili to gain significant theoretical and practical experience and helped her perfect Champy's business model and plan.
With 43,000 GEL from competitions, Champy purchased two important machines – one for drying and another for cutting. With these machines production capacity could finally increase to meet market demand. The machines are also essential for securing one of Champy's core targets: zero waste production.
Sustainability is the watchword that informs Noniashvili's vision. She has started to work more actively with farmers and raised awareness on environmental issues. By involving local people and collaborating with them, Noniashvili hopes to collect recyclable raw materials and prevent the risk of pollution by planning waste management carefully.
Champy is also interested in empowering women and young people in Gori. Noniashvili has created a youth internship programme designed to allow young people to deepen their theoretical and practical skills. It will also contribute to building a team of professional staff.
Quote: "In my opinion, it is important for the development of the country to encourage women and increase their involvement in various processes, be it politics or business. It is important for women to stand by each other, share experiences, encourage each other, and give each other motivation."
Sources: agenda.ge, ideabank.org, gerogiatoday.ge, georgianjournal.ge, investor.ge, euneighbourseast.eu,georgia.un.org, forbeswoman.ge