Oil, uranium and crypto mining affected by Kazakhstan unrest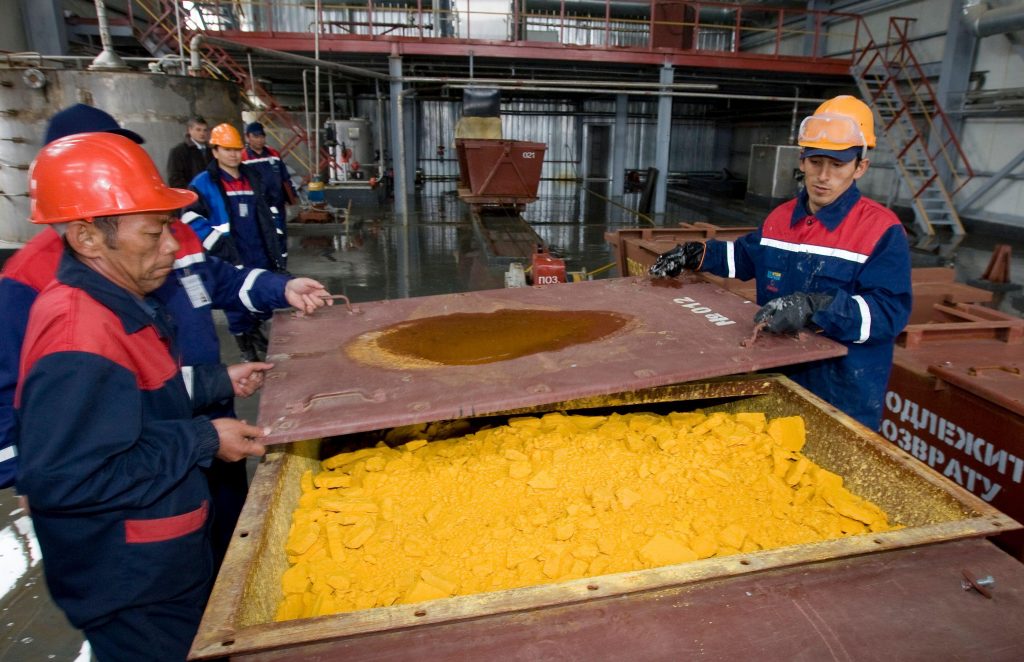 Workers at a uranium mine in southern Kazakhstan (Alamy)
The unrest that gripped Kazakhstan for more than a week and left 225 dead disrupted the Central Asian nation's production of energy and resources, including oil and uranium. Constant internet outages, intended to thwart coordinated action by protesters, also severely affected crypto mining.
Kazakhstan, a member of the OPEC+, a group of the Organisation of the Petroleum Exporting Countries (OPEC) and allied producers, which manages oil production during the COVID pandemic, produces 1.6 million barrels of oil a month, just less than two percent of world demand. Oil production at Tengiz in western Kazakhstan, the country's top field, was reduced on January 6th due to disrupted rail lines and protests at the production site.
In response to the turmoil, crude oil prices gained about five percent and on 7th January, the oil price exceeded $83 per barrel. This was the highest level since the first appearance of the Omicron variant in late November.
As hydrocarbons make up over 20 percent of Kazakhstan's gross domestic product (GDP), it became a priority to restore oil production to normal levels. On 7th January, production at three of the country's top fields continued despite the unrest.
Discrediting Nazarbayev hits energy industries
Although it appeared that Kazakhstan's energy industries would recover in the week after the unrest was quelled, they nonetheless encountered some of the fallout from President Kassym-Jomart Tokayev's actions to remove the influence of his predecessor, post-Soviet Kazakhstan's first president, Nursultan Nazarbayev.
Samruk-Kazyna, a sovereign wealth fund, announced last week that two of Nazarbayev's sons-in-law, Dimash Dosanov and Kairat Sharipbayev, had lost their jobs at the helm of energy companies. Dosanov was head of the national oil transporter KazTransOil and Sharipbayev was in charge of the national gas company QazaqGaz.
On the same day, the Kazakh Financial Monitoring Agency detained former Deputy Minister of Energy Zhumabay Karagayev in a probe into the steep increase in the price of liquid petroleum gas, the main fuel for vehicles, that triggered the protests in western Kazakhstan.
It is too soon to say yet whether these changes will affect Kazakh energy prices.
Uranium from Kazakhstan accounts for 40 percent of world output and production was also disrupted by the protests at a vulnerable time for the uranium market. Prices for the element, which powers many nuclear reactors, are now more than 50% higher than they were 12 months ago due to investors betting that nuclear energy will be a key part of the world energy transition away from fossil fuels.
Shares of Kazatomprom JSC, the state-owned uranium miner, fell 6.7 percent in London on January 6th.
The spot price climbed more than $3 to $45.50 per pound on January 5th, according to S&P Global Platts. This marks the largest increase since mid-September and the highest price since November 30th.
Major uranium exports to the West and China
Kazakhstan sells its uranium to the United States and other Western countries, but also to China, which accounts for more than half the country's exports. In the last decade, China has accumulated vast uranium inventories that can cover 11 to 12 years of demand.
The country has announced plans to build 150 reactors in the next 15 years – more than have been built throughout the world since 1980 – and that will mean a heavy reliance on Kazakhstan's uranium resources. The European Commission's proposal to class nuclear power as green energy will also mean Kazakhstan needs stability to appeal to Western green investors.
Uranium mines are located in remote parts of the southern Turkestan region. Protests did not directly affect their operation, but transportation of workers and equipment to mine sites was stalled. The uranium industry encountered logistical hurdles when shipping across borders since significant routes pass through the Almaty region where the main clashes took place. But there has been little impact so far on foreign buyers and investors.
Kazatomprom, the national nuclear and nuclear fuel company, said last week it "actively support the restoration efforts in the regions where Kazatomprom operates" and reassured investors that "the overall impact of the recent events on the Company's business was minor" without interruption to production.
Bitcoin mining, a burgeoning industry in Kazakhstan, was almost certainly the industry most affected by the unrest and interruption in Internet service.
Kazakhstan is the world's second-largest bitcoin miner accounting for about one-fifth of the global total and surpassed only by the United States. Miners are attracted by an affordable energy supply thanks to an abundance of coal. China's crackdown on crypto mining prompted many Chinese mining companies to move to Kazakhstan to take advantage of what they believed was a relatively stable country.
Just hours after the internet was shut down for the first time on 4th January, bitcoin's hash rate – a key measure of how much computing power is required to support the network and create new bitcoin — dropped by 12 percent. The internet blackout led to 88,000 Kazakh mines going off-line, lowering the total global hash rate by almost 11%.
The internet was restored intermittently, but service was brief and unpredictable, affecting different providers and regions at different times. Last Friday, Alan Dorjiyev from the National Association of Blockchain and Data Centre Industry in Kazakhstan, said most crypto producers were back online.
Persistent instability and recurring internet interruptions in future would call into question the country's reputation as a reliable hub for cryptocurrency mining.