Once-closed Uzbekistan now a darling of intrepid international investors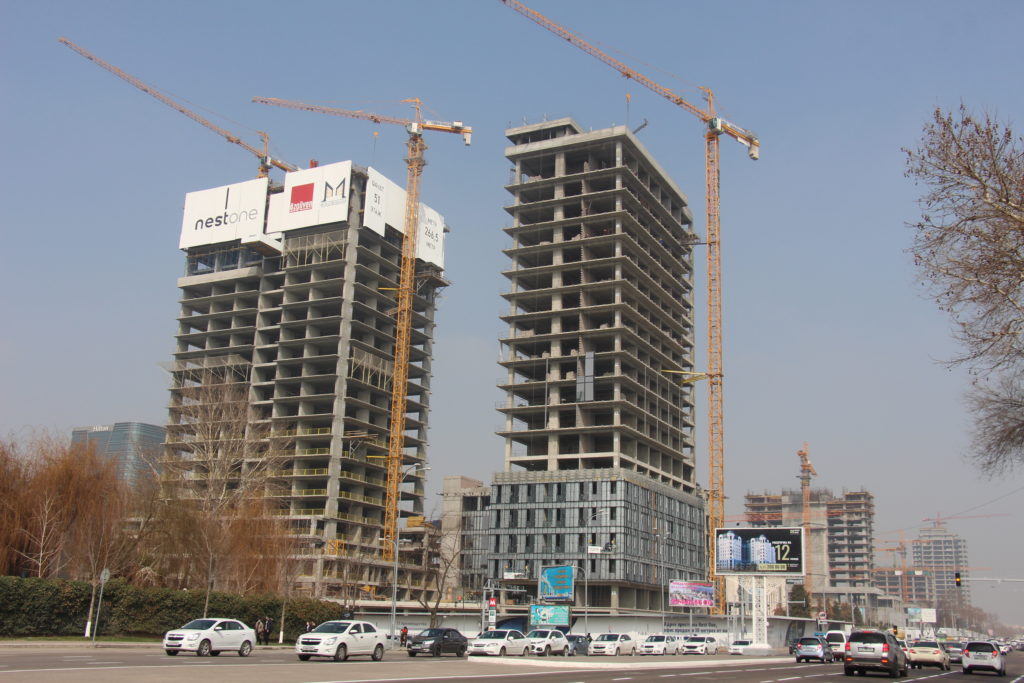 Muhammadsharif Mamatkulov
TASHKENT
March 24, 2021
 by MUHABBAT PRIMKALOVA
I RETURNED to my homeland for a visit with my relatives recently. I left more than a decade ago, having lived in Africa, Italy and Great Britain.
As our plane prepared to land in Tashkent – I was accompanied by my 14-year-old daughter, Safira, flashes of dread filled my head.
Until a few years ago, airport arrivals in our capital, Tashkent, meant navigating a labyrinth of zealous, taciturn border and customs officials. They seemed to derive ecstasy from scouring passports with magnifying glasses – mine is an Uzbekistan one – as if searching for some secret symbols.
If lucky enough to pass through immigration intact, shady characters circled about, like famished wolves. They offered special black-market currency "deals" – due to an archaic fixed exchange rate system – largely a joke.
The would-be oddball potential foreign investor was of special interest. If lucky enough to obtain a visa, they were likely to be met with a wall of silence by Uzbekistan's legion of terrified bureaucrats.
ENTERING A BRIGHT NEW WORLD
We landed amidst a sun-drenched early spring morning. I produced our passports. A smiling border official stamped them, adding "welcome home". For a split second, I though it must be a trick. Under the old regime, headed by late President Islam Karimov, we Uzbeks still had to obtain Soviet-style "exit visas" to go abroad for any reason. Media, except for unreadable government newspapers, were propaganda sheets, and international outlets unavailable. TV watching was good if you wanted to fall asleep – an absurdist montage of yawn-inducing pre-approved pronouncements.
AN ENORMOUS CHANGE
Over the past four years however, my country has gone from being one of the most Orwellian places on earth with an archaic, state-run economy, to the darling of international investors seeking one of the last largely virgin places for pioneer-style investment.
The once sleep-inducing atmosphere is now buzzing with activity. As we drove into the city centre, huge international construction projects, cranes abounding, dotted the skyline.
We passed a formerly disused part of Tashkent where once only weeds grew. Now it was a major commercial and residential development area – Uzbekistan's answer to New York City's Hudson Yards.
THE UNLIKELY REFORMER
This tectonic change has been directed by an unlikely figure- President Shavkat Mirziyoyev, a former prime minister under the old regime. His government has embarked on an unexpectedly swift effort at economic, as well as some political reforms, to welcome international investment in my country of 35 million.
INVESTMENT GURUS OF THE NEW FRONTIER
One of my business associates and friends – I run a new company centered on silk products, from skirts to soap, and Uzbekistan and neighbor Turkmenistan are major producers of silk – is Dr. Temuri Yakobashvili.
Temo, as I call him affectionately, is a former Georgian Deputy Prime Minister, as well as a former Georgian Ambassador to the United States of America.
"This transformation has been all the more remarkable as it is coming from the top, led by people who once worked under the former regime," Temuri told me. He now is president of TY Strategies. His firm specializes in connecting intrepid investors with partners in Eurasia, including Uzbekistan.
RICH HISTORY 
Dr. Yakobashvili, whose entire business involves Uzbekistan, notes that the once hermit backwater always held tremendous potential.
Uzbekistan's "Golden Age" includes a formidable list of iconic figures.
Muhammad ibn Musa al-Khwarizmi is widely cited as the founder of Algebra.
A father of early modern medicine, Abu Ali Sina or Avicenna, was from the ancient Uzbek city of Bukhara. Abu Rayhan Al Biruni is regarded as the first anthropologist – and author of the Masud's Canon in Astronomy, which basically invented minutes and seconds, was from the Uzbek town of Beruni. And no list would be complete without Amir Timur – Tamerlane, whose conquests included lands from Iraq to Turkey and north-west India.
Until the last 2-3 years, Uzbekistan was considered as one of the most closed countries on Earth, along with countries like North Korea. It consistently scored high marks on the world's "bottom ten" on indexes of transparency, corruption, and repression. The country practiced a twisted form of autarky and import substitution for three decades after the Soviet collapse. The former regime of President Islam Karimov – who died in 2016, even invented a psycho-babble ideology enshrined in unreadable books, often more sought after as fireplace kindling rather than literary content.
LARGE POTENTIAL
Uzbekistan has now unexpectedly embraced a vigorous reform agenda, especially economically. The new leadership normalized ties with neighbors including Tajikistan and Afghanistan, from which the old government always feared – with a trance-like paranoid alacrity – the spread of radicalism.
"It is simply amazing what is going on. The reform effort was not only unexpected, it is unprecedented and genuine," said Temuri Yakobashvili.
New President Mirziyoyev, 63, wasted no time in rounding up some notable former doers and shakers.
In 2020 Uzbekistan's Supreme Court gave Ikhtyor Abdullaev, the former chief of Uzbekistan's feared SSS (State Security Service) 18 years behind bars for organizing a criminal group, bribe-taking, abuse of office, extortion, the theft of private property, violating customs regulations, and other crimes.
Ex Prosecutor-General Otabek Murodov was found guilty of bribe-taking and sentenced to five years of effective house arrest. Seven other defendants linked to the former government landed prison terms of five to 17 years.
The new President pushed through changes involving a five-year development strategy, introduced in 2017. The strategy fundamentally revamped the entire state apparatus and its role in the country's development.
The government eased long-standing currency controls, eliminating the black market which had limited foreign currency purchases to favored friends and forced others into changing money behind bushes and in smoke filled rooms. It liberalized its monetary policy, eliminating a major impediment to foreign investment and privatization. It reduced tariffs. It made visas much easier to obtain.
The changes were promptly noticed by major international and regional players.
The World Bank has rapidly scaled up support to Uzbekistan since the start of the country's transformation. With 21 projects totaling around $3.5 billion, the World Bank's program in the country ranks as the second largest in the Europe and Central Asia region.  The European Bank for Reconstruction and Development (EBRD) re-engaged with Uzbekistan in September 2018 after a long hiatus, raising its portfolio to 1.8 billion Euros.
In June of 2019 the Asian Development Bank approved a new country partnership strategy aligned with Uzbekistan's national development strategy and allocated cumulative $4.83 billion for loan disbursement.
Foreign Direct Investment (FDI) in Uzbekistan quadrupled from just over $600 million in 1998 to $2.4 billion in 2020.
The country advanced in the World Bank's "ease of doing business" rankings. It jumped to No.69 from No.87 previously. In the Economic Freedom ranking by the Heritage Foundation, Uzbekistan scored 57.2 points, up from 46 and elevated from "mostly unfree" to the "moderately free" category.
While main businesses are still run by state-owned enterprises (SOE's) modeled after China, privatization is well underway. In 2020 the President issued a special decree, announcing the privatization of 620 SOE's. Included are 32 of the largest state-owned companies, like the energy company Uzneftgaz, gold and uranium miner Navoi Mining and Metallurgy Combinate, Uzbekistan Airways and Uzbekistan Railways.
Notorious practices such as the use of state workers or even children to collect the cotton harvest from state farms have been curtailed, while privatization has been encouraged in the agricultural sector.
A special court for the defense of foreign investors is due to start work this year.
For a first time ever on February 1, 2021 Uzbekistan published an Environmental, Social, and Governance (ESG) report, "Progress in Uzbekistan," to assess the country's reform program.
Since the introduction of changes, the American-Uzbekistan Chamber of Commerce drastically increased the number of its members and included prominent names, such as VISA, Caterpillar, Procter and Gamble, Baker McKenzie, General Electric and others.
Geographically, Uzbekistan is the center of the Central Asia. It borders with five countries of the region: Kazakhstan, Turkmenistan, Tajikistan, Kyrgyzstan and Afghanistan. It's not surprising that the Tsarist Russia had Tashkent as its capital for then conquered region of Turkestan.
The country is at the essential heart of a region of 111 million.
Given its geographic location and natural riches (gold, cooper, natural gas, and agricultural products, Uzbekistan can play a pivotal role in development of the Central Asian Region and beyond. Its critical mass and size make it a good center for regional industrial production.
Detroit, Michigan based General Motors, together with an Uzbek joint venture partner, now produces over 200,000 passenger cars a year in Uzbekistan, about half of which are for the domestic market and the rest for export for regional buyers. Thus, it is the only country in Central Asia to produce any significant number of automobiles, let alone with the help of a major global manufacturer.
Uzbek companies are also going international, including in Afghanistan, which it once blockaded itself from, afraid of radical spillover. Uzbek companies have now become the main provider for internet services in that country, and as such have significantly reduced the cost of such services for Afghanis.
Diplomatically, Uzbekistan played a mediating role in the talks between the Kabul government and the Taliban. It is actively participating in the country's economic reconstruction. Uzbek companies are players in the building of highways, rail links and electricity transmission lines. Afghanistan is an important market for Uzbek exports, especially foodstuffs, pharmaceuticals, construction materials, mineral fertilizer, agricultural machinery and electricity. Uzbek traders already dominate on the baking supplies market of Afghanistan.
Privatizations are conducted through open auctions. Meanwhile, the private sector discovered housing and commercial real estate, resulting in massive private construction projects which the skyline of Tashkent is abuzz with.
World cultural heritage sites in cities of Samarkand, Bukhara and Khiva have enormous tourism sector potential. Architectural marvels, indigenous and distinctive cuisine, traditional art and craft created an uptick in tourism arrivals, before COVID took its toll on the country like all others.
EDUCATION REFORMS A PRIORITY
Even though the reform process includes education, the need for new institutions is much greater. Local entrepreneurs formed a first precedent by establishing the 100% private TEAM University. In spite of high public interest and governmental good will, the process is taking time but has paved the way for newcomers and established procedures for more of these kinds of initiatives.
The COVID pandemic served as a litmus test for Uzbek reforms and its resilience. It exposed antiquated problems in the healthcare field. The pandemic underlined increased need for decentralized decision-making which central government proactively promoted – again, something unconventional for countries with super centralized governance.
In the modern world, there are not that many opportunities left for emerging markets to properly be tapped. Probably Uzbekistan is one of the last. Its domestic and regional potential offers ample prospects for all sorts of engagements. Proper understanding opportunities and environment can serve as a pre-requisite for fruitful collaboration.
An Uzbek proverb says: "Don't choose a path—choose traveling companions". In its path of reforms, Uzbekistan will need many companions and doors of companionship are widely open.